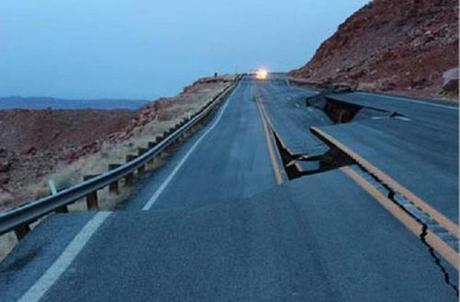 The Spectrum reports, Feb. 20, 2013, that a "geologic event" closed down U.S. 89 in Arizona, because a 150-foot section of pavement buckled about 25 miles south of Page, according to the Arizona Department of Transportation (ADOT).
The cause is not related to weather and may be a geologic event.
US 89 is closed northbound at US 89A, which takes traffic west toward Jacob Lake. In Page, US 89 is closed at the junction with State Route 98.
The alternate route to Page will take drivers east on US 160 to SR 98 (about 50 miles) and north on SR 98 to Page. The detour is about 45 miles longer than the direct route.
ADOT crews are on scene and are deploying geotechnical engineers to investigate. It is not known at this time how long the road will be closed.
For the latest highway conditions across Arizona, visit ADOT's Travel Information site at www.az511.gov or call 5-1-1.
***********************
According to this US Geological Society earthquake hazard map, Arizona is in a low-hazard region: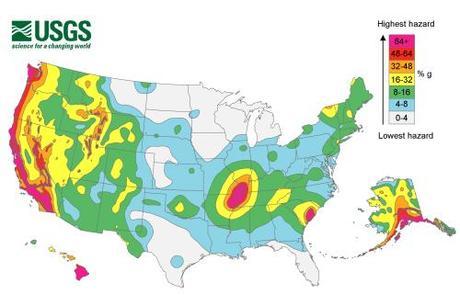 H/t FOTM's Joan W.
~Eowyn