Plus, Ginnifer gives HollywoodLife.com her thoughts on more Snow babies, strange ships, and the return of Sheriff Graham!
Once Upon A Time returns with all-new episodes Feb. 10 on ABC, and while that's sure to put a smile on the faces of patient fans, Ginnifer Goodwin tells HollywoodLife.com we probably shouldn't expect Snow White to be sporting the same grin. "Her smile might be turned upside down for a bit," she says. "We're delving into her relationship with her own mother, who was murdered."
"We're going to address her mommy issues, and the way that affects her relationship with Emma," she added when we spoke Feb. 5 at the kick-off for Listerine's 21 Day Challenge. "Talk about mommy issues — Snow and Emma are the same age!"
Read On For My Full Interview With Ginnifer Goodwin:
When we last saw Snow and Charming, they were talking about wanting "different things." Should we be worried about them?
"We've been discussing this as well. I would like to believe that love will conquer all, and that these two will always kiss and make up. But the truth is, they do want different things right now. Mary Margaret desperately wants to create a family in Storybrooke where things are relatively safer, and Charming definitely wants his kingdom back."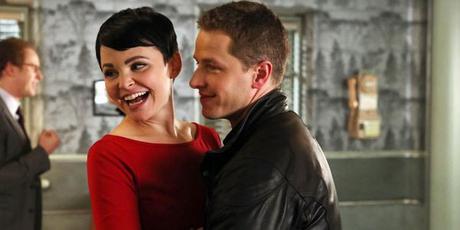 Could "creating a family" mean Snow having more kids?
"I've asked [the writers] this, because I think they should have another kid! I'm pitching it, but at the same time, I worry about the impact that would have on Emma. She didn't have a childhood with her parents, and she'd be watching a child growing up with all the things she didn't have. But maybe that makes for great television, so we should do it."
And then there's Regina, who really seems like she wants to be good. Will she succeed this season? At all?
"That's something we're absolutely addressing. I'm impressed with how realistic and relatable and human a journey they're giving Regina. There will be setbacks, but there will be strides forward, as well. Our good guys, though they're not naive, do have this annoyingly patient tolerance. They always believe good will win, and they always believe that people can change. I get so annoyed with them sometimes. I thought I was disgustingly optimistic, but our characters really need a good shakedown sometimes."
It was also recently announced that Jamie Dornan is coming back for a flashback episode. Your thoughts?
"I'm elated! Honestly, he's one of my favorite co-stars. He's a joy to work with, and I really missed his presence as an audience member watching the show. I understand, story-wise, why he had to go — but thank God for flashbacks. Graham really adds to the show."
I'm sure the shippers will be thrilled to see him back. How aware are you of the shippers? Some fans are rooting for an Emma-Regina romance.
"They are! I got into a Twitter war one day over this. I made a comment — purely trying to be funny — that most likely, at 8 o'clock on a sunday night, we're not going to show a grandmother-granddaughter makeout scenario. I got into a lot of trouble for making that comment. People thought I was being homophobic, but really, I'm just not into incest. In defense of my character, I'm not into the idea of my daughter making out with my stepmother who tried to kill me several times."