It's that time of year again! Like me, you're probably already flustered and overwhelmed with holiday plans (or the process of making those plans). Well, I've got a few posts that will hopefully make your holidays a little easier and maybe even a little cheaper. For instance, all the gifts in my Chicks Gift Guide are under $30! The gifts for dudes are even cheaper!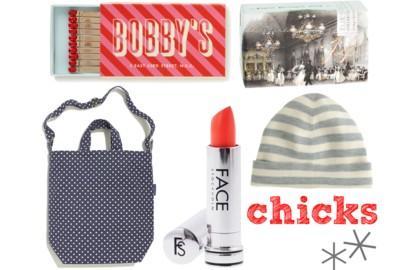 Gift Guide: Chicks by fleur-d-elise featuring tote handbags
1. Bobby Pins by Kate Spade $18
I'm a sucker for cute packaging, and these bobby pins come all decked out like matches. They even have red tips!
2. TokyoMilk French Milled Soap in Waltz No. 14 $11
Now, this doesn't happen very often, but all of TokyoMilk's soaps smell gorgeous! They last forever and aren't as drying as most bar soaps. This bar smells delicate and clean and features notes of 

Linden, Honeyed Rose, Wisteria Petals & White Musk.
3. baggu® duck bag tote from Madewell $24
It's covered in polka dots. What other reasons do you need?
4. Face Stockholm
®
 for J.Crew lipstick in French Martini $20
This bright, daring shade was custom-made for J.Crew. It's a great gift for the fashion-forward ladies in your life.
5. Striped Merino Hat from J.Crew $29.50
Warm, soft and on sale! It also comes in two other color combos

.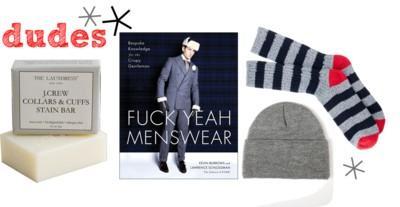 Gift Guide: Dudes by fleur-d-elise featuring beanie hats



1. J.Crew Collars & Cuffs Stain Bar $7Maybe this will encourag

e a certain dude in your life to do his own laundry. Other reasons to buy it:

nontoxic, biodegradable, dye and allergen free. It's also not tested on animals

!


2.

"Fuck Yeah Menswear" by

Kevin Burrows &

Lawrence Schlossman $12This book, by the creators of the blog Fuck Yeah Menswear, is fashion satire at its most hilarious. If you know a man who has any sort of interest in fashion or dressing somewhat presentable, get him this book. It's on sale for $11.62 at Amazon right now and will bring some instant crispiness to your holidays. (My husband is the archetype on page 23.)

3. Men's Camp Socks from J.Crew $17What guy doesn't like new socks?

4.

American Apparel Cuffed Acrylic Lined Beanie

$20Practical and warm and made in the US! And it comes in 24 other colors!


Friday Fashion Facts:You may already know this, but bobby pins were named for the bobbed hairstyle that was popular in the 1920's

Have a great weekend!

♠