Get into the holiday spirit all month long with these fun events! You can do your shopping with pint in hand at numerous markets, get your (or your pet's) photo with Santa, sport your ugly sweater, eat cookies, celebrate Festivus, and wrap gifts—all at your favorite local breweries! It doesn't get any better than this.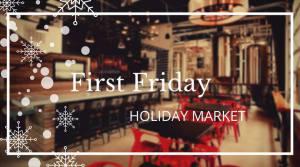 Fri., Dec. 1, 4-8 pm: First Friday Holiday Market at Mockery Brewing
Join us this December First Friday for our Inaugural Holiday Market! We have invited back our First Friday Artists and other vendors who have worked with Mockery to sell the best and most unique gifts you will find this Holiday Season. Skip the malls and come Support Local!
Vendors (More to Come)
C-Squared Studios
Brush and Brews
Good Sugar Baking
Skulls by Megan Miller
ēdn
Bryce Leonard Photography
SYNEK Beer
White Tale Coffee
J Brady's Seasonings
Craft Alley
Copia Confectionery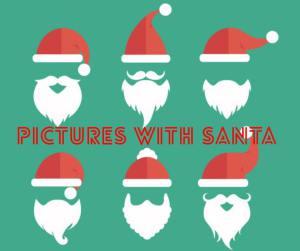 Sat., Dec. 2, 2-6 pm: Pictures with Santa at Fiction Beer Company
Santa is coming to our taproom to cheerily take photos with crying (and smiling) children and grown ups in his lap! The Spoiled Beer Brat will be onsite to document these precious memories. The details:
•Digital photo is free with purchase of one full pour beer, or $10 without beer purchase.
•Grown ups are encouraged to dress up in their finest geeky fashions for a perfect themed Santa photo.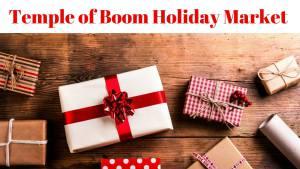 Sat., Dec. 2, 2-6 pm: Temple of Boom Holiday Market at Big Choice Brewing
The #TempleOfBoom will host a Holiday Market with local vendors on Saturday December 2nd from 2-6pm… because isn't holiday shopping more fun with a beer in hand? Confirmed vendors are below and more will be added. Copacabana Grill will be our food truck.
Browse fun gifts from…
Amy Kindland from The Porch – The Porch in Brighton, CO specializes in shabby shic home decor, furniture, vintage items and antiques.
Elizabeth Jayne with Beautycounter – Beautycounter is a Santa Monica based safer personal care products company. They offer safe, sustainable products for the whole family.
Rachael Wood with Bare Bones BARKtique – All natural wholesome dog bones & treats made in Colorado.
Purple Porch Company makes wood burned home decor and kitchen accessories here in Colorado.
Caroline Brothers from Henna Luna – Henna Luna will be offering henna adornments during the event on a first come, first serve basis. Designs are $5-25+.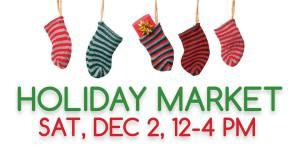 Sat., Dec. 2, 12-4 pm: 1st Annual Holiday Market at Peak to Peak Tap & Brew
'Tis the time of giving so we're transforming the tap room into a hoiday gift market! Grab a brew and start crossing names off your gift list with handmade wares from Colorado artisans and artists.
Locally owned small businesses participating:
• Monie Bug Fair Trade Fashion for Girls
• Heather Green Photography
• Yo! Be Nice Casual Tees and Gifts
• Sweet Reality Bakery
• Roby Macdougall Art
• artcrafthome Pottery
• LoveFreeMovement Mobile Boutique
• Glass Craft By Jules
• Cream City Market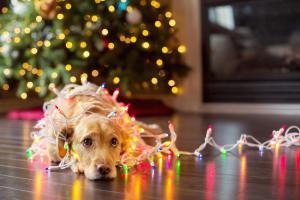 Photo credit http://www.apah24.com/blog/category/pet-friendly-holidays/
Sun., Dec. 3, 1-6 pm: Furry Friend Holiday Photoshoot at Big Choice Brewing
Hey Big Choice fans – furry and all! We are hosting a furry pet photo shoot at Big Choice Brewing and it's all for a great cause! Join us on Sunday, December 3rd from 1-6 pm Big Choice where Dustin from The Brewtography Project will do a 15 minute photo shoot of your furry friend.
Come hungry – The Burger Bus will be here with their mouthwatering burgers!
The timeslot you purchase will reserve a 15-minute timeslot with Dustin. With each $40 ticket sold, $30 will go to the Movember Foundation USA, and the remainder to the photographer for his time. Please arrive a minimum of 10 minutes before the hour you sign up for and a 15 min timeslot will be assigned to you upon check in.
Tickets can be purchased here:
http://bigchoicebrewing.com/index.php/2017/10/30/dog-photoshoot-with-the-brewtography-project/
Feel free to bring fun props to use and anything you feel your furry friend needs to feel comfortable.
While attendees will receive digital copies of their photos, by purchasing a timeslot, you agree to not attempt to profit from republishing or selling images, and to always credit The Brewtography Project in social posts.
Get those furry friends cleaned and ready to go – should be an awesome time!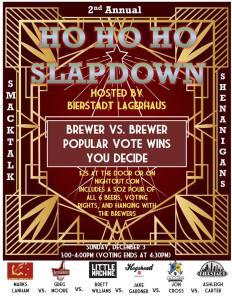 Sun., Dec. 3, 1-4 pm: HO HO HO Slapdown at Bierstadt Lagerhaus
Brewer v Brewer – beer competition and roast all in one. You get to drink the beers, listen to the smack talk and decide who is the Champion for the year. $25 gets you a 5 oz pour of each beer, and a vote to decide who will be crowned champion.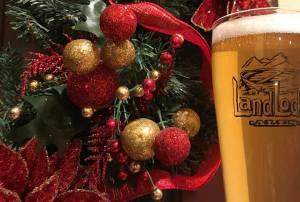 Sun., Dec. 3, 11 am-2 pm: LandLocked Ales: Pop-up Holiday Market at Landlocked Ales
Who wouldn't love holiday shopping while drinking a pint? Stop on by and see what goodies local vendors have this holiday season.
We will be having Foothills Decor, LeBlossoms, Blissful Sol jewelry, and essential oils here from 11-2 to give you a variety of shopping options.
Sneak peaks will be posted!
FREE TO ATTEND!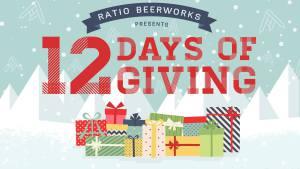 Mon., Dec. 4: 12 Days of Giving: Holiday Cookies w/ Work Options for Women at Ratio Beerworks
**This is the first event of Ratio's 12 Days of Giving series: check all of Ratio's events for the full listing***
Join Ratio Beerworks in kicking of 12 Days of Giving at Ratio Beerworkswith Work Options for Women who will be hosting a holiday cookie decorating station at the brewery
Work Options for Women (WOW) has helped low-skilled individuals overcome personal barriers and obtain employment in the food service industry for 20 years. They not only prepare low-skilled workers to obtain entry-level employment, but also work to insure that their graduates have the culinary skills, job-readiness skills, life skills and ongoing support that they will need to retain employment and pursue a permanent career in the culinary
sector.
12 Days of Giving was created to lend a hand to 12 diverse local nonprofit groups in need, that Ratio has identified as doing really great work in the Denver area. During the first three weeks of December, Ratio will showcase one of those 12 groups in the taproom for 12 non-consecutive days with $1 from each beer sold during a three hour period going to benefit those organizations. This year, each of the participating nonprofits/community groups have been encouraged to educate attendees about their mission and work in the taproom through immersive taproom experiences.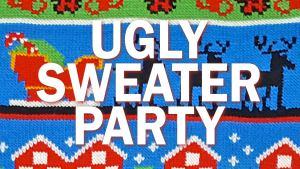 Fri., Dec. 8, 12-9 pm: Ugly Sweater Release Party at Strange Craft/Wit's End
Ugly Sweater Beer Release 12 pm.
Ugly Sweater Contest 7 pm.
Who needs the Nutcracker Ball? We have our own secret party, ok, maybe not so secret, but we are excited to announce the 2017 release of our most popular seasonal beer, Ugly Sweater! This beer is a Belgian-style brown ale, brewed with roasted pumpkin seeds, palm sugar, and world peace. Other than inherent specialness of the beer, it is even more special this year as it will be poured in our new co-taproom with Strange Craft Beer Company!
Help us celebrate our new digs and we have a couple of special treats. Along with the batch for 2017, we have a limited amount of the batches from 2015 and 2016. Although not as extreme as Jack Skellington trying to take over Christmas, this is truly a merger of two worlds.
As is tradition, we hold an ugly sweater party/competition to herald the release of this beer. Enjoy a pint and dust off that vintage/ironic garment of yours as we will be selecting the best ugly sweater at 7pm! Winner gets a Crowler fill and a ticket to Denver Beer Festivus! #StrangeWit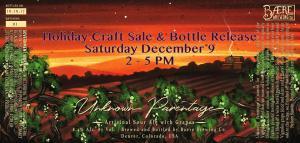 Sat., Dec. 9, 2-5 pm: Holiday Craft Sale & Bottle Release at Baere Brewing
Join us for our 4th Annual Holiday Craft Sale and Bottle Release featuring many local artists and their beautiful crafty works including Crafted Art Emporium, Copia Confectionery, Nature Studio, Desired1Crafts, Yugomatto and more!
We'll also be releasing Unknown Parentage into the wild and have a limited amount on tap. Unknown Parentage is named for the mysterious origins of the Vignoles grapes that we sourced from Palisade, Colorado. Originally thought to have come from a hybrid of two grapes with origins in France, genetic testing has shown otherwise. This wine-like sour beer is a blend of a wine barrel open-fermented Saison with fresh pressed Vignoles grape juice and skins and a barrel of our golden sour. As an ode to the wine, we finished off the blend with a light dry-hopping of Nelson Sauvin. Bottled by hand in a strip mall with love.
$14/750 mL bottle. No limits.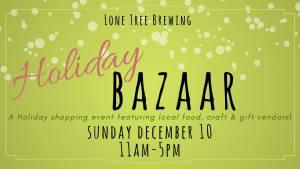 Sun., Dec. 10, 11 am-5 pm: Holiday Bazaar at Lone Tree Brewing
Just like our Fall Market, but inside!
We'll welcome back some of the great vendors that joined us for our Fall Market, plus some new ones!
Join us for a Local Holiday Shopping experience, complete with beers!
Vendors Include:
Bjorn's Colorado Honey – Beecarenatura
Cream City Market
Best Jalapeno Jelly
Mountain Mutts Unique Treats
Sweet Reality Baked Goods LLC
Put Up Your Dukes Decor
Usborne Books
BOCO Jerky
Homemade Mistletoe by Alexandra
Cultura Craft Chocolate
+ more!
PLUS:
the lovely and talented Emma Paints Colorado will be here
painting faces!
Eleven17 Photography will have a Holiday Card Photo Booth!
& The Cravings Truck will be on site
AND a holiday gift wrapping station, sponsored by RadCraft (donations will be accepted for our COM)
(if you are interested in potentially joining us as a vendor, please email [email protected])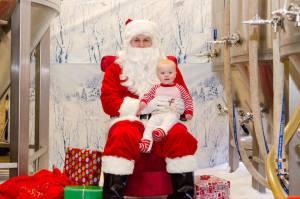 Sun., Dec. 10, 12-3 pm: Santa Claus is coming to Cerebral?! at Cerebral Brewing
It's that time of year again. Santa Claus is coming to Congress Park!
Come get your photo taken with Santa at Cerebral Brewing on Sunday, December 10th.
$20 gets you a high resolution image sent to your email within 24 hours + a 16oz core beer or 10oz specialty beer (Peace Be the Journey not included). The kiddos will also get cookies, hot chocolate + gifts from Santa!
Just make sure you sign up and receive your ticket for beer when you get here.
Copia Confectionery will be in the house selling their to die for handmade chocolate truffles and Farmer Joe's Food Truck and Catering will be out front until 8pm.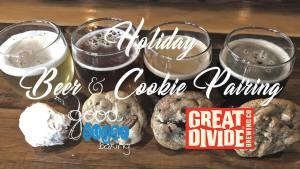 Thur., Dec. 14, 6-8 pm: If you give a beer a cookie: Holiday Beer and Cookie Pairing at Great Divide Barrel Bar
Thursday, December 14th from 6-8pm join Great Divide Barrel Bar and Good Sugar Baking for a Holiday Beer and Cookie Pairing!
4 cookies paired with 4 Great Divide tasters for $12.00. A percentage of every sale goes to Foundation for Foster Children.
Good Sugar Baking will have cookie gift baskets available for sale!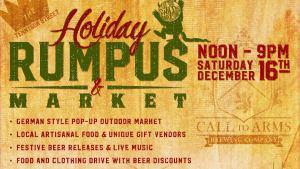 Sat., Dec. 16, 12-9 pm: Tennyson St. Holiday Rumpus & Market at Call to Arms Brewing Company
It's back, and bigger than ever. Like, WAY BIGGER! Inspired by the world famous German holiday markets, our 3rd Annual Tennyson St. Holiday Rumpus & Market features a mix of local artisans, delicious food, and holiday-inspired music and beer.
In years past we've had 8 combined vendors, food trucks, and not-for-profits join us for the festivities. And then this year happened and we have 15 different guests joining in on the holiday cheer!
In addition to special holiday-themed beer releases (think Gluhwein Baltic Porter), lighting, and atmosphere, we're lucky enough to host these fabulous folks for your one-stop shopping, listening, eating, and philanthropic desires:
Clothing Drive:
– We'll once again be hosting a holiday clothing drive with Clothes To Kids of Denver, and if you bring a coat or pair of shoes you'll receive a $2 Core Pint!
If you're looking for local gifts for all your friends, family, and pups, you're pretty much all set with these local vendors:
– XO Gift Co. popping north up Tennyson St. to join us once again with their amazing assortment of gifts, goodies, and smiles
– Mrs Clever Clogs for ornaments, personalized gifts, t-shirts & hats
– Women's Partnership Market creating clothing that helps accelerate skills, income, and dignity for female artisans
– Bare Bones BARKtique who creates healthy dog treats made with quality ingredients
– Beautycounter ensuring everyone stays beautiful this holiday season. And Elizabeth is a BOSS
– Cozy Home Creations who creates beautiful art and accessories for the homestead
– Soul Salve in the house keeping your skin and mind healthy, smooth and radiant
– Tee Roy Tees will be the best dressed man in the room as he showcases off his hilariously off-kilter tee shirt humor
– Berkeley Park Running Company will be in the house with all the freshest running gear one can possibly handle
Like food? We have 4 options for you:
– Stone Lotus of Boulder bringing delicious sandwiches and German-inspired dishes to the masses. Danny OH!
– Valhalla Cakes dishing out Denver's most artistic and Christmasy baked goods. That is not hyperbole
– Copia Confectionery with their wonderful assortment of wildly-creative and expertly-handcrafted chocolate treats
– MAS KAOS Pizzeria + Taqueria slinging their always-glorious pizza and tacos
Custom Call to Arms Rumpus Tee Shirts!
– To top it off, we're working with the amazing folks at Humble Monster Screen Printed Goods to create custom Call to Arms Rumpus-themed ugly sweater tee shirts! Cheers to MTN Creative for all the design work!
ALL THIS + LIVE POLKA!! LIVE ACCORDIONS, PEOPLE!!
The icing on the cake? If you visit every one of our guest vendors, check out all their wonderful creations, and get your card stamped at each booth, you'll be able to redeem for a $2 Core Pint as thanks for supporting local. Limit 1 deal per guest.
Still reading? You're awesome. And we'll hope to see you on December 16th for Denver's greatest holiday market!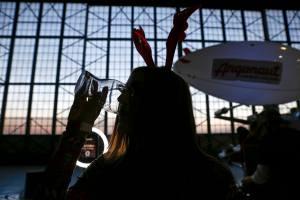 Sat., Dec. 16, 4-7 pm: Denver (only) Beer Festivus! at Wings Over the Rockies Air & Space Museum
The Denver (only) Beer Festivus is back for the 6th year! 
Denver is America's craft-brewery mecca, teeming with creative, beer-soaked minds who thrive on collaboration and community. Festivus is all about celebrating Denver's enormous craft beer scene and the people that rally around it. We added some '90s pop-culture references to confuse anyone who didn't watch Seinfeld re-runs throughout their entire adolescence.
Every brewery with a Denver zip code has been invited to join us for this epic tasting event! 
Learn More >>> DenverBeerFestivus.com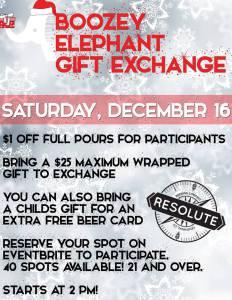 Sat., Dec. 16, 2-5 pm: Boozy Elephant Gift Exchange at Resolute Brewing
Here at Resolute we are all about bringing the community together to kick back, relax and enjoy the festivities over some delicious beers and great company. Unwrap some crazy gifts alongside your fellow patrons this holiday season at our first annual Boozy Elephant Gift Exchange!
Bring a $25 (max) wrapped present to exchange, something you'd want to begrudge upon a stranger. There are no gift categories off limits here, as long as it is legal and in fairly good taste. 
The Dollhouse Thieves will be here to spike the eggnog and serenade you with Christmas carols starting at 4pm, so stick around!
General rules can be found here: https://www.whiteelephantrules.com/
With all these shenanigans going on, let's not forget about the spirit of the Holiday. Please bring an unwrapped child's present to donate to Marine Toys for Tots Foundation and receive a free beer card.
$1 off full pours for participants
40 spots available, reserve yours at: https://www.eventbrite.com/o/resolute-brewing-company-12725837632
Kids are welcome, but Boozy Elephant participants must be 21+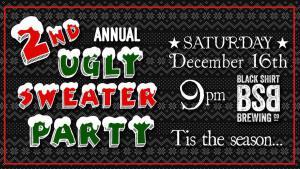 Sat., Dec. 16, 9 pm-12 am: 2nd Annual Ugly Sweater Party at Black Shirt Brewing
t's your favorite time of year again and do you know what means??!! UGLY SWEATERS!!
Join us for our 2nd Annual Ugly Sweater Party and get your dance on with music from Details. There will be plenty of booze, food, music and space to really show us your moves. And did we mention prizes for the ugliest sweaters of them all?!
No tickets necessary.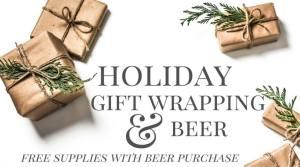 Sun., Dec. 17, 12-7 pm: Holiday Gift Wrapping & Beer at Mockery Brewing
Beer always makes things like gift wrapping easier, right?! Get all that pesky gift wrapping done while enjoying delicious brews. Did we mention free gift wrapping supplies and holiday cookies?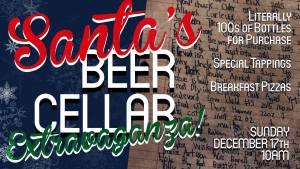 Sun., Dec. 17, 10 am-4 pm: Santa's Beer Cellar Extravaganza at Parry's Pizza – Highlands Ranch
Literally over 1300 bottles of cellared beer straight outta Santa's stash. Mrs. Claus will be happy about some of these going missing, but some of them…it could be a rough season for the big man.
Show up at 10AM. We'll be serving breakfast pizza and schlepping some bottles. Here's a peak at the list, thus far:
'16 Parabola by Firestone Walker
'12 Double Bastard by Stone
'13 Russian Imperial Stout by Stone
Woodcut #6 by Odell
Woodcut #5 by Odell
Woodcut #4 by Odell
Brazzle by Odell
'14 Release of the Hounds by Bull & Bush
'12 Kriek by AC Golden
Love child #5 by Boulevard
Love Child #3 by Boulevard
'13 Bourbon Barrel Quad by Boulevard
Big Sound by Cigar City
'15 Curieux by Allagash
'16 Choklat Oranj by Southern Tier
'15 Créme Brulee by Southern Tier
Warlock by Southern Tier
Thor's Hammer by Central City
'15 Quintaceratops by Brooklyn
'15 Intensified by Brooklyn
Local #1 by Brooklyn
'15 Gillian by Goose Island
'14 Lolita by Goose Island
'15 Bourbon County Rare
Bluegrass Billionaire by Clown Shoes
Undead Party Crasher by Clown Shoes
Coffee Stout by Abita
'16 Big Bad Baptista by Epic
'16 Barrel Aged Ten Fidy by Oskar Blues
BORIS by Hoppin Frog
'15 Cocoa Mole by New Belgium
'14 La Terroir by New Belgium
'15 La Folie by New Belgium
'14 La Folie by New Belgium
'13 La Folie by New Belgium
Geisha by New Belgium
'15 Transatlantic Kriek by New Belgium
'14 Oil Man by Elevation
'14 7 Swans a Swimming by The Bruery
'17 Birthday Suit by Uinta
'16 Birthday Suit by Uinta
'16 Tweak by Avery
'15 Uncle Jacob's Stout by Avery
'16 Uncle Jacob's Stout by Avery
'15 Raspberry Sour by Avery
'14 Beast by Avery
'15 Tectum et Elix by Avery
'13 Moma Hiwa by Avery
'14 Rufus Corvus by Avery
'13 Uncle Jacob's Stout by Avery
'14 Uncle Jacob's Stout by Avery
'14 Black Eye by Avery
'16 Old Perseverance (Barrel Aged) by Avery
'15 Insula Multos Collibus by Avery
'15 Fortuna by Avery
120 Minute IPA by Dogfish Head
Raison D'Etre by Dogfish Head
'16 Double Apricot Blonde by Dry Dock
'13 Bligh's Barley Wine by Dry Dock
'15 10th Anniversary by Dry Dock
'13 Criek by Santa Fe
'14 Oro De Calabaza by Jolly Pumpkin
Big Bad Baptist by Epic
'15 Barrel Aged Yeti by Great Divide
'16 Hibernation by Great Divide
'14 Espresso Oak Aged Yeti by Great Divide
Barrel Aged Bomb! by Prairie
Well Built ESB by Breckenridge
'15 Twenty Five by Breckenridge
'15 Holidale by Breckenridge
Game of Thrones – 3 Eye Raven by Ommegang
Game of Thrones – Take the Black Stout by Ommegang
'15 Shadow Brewer by Ommegang
Class of 88 Barley Wine by Rogue
'14 Skully Barrel #13 by Paradox
'13 Skully Barrel #3 by Paradox
'13 Whiskey Barrel Aged Porter by Paradox