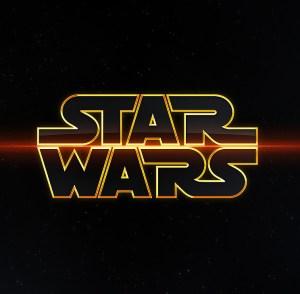 Star Wars (www.movieweb.com)
The year 2013 got off on the right foot – or should we say, the right star cruiser, as is the case with Star Wars. Filmmaker J.J. Abrams, whose credits include the Godzilla-like Cloverfield (2008), the Steven Spielberg-produced, E.T.-inspired Super 8 (2011), and the successful reentry of Paramount's Star Trek (2009) into the cinematic stratosphere, was tapped by the Disney Studios, of all people, as the new director for a proposed revamping of the Star Wars series.
The most financially lucrative sci-fi movies of all time, original director, producer and screenwriter George Lucas had relinquished the helm of his flagship film series to Disney in an earlier move, selling his wholly-owned LucasFilms – lock, stock and light sabers – to the studio for a reported $4.05 billion. The series, to be launched, as it were, sometime in 2015, will theoretically pick up the story where the first three films had ended, with Episode VII now in the works.
But wait! Let's not get too close to that asteroid field just yet. Does anyone know whatever became of the last three films in the outer space lineup? Did anybody take any interest at all in Episodes I, II and III? Having seen all three features at least a dozen (if not more) times throughout the years, I can say, with a high degree of probability, that the chances these later flicks will surpass the new series – and eventually be banished to the surface of Tatooine  — are 3,720 to one.
"Never tell me the odds!"
And with that, dear readers, allow me to have the final say regarding the aforementioned (and infamously inferior) second Star Wars series:
Star Wars – Episode I: The Phantom Menace (1999)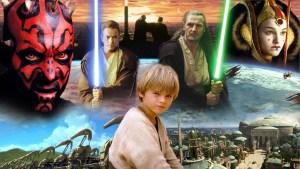 Star Wars – Episode I
After a hiatus of nearly sixteen years, producer-director George Lucas returned to his space-opera roots with this highly anticipated continuation of the story of Anakin Skywalker's human origins. Was the wait really worth it? Only die-hard fans will tell you, for this version is indeed long on plot but notoriously short on character development.
When the computer-generated images become the main focal point – and real protagonists – of the convoluted (nay, incomprehensible) plot line, you know the series has been set adrift. Critics complained of the irritating nature of some of the characters, especially the CGI-generated Jar-Jar Binks, who came across as a cacophonous, mealy-mouthed Caribbean caricature.
Personally, his computerized antics provided much-needed comic relief from the human torpor, chief among them the completely inept portrayal of little Anakin Skywalker by Jake Lloyd (Jingle All the Way). This young actor is totally out of his element, and seemingly incapable of displaying any emotion beyond pouting indifference. Blame for his performance in what is essentially the key role in the series should be placed squarely on George Lucas' shoulders: he's abandoned the idea of directing real people in lieu of interacting with pixels. He also forgot to create a real flesh-and-blood character for Lloyd to play, which isn't surprising considering Lucas' so-so screenwriting skills.
Amidst the over-abundance of special FX, some of which are truly spectacular (particularly the supersonic desert pod race), the rest of the actors tend to flounder, especially the normally dependable Liam Neeson as deadpan Jedi Master Qui-Gon Jinn, Ewan McGregor as his young apprentice Obi-Wan Kenobi (sans beard), Natalie Portman as a teenage Princess Amidala, Ian McDiarmid as Senator Palpatine (the future Lord Sidious), and take-no-crap Samuel L. Jackson, totally wasted as Mace Windu. A new digitally created Yoda makes a brief but welcome appearance, but the highly touted villain Darth Maul, played by the athletic Ray Park (X-Men II), is weak, ineffectual and completely lacking in true menace. He was "inspired," if that's the correct term, by someone's childhood memory of Bozo the Clown. Woho, Nellie…!
The saving graces of this production include the marvelously flamboyant costumes by designer Trisha Biggar; the incredibly outrageous hairdos, obviously inspired by Japanese Kabuki and Noh Theater; and the exceptionally rousing musical score by movie veteran John Williams, one of his recent best. Unfortunately, the film goes on much too long, with enough subplots and over-complications for ten episodes let alone two more. Not a good jump-start to the series, but a good effort nonetheless.
Star Wars – Episode II: Attack of the Clones (2002)

Star Wars – Episode II
Much better (story-wise) than Episode I: The Phantom Menace, the second installment in the newly reinvigorated Star Wars saga is more interesting to watch, with movement and color in just about every frame. Indeed, the first 20 minutes or so are truly spectacular, but then the story comes to a grinding halt as the forced romance between Padme Amidala (Natalie Portman) and the post-pubescent Anakin Skywalker (Hayden Christensen) is inevitably played out. Their onscreen relationship doesn't ring true, and is treated as no more than a perfunctory plot twist. Viewers will be hard pressed to find any passion in their looks and embraces.
The headstrong Anakin is just as irritating in Episode II as he was in Episode I; although he's played by a much better actor, it's still an ungratefully written part. The basic problem with the formula is that we already know, ahead of time, where this relationship is going and where these characters will end up; conclusion: there's no element of surprise to any of this. And the romantic music written by John Williams for Anakin and Amidala is just a warmed-over version of the Han Solo-Princess Leia theme, while the entire film's score is a reworking of the best parts of The Phantom Menace, a major cop-out.
On the plus side, Ewan McGregor continues to sound the right note as a continually maturing Obi-Wan Kenobi, who here displays his superior investigative skills. Whenever he's on screen the film comes alive. Also featuring Temuera Morrison as Jango Fett, father to bounty hunter Boba Fett. There are more elaborate computer-generated images and special effects in this production than in any other in the series, including a very drawn-out (and fairly derivative) battle sequence in a gladiatorial arena. Ho-hum.
But all this hardware is mind numbing. One longs for some relief from the noise and turmoil. Thank goodness it arrives, in the frail presence of Master Yoda (voiced by Frank Oz) and the still athletic octogenarian Christopher Lee as Count Dooku. Their climactic light saber duel is a highlight amid the awkward romantic lulls. Still, the Force is kinda strong with this one: this effort is galaxies ahead of Episode I, despite the over-preponderance of plot. The dreaded Jar-Jar Binks has a walk-on in this sequel. Do I hear an "amen" out there?
Star Wars – Episode III: Revenge of the Sith (2005)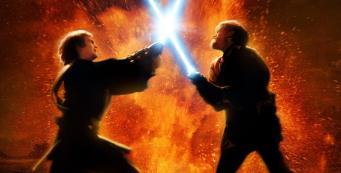 Star Wars – Episode III
In a word, wow! Sci-fi auteur George Lucas completely redeemed himself in this reviewer's eyes with this excellent third entry in the second Star Wars series (are you following me?). Jedi Knight Anakin Skywalker, played once again by Hayden Christensen, finally turns to the dreaded Dark Side and emerges (!) as Lord Darth Vader (voiced by James Earl Jones), in what has to be the most satisfying of the three movies devoted to his origin story.
Amazingly, writer-director Lucas manages to tie up all the loose ends – and winds up exactly at the point where Episode IV picks up – with an extraordinarily multilayered film that takes the saga to truly epic heights, a Greek tragedy with an unrelenting forward thrust so obviously lacking in the series' previous entries. All the emotional impact that was so far missing is presented here in generous dollops.
As the tragic hero Anakin Skywalker, Hayden Christensen finally came alive, delivering a powerful go-for-broke acting performance. Natalie Portman shows welcome spunk as Padme Amidala, pregnant with Anakin's twin children. As Obi-Wan Kenobi, Ewan McGregor emotes poignantly at the loss of his close friend and brother in arms Anakin, while Ian McDiarmid as the slimy Chancellor Palpatine (later the self-appointed Emperor of the Galactic Empire) seduces young Skywalker to chilling effect in one of the series' most remarkable sequences at the "space opera," of all places, where Lucas and his daughter have a brief walk-on. The film both opens and closes in slam-bang fashion.
The CGI-created General Grievous, a marvelous new bad guy, with a nagging tubercular cough, no less (highly reminiscent of José Ferrer in Lawrence of Arabia), lends excellent support, along with the returning Temuera Morrison as Commander Cody (a nod to the 1940s Rocket Man serial), Samuel L. Jackson as Mace Windu, and Anthony Daniels, Kenny Baker, Peter Mayhew, Jimmy Smits as Senator Organa, and the voice of Frank Oz as feisty Jedi Master Yoda. There's another of his patented light-saber duels, this one with the bug-eyed nasty Emperor, which is less effective than the similar one with Christopher Lee in the previous episode.
Anakin's fiery finish was criticized for being ripped off from the finale to the Lord of the Rings trilogy, specifically the demise of Gollum at Mount Doom in Return of the King. There's some truth to that, and it can be compared to the similar fates that awaited Arnold Schwarzenegger in Terminator II: Judgment Day and Sigourney Weaver in Alien3.
Let's hope that Mr. Lucas decides to leave the series alone for now, and not try to tinker with it as he's done with Episodes IV, V and VI (oh, how I miss the Ewok song at the end of Return of the Jedi – boo hoo). The stirring fanfare-like music of John Williams is preserved in all its stereophonic glory. Go grab a cosmic box of intergalactic popcorn, folks, and enjoy!
Copyright © 2013 by Josmar F. Lopes