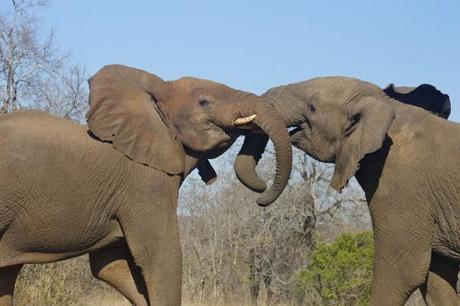 Hluhuwe-Umfolozi Game Park in KwaZulu Natal is accessible both by a game drive or a self drive.  So which is better?  Assuming you are there to see animals, there's no doubt that a game drive is better.  It's more expensive than driving your self, but worth every penny!
Hluhuwe-Umfolozi Game Park is huge at 96,000 hectares.
After driving around for an entire day our guide Trevor from Heritage Tours and Safaris estimated that we had seen less than 10% of the park.  You really need to know where to go to increase your chance of wildlife sightings.  As a first time or casual visitor to the park, that's not possible.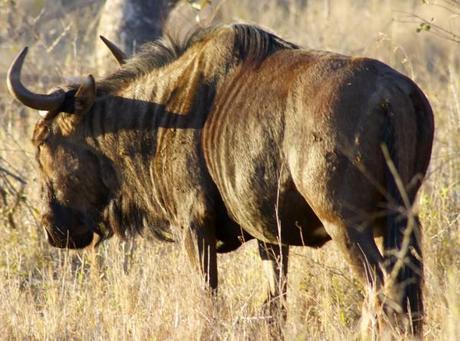 You also need to know where the animals are. The guides from Heritage Tours and Safaris are in Hluhluwe-Umfolozi Game Park on a regular basis.  They know where certain animals hang out and when they're likely to be there.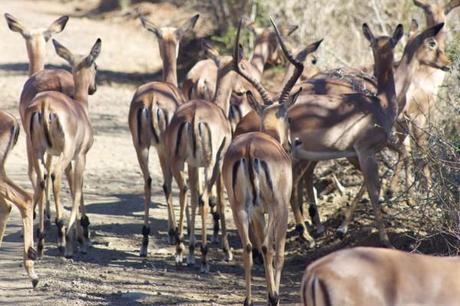 Impala are sometimes referred to as the "McDonalds' of the Savannah" because of the "M" on their bums and because they are plentiful and relatively easy prey.
The guides are also in radio contact with other guides and they share information – cools things like a lion guarding a kill, or elephants at the watering hole.  Trust me, these are things you want to be in the know about.
You will also see more from the 4X4 Open Game Drive Safari Vehicle than you will from a regular car.
You're seated higher and it can go places that regular cars can't – like muddy trails.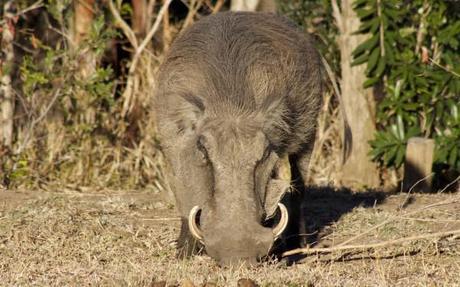 Our guide Trevor was incredibly knowledable and passionate.  He knew some of the animal's stories to heart, like how the injured warthog had survived for so long despite a severely infected leg.  I could have listened to his stories for hours.  It was through him that the animal's personalities were revealed, and it was these stories and knowledge (like why the elephants (first photo)insisted in wrestling in front of us – two young bulls showing off) that really brought the park to life for me.
It was also through Trevor that I learned more about rhino conservation: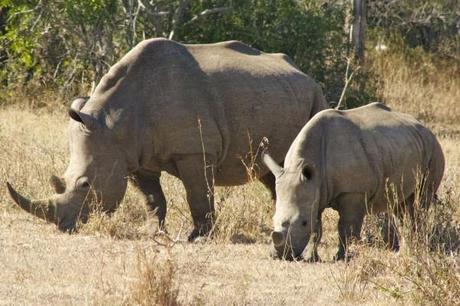 Hluhluwe-Umfolozi Game Park is a leader in rhino conservation, but despite their best efforts poaching continues.
I had no idea that poaching was as prevalent as it was.  Not only was Trevor knowledgeable  but he is also an Anti-Poaching Volunteer, so he shared his first hand experiences with us.  I was left speechless, my stomach wrenched in knots.  Our conversation made such an impression on me that I will be writing a separate post about rhino conservation along with an interview with Trevor.  If you have any questions about rhino conservation please leave them in the comments below and I may include them in the interview.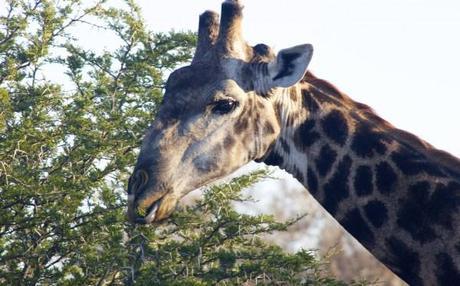 Some people think they can self drive and just follow the game drives.  But the guides have caught on to this long ago and will often stop to provide more info or tell a story even when there is no animal to observe.  Sitting in the game vehicle it was fun to watch the perplexed faces of the people in the car trying to figure out what we were looking at.
The game drives were my favorite experiences in South Africa and MUCH better than the one self-drive we attempted in another park.
On the one self drive that four of us did, we saw less than half of the wildlife that we saw when we did the game drives.  There was  nobody to interpret animal behaviour and share the stories that bring the game park to life.  In essence it fell flat and we all left disappointed.
One of my main objectives on My Wild South African and Swaziland Adventures was to see wildlife.  You see so much more when you do a game drive.
Know Before You Go to Hluhluwe-Umfolozi Game Park:
Hluhluwe-Umfolozi Game Park is located ~75km km from St. Lucia and 250 km from Duban.
Heritage Tours and Safaris does game drives to Hluhluwe-Umfolozi Game Park, which can also be offered as part of a 2, 3 or 7 day Safari Experience.
You will be in an open vehicle so dress in warm layers since the mornings can be chilly (but also the best time for wildlife sightings).
I highly recommend staying in Umlilo Lodge in nearby St. Lucia.  It's a 4 star guest house with a tropical feeling and friendly owners.
See Hluhluwe-Umfolozi Game Park on a Google map.
Thank you to Heritage Tours and Safaris and to Umlilo Lodge for making my visit possible.  As always all opinions expressed are my own.