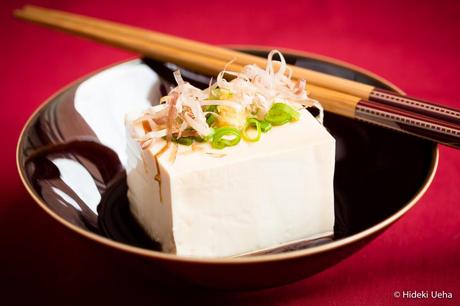 There's nothing more traditional in Japanese cuisine than cold tofu simply garnished with sliced green onions, katsuobushi (dried shaved bonito) and fresh grated ginger. This is exactly how my Mom served hiyayakko (cold tofu) to us all the years my brother and I were growing up. (Photo Credit: Hideki Ueha)
Hiyayakko often made an appearance at dinner as an accompaniment to a meal of grilled fish, steamed rice, miso shiru (soup), and vegetables. We often ate hiyayakko with our meals a few times per week, especially during the warmer months of Spring and Summer. My Mom would serve a small square piece of chilled tofu, just enough for four or five bites. It was always refreshing and somehow made our family meals complete.
When I went away for college, hiyayakko became a simple, high protein, inexpensive, quick, low-prep meal.  In those days, I avoided cooking as much as possible, given I didn't know how to cook, and honestly, I had no desire to learn. My college version of hiyayakko often involved eating an entire block of tofu (as it was my main course), and this was garnished with shoyu (soy sauce) and katsuobushi, or I would garnish my tofu with shoyu and furikake.
For those of you unfamiliar with furikake, it's a dried seasoning which is typically reserved for seasoning cooked rice. Almost every kid in Japan grows up eating furikake with their rice, and it's an iconic part of Japanese food culture. There are many different flavors of furikake available.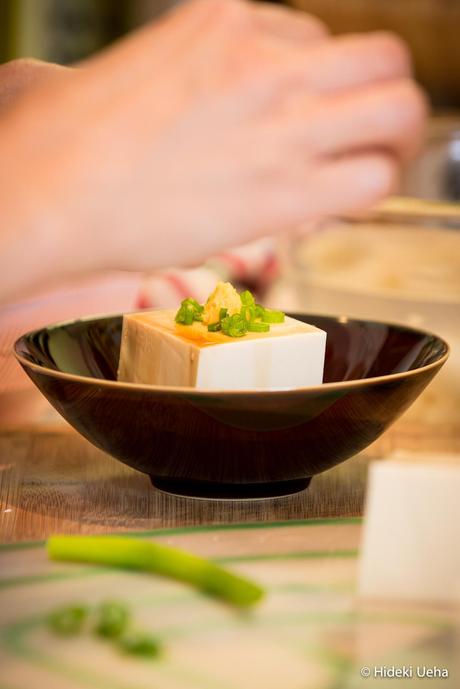 Photo Credit: Hideki Ueha
I have good memories of eating hiyayakko during my Summer breaks from college when I usually went home for a few months. In the summer my Mom often garnished our hiyayakko with a chiffonade of fragrant shiso (green perilla leaves) or very thinly sliced chilled myoga ginger which are in season during the warmer months. My parents often grew these in our backyard and while both the shiso and myoga ginger impart very strong flavors, I love both equally when I enjoy hiyayakko. I encourage you try these as garnishes if you decide to make hiyayakko this summer.
Lastly, my Mom used to garnish our hiyayakko with shirasu or baby anchovies. In middle school and high school I always questioned what these tiny fish were, yet I still ate them. There was something about their savory-brininess that I enjoyed with my hiyayakko. Occasionally, when I'm at the Japanese supermarket I'll come across these and buy a pack to garnish my hiyayakko. Like all the food my Mom used to make for us, hiyayakko is simply, comfort food to me.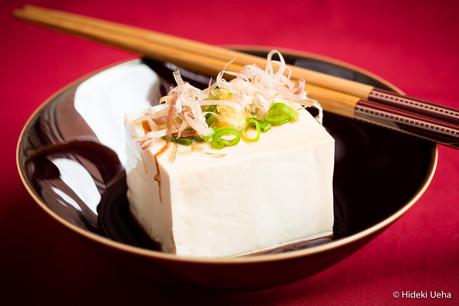 Photo Credit: Hideki Ueha
Many thanks to my brother-in-law, Hideki, for taking photos of my hiyayakko. Over the weekend he shared with us that one of his photos placed 8th (out of 94 entries) in a Digital Photography Review (DPR) contest. His photo is available on the DPR website. Congratulations Hideki!
Happy Monday!
Judy
Hiyayakko | Traditional Japanese Cold Tofu Print
Recipe type:
Appetizer, Side Dish
Author:
Bebe Love Okazu
Serves:
6
Simple, refreshing and easy to prepare in minutes.
Ingredients
1 block of soft tofu (substitute with medium tofu if preferred)
soy sauce or seasoned soy sauce
1 stalk green onions, thinly sliced
fresh grated ginger
katsuo bushi (dried shaved bonito)
optional garnish ideas:
shiso (perilla) leaves, chiffonade
myoga ginger, thinly sliced
shirasu (baby anchovies)
Directions
Cut tofu block into six equal pieces. Allow the tofu to drain a bit. You'll find that the tofu releases water the longer it sits. My Mom would often slice our tofu, place it in individual serving dishes and store these in the fridge until we were ready to eat. Just before serving the tofu she would drain the excess water from the tofu that had accumulated in the dish.
Garnish tofu with classic ingredients: green onions, grated ginger and katsuobushi. Serve with soy sauce or seasoned (dashi) soy sauce.
2.2.8