Email campaigns are multi-purpose. Not only email marketers use them, but HR managers also need this tool as well. Of course, HR campaigns are different from sales emails or so, they have specific features – so let's share some ideas and tips about HR email design, content, etc.
First of all, emails sent by HR managers are divided into two basic categories: external and internal emails. Our post is mostly about external emails, i.e. messages you send over to candidates. As for internal messages, you can read the dedicated blog post How to create an internal newsletter for employees – but we're going to pay attention to one single type of these emails, we mean the announce of new hires. Other types are external emails.
Let's first of all look at the tools you might need for your campaign.
Tools to create
Whether you may offer a job, confirm interview or introduce newcomers, it takes a lot of time to build emails from scratch.
Stripo.email is a nextgen template editor that offers a set of ready-made HR email templates to spend much less time. Communicate with employees easier and faster using their personal content library features. Save the commonly used modules or even entire HR emails – and then just make slight changes in content, contact information, etc.
Another tool you need is proper ESP, our solution is eSputnik integrated with the mentioned email builder to export emails just in one click. It offers many options for automation, database segmentation and creating complex scenarios to send HR emails where bulk and individual mailings are required.
What is the sequence of emails that HR manager needs when hiring new employees?
Job offer
You are reaching out to a prospective candidate. This is the very first stage of your communications. Therefore, you need to focus on the project, its essence and specifics – and, of course, on the benefits of becoming a part of your team. These emails need to be well articulated to make an impression and explain everything clearly.
Everything depends on your specifics here. Just arrange everything in a well-structured way. A good tip is to use bulleted lists to make your email easier for perception.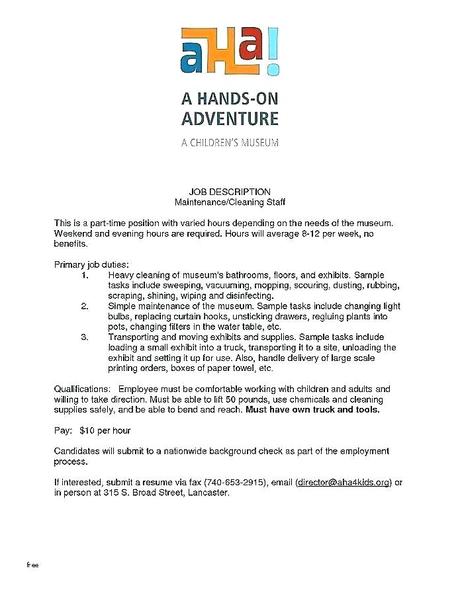 Interview confirmation
The next stage of recruitment is when the candidate has accepted the invitation and successfully passed the first test online. We invite him or her to the interview. It may be arranged both online or offline. In any case, we must confirm the date and time of the interview. I.e. we need an interview confirmation email here.
It's a kind of appointment confirmation email, right. The key condition for this message is to highlight the date, time and place of the interview.
For offline meetings, it's good to add the map as a person may be not familiar with the district where your office is situated. It's especially important for people from other cities or even countries. Google map added to the email footer helps to prevent people from being late and to find the exact place. We all know that such an unpleasant situation may spoil the first impression.
If the meeting is held online, mention that you will provide the corresponding link an hour before the meeting. If you always use the same link for your meetings, just add it to the confirmation email.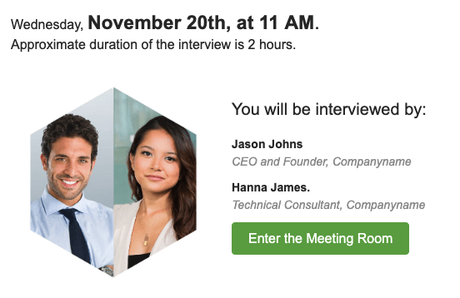 And one more tip: include the "Add to calendar" button to make sure that you won't fail – once the candidate adds the interview to the calendar, the chances that he will forget about it decrease almost to zero.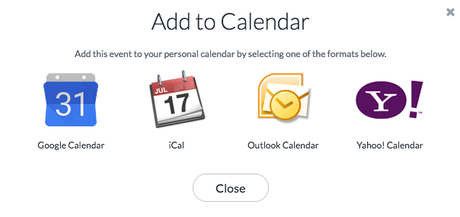 Introducing the team
Well, the interview is successfully passed and a new hire is about to join your team. As a good HR manager, you surely want to make the atmosphere in your team comfortable. So it's pleasant and useful to send the introduction of a new employee via email on the first working day or a few days before.
It's a gesture of your care about the employee, it sets the basis of friendly communications… – and, practically speaking, it helps to get acquainted with teammates. Share the contact information of key employees including their photos – new hires will appreciate it as it prevents the confusing situations when they mistakenly address to wrong people

Another important thing is including information about your company, key events, goals, and statistics, main partners and competitors. If you provide an information on some training program that the new employee will take after the probation period, it will help them to set plans for the future.
It's easier to craft this email, not from scratch but using the predesigned template. We would recommend to try out the "First working day" template from Stripo editor collection.

…This is how the set of external emails for the HR manager looks like. The process of recruitment becomes more effective when accompanied by well-crafted emails that show your high-level business standards. As we said above, there is one more type of email campaign. This type belongs to the internal email type. It relies on the latter one as we must not only introduce the team to a new hire – the introduction must be mutual.
Announcing a new hire
No matter is your team big or small, you should inform everyone about a new person. Add his or her photo, list main duties and include contact information. Again, the best solution is to use "Announce a new hire" special template by Stripo. By the way, an excellent feature – they added a section for the new employee to introduce him- or herself and greet the team. A person may be a bit shy or just busy to say "hello" to everyone – but there's an option to do this in a cyber way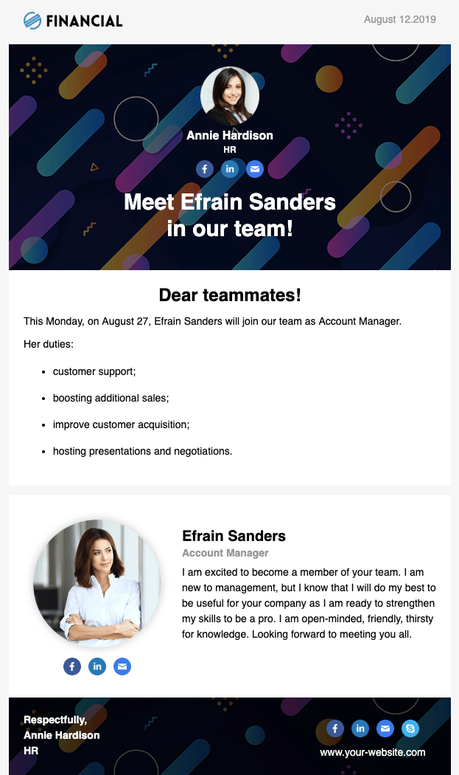 That's all about HR email types. Let's talk about the essential elements all these messages should contain.
Mandatory elements for all HR emails
Corporate header
It's an axiom – all the corporate emails should always contain a brand or company logo. When reaching out to candidates, use the same logo. But for internal emails, you can diversify headers if you want.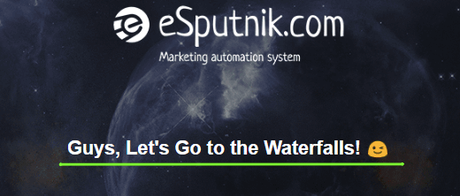 Email signature
This is a gesture of politeness, of course. As well as the requirement to all the business correspondence – including HR emails.
Moreover, this element makes it easier for candidate or teammates to contact you when they need.
A good signature contains the following:
Name. Be sure to mention it. Candidates and new employees need to know how to call you.
Contact information. People often need to contact you to discuss some questions. Social media links are essential here, especially when you start using a new channel. If you have a corporate phone, make sure to add it to the email signature too.
Photo. It's optional but always nice when you "see" those you are talking to.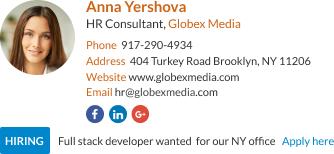 Summing up
No matter if you choose ready-to-use HR templates or decide to build from scratch, stick to these recommendations:
Specify sender name;
Stick to corporate style. It goes not only to design but also to the way of your communications;
Remember about personalization.
We sincerely wish you success to hire only the best employees!