I consider myself to be a dogmother. No matter how pedigreed or 'mongrolled' a dog, I simply cannot resist giving those I meet en route, a little TLC. This usually entails a good pat, dog chat and something to eat. I often wish I had a stash of Hills dog food stowed away in my bar bag, but good old local Indian biscuits are always happily woofed back. Its not just 'dog' biscuits, I am always collecting everyone's leftovers from lunches, dinner or breakfasts into my 'doggy' bag. So if its a good day it could be a couple of boiled eggs and chapati or some french toast for whatever hound I should meet along the lonely, Himalayan highways. Interestingly most of them look in pretty good shape, surviving off the trash, that's in the towns of course. If there aren't any towns to scrounge off, life must be truly hard as there really isn't much nutrition above 3000m. One thing is for sure, these hounds aren't fussy and are vegetarians (not out of choice of course!), possibly even enjoying chillies, as all Indian food is always heavily spiced!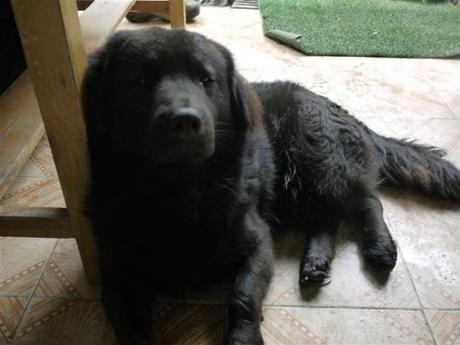 A reincarnation? Just before we left for India I was very sad to loose a dear friend Noche Sanchez, a very handsome black lab, and a year before him, Noche's friend Oso Sanchez, a short brown dog. While enjoying a fabulous sandwich at the German Bakery in Manali, this little guy befriended me and ended up with half my sandwich. There was something more significant: he was a combination of both Noche and Oso - short and sleek, so I called him Noso!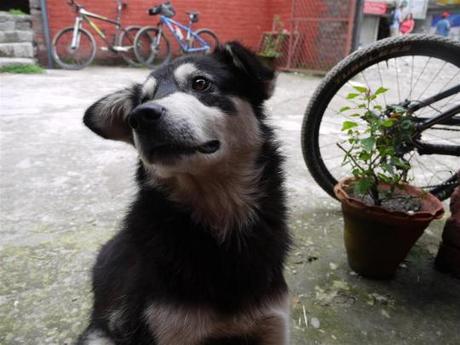 How could anyone possibly ignore such cuteness? He earned himself a packet of Good Day butter biscuits!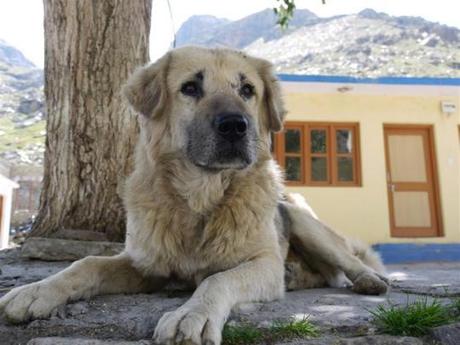 After a blissful descent down Rohtang pass, we stopped for our lunchboxes at Koksar police check-point. I skulked around waiting for the groups leftovers and was happy to collect 3 boiled eggs which I duelly popped into this astonished old boy's mouth!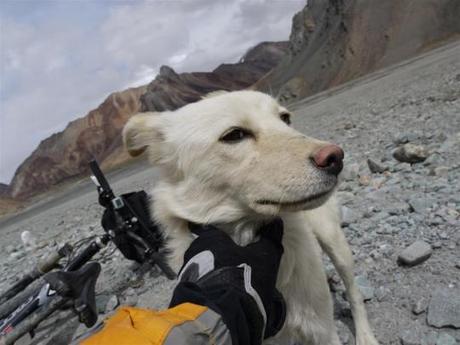 In the middle of almost nowhere, this dear young female was so happy to just have a pat and some kindness shown. I worry what happens once the dhabba at Bharatphur closes down in the winter...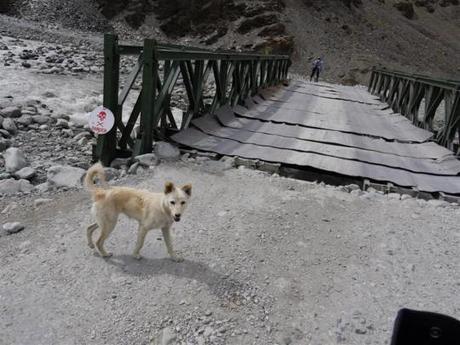 She wanted to join me but was too afraid to cross this bridge which made a loud clanging whenever anyone crossed it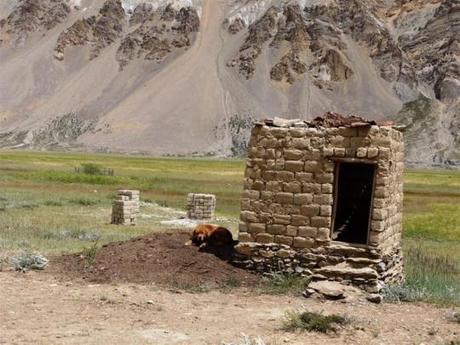 Most dogs in India are strays, some however are 'pets' but in a very different sense. This poor pup lives in a remote village on the Sarchhu plains and is unfortunately chained up next to the composting toilet for most of his life.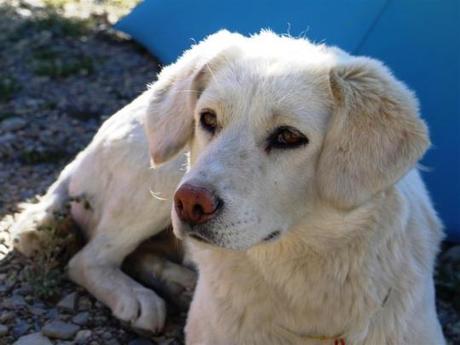 We were joined by snowy and her handsome friend at our campsite in Pang.They enjoyed a variety of leftovers including veg chowmein, pancakes and pasta!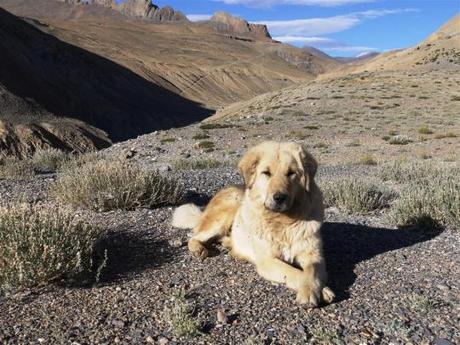 Handsome was a lot shyer and kept his distance but kept guard all night and most of us awake with barking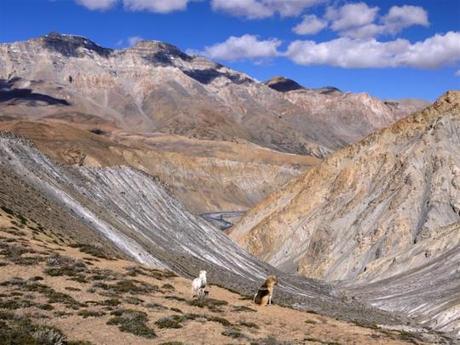 Firm friends: Snowy and Handsome followed us up the 8km climb to the Moray plains. If I could bring them back with me I would.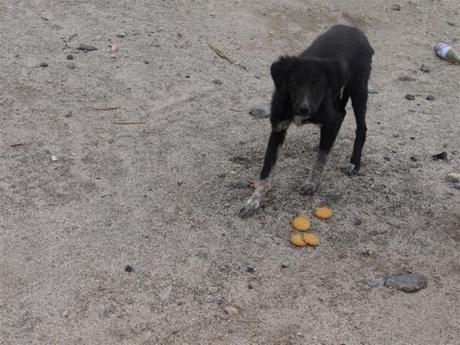 Cowering for a few 'Good Day' biscuits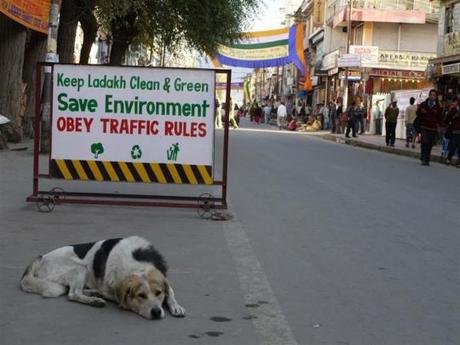 City dogs of Leh
Street sweepers and sleepers of Leh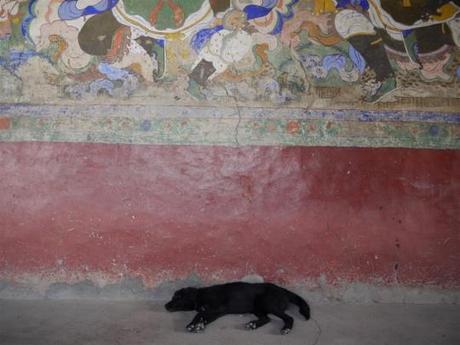 Thiksey monastry pup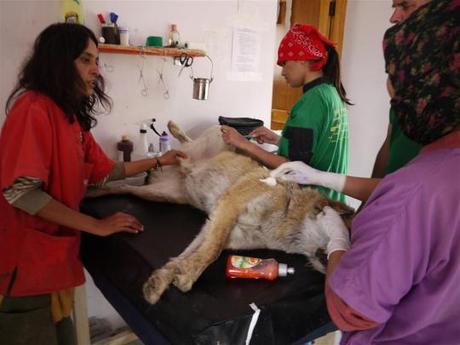 The Ladakh Animal Society together with Vets without borders are doing an amazing job of sterilising all dogs in and around Leh.Since 2006 some 7000 odd dogs have been sterilised. The 'gangs' of dogs are rounded up and taken back to the basic clinic for their operations and then returned to their territories a few days later.
Fellow South Africans Joanne Lefson and Oscar, her famous Ahound the World traveling dog have not only done tons to support the adoption of shelter-bound dogs on their Ahound the World Tour (www.worldwooftour.com), but have also set up a donkey sanctuary in Leh. More on that later. I appreciated the words on this stone I found at the sanctuary, it was as if Oscar had painted it in recognition of my dogmother efforts.