Hi everyone,
I had a pretty busy weekend how was yours? One my mom went for a holiday to her friend's house so I had to take care of the house and secondly I had been to the Fair & Lovely's Bloggers meet here in Mumbai where I had amazing fun and also won the best complexion award what can one ask for? ;) Anyhoo its been 3 days since I posted a review so here I am with my review on Himalaya Herbals Strawberry Shine Lip Balm which I have been using from the last few days. Read on to know my thoughts on the same.....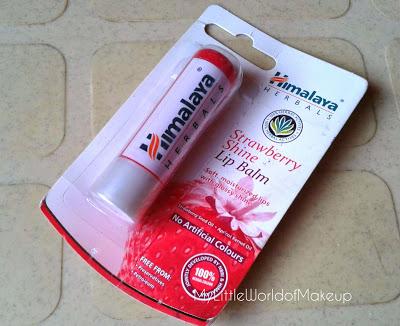 Price: Rs.120/- for 4.5g. Available for only Rs. 72/- here
Ingredients and what does the brand have to say: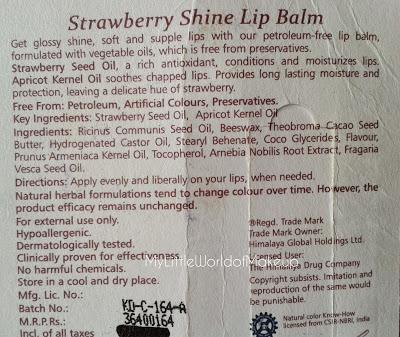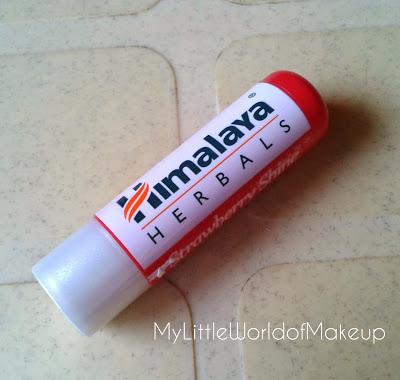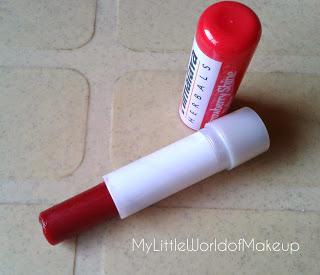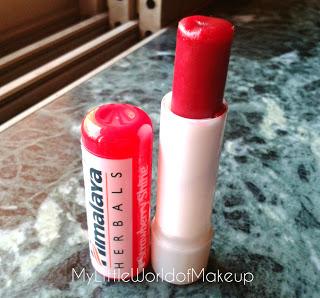 The lip balm comes in a cardboard packaging with the lip balm enclosed in it which is great as you know it may not have been tampered with. All the basic information is printed at the back of the packaging. The lip balm can be easily carried with you while traveling.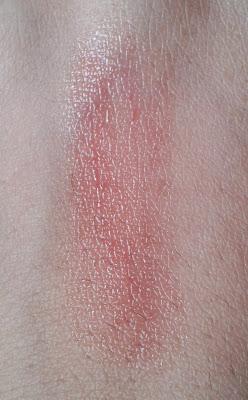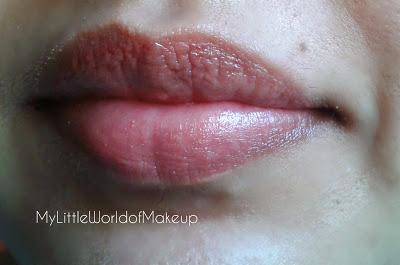 Lip balm on my lips
The lip balm is tinted and has a reddish tint to it. It is not glossy but not overtly shiny in the sense if you may have used the Nivea Strawberry Lip balm you may know what I am talking about.It goes smoothly on the lips but let me tell you it is not greasy or sticky and has a glossy look  but a bit matte in nature - good for those who don't like glossy lips.The lip balm shows like a very light red on my lips. It definitely worked on  my dry and a little bit flakey lips. I felt my lips were softer and smoother using it. You need to apply after a couple of hours if you have really dry or chapped lips which is the case with most lip balms. It is free of petroleum jelly and is 100% natural and chemical free so what more would one need from a lip balm.I found no mention of SPF and the bullet can break easily with too much pressure these are the only 2 cons I could find.
The Good:
Easily available online & in any retail store
Inexpensive
No petroleum
No artificial color/preservative
Gives an nice reddish  tint to the lips
Makes lips soft & supple
Non sticky
Hypoallergenic
Devoid of chemicals
Travel friendly
The not so Good:
Does not contain SPF
Bullet is easily breakable.
Rating: 4/5
Himalaya Herbals Strawberry Shine Lip Balm is a 100% natural and chemical free tinted lip balm which makes the lips soft and supple and helps get rid of chapped lips as well on regular use. Hence I highly recommend it to all unless you don't like stawberries ;) or tinted lip balms.
I hope this review was helpful to all those reading. Leave a comment with your inputs. New bloggers/visitors leave your blog links for me to check out.
Until next time.. Take care xoxo

P.S: This is not a PR Sample**