The Road Hammers are turning into Canadian icons before our very eyes, with 2 CCMA wins for Group of the Year already captured, and the chance at a third coming up next month. They're brand of trucker/country/rock is infectious, their attitudes and work ethic on stage are impressive, and more than anything, it's easy to see that these 3 Canadian men are professional entertainers.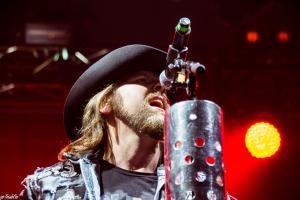 Thursday night the boys headlined the Coors Banquet Kick Off Party at
Boots & Hearts
, and they tore the roof off of the tented Front Porch stage. With a 15 song set, funny play with the crowd, a quick trip over to the Coors Banquet truck, a toast to the fans, Clay climbing scaffolding, and a whole lot of energy – The Road Hammers delivered.
Note: I loved their stage set up. With chrome stack covers on the mic stands and smoking stacks flanking the drum kit, it was 100% cool and as a kid who used to work in a shop and has spent a little time in a truck, I thought it was pretty rad.
Friday we got to sit down with Jason, Clay, and Chris to chat a little, and got a surprise performance of Willin' (video at the bottom of the set list).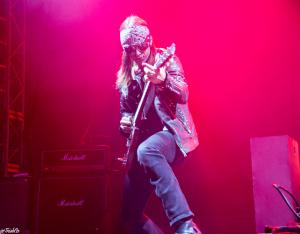 We asked about the CCMAs and the chance at leaving with a 3rd trophy, and all 3 guys looked pretty happy. Clay told us that it would be nice to pick up the hat trick, but the funniest interaction went something like this…
Jason: "Everyone always says it's great to be nominated, 'cause it's true…"
Clay: "But it's better to win!"
When we talked about the fans reaction to the Wheels album the band was grateful to the fans and country radio for picking it up and running with it, especially after they took time off. They recognize that it doesn't happen like that very often.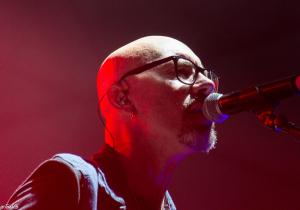 And we asked the boys about being on TV and the new CMT web series… and while Clay told us that CMT was foolish to give them a budget and a camera, the fans certainly don't agree because it's a good watch, and it certainly looks like the guys had a lot of fun making it.
We also asked about Jason and Clay's turn on season 5 of Mantracker… turns out it was just as much hard work as it looked, and Jason came home with a pretty nasty bruise up his side. Check it out on YouTube if you haven't seen it, it's worth the watch!
Check out the set list from Thurday night's paty, some more pictures from the show and interview + the video of The Road Hammers singing Willin' for us. Enjoy.
The Road Hammers Boots & Hearts Set List
★ Wheels
★ East Bound and Down
★ Get on Down the Road
★ Born Again in Dixieland
★ Overdrive
★ Mud
★ Nashville Bound
★ Willin'
★ I Feel a Sin Comin' On
★ Homegrown
★ Heart with a Four Wheel Drive
★ Girl on the Billboard
★ I've Been Everywhere
ENCORE
★ I'm a Road Hammer
★ Hillbilly Highway
Work Hard. Play Harder. Be Awesome!
http://www.thereviewsarein.com/wp-content/uploads/2015/08/The-Road-Hammers-Willin-Live-Boots-and-Hearts-2015.mp4