As No. 1 Hollyweirdo Barbara Streisand celebrates Hillary Clinton's (stolen) victory as the Demonrats' presidential nominee at her (yet another) farewell concert tour in Los Angeles last night, regular Americans are having none of it.
Last Saturday, July 30, at the 100th anniversary celebration parade of small town Arcadia's fire department in Iowa, "Hillary for Prison" was the most popular float (see below).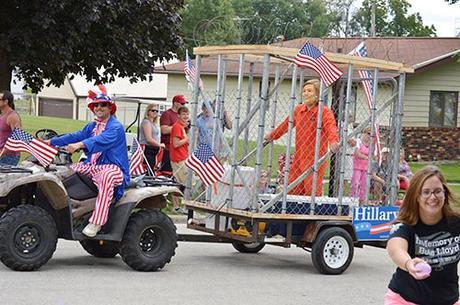 Matthew Rezab reports for Daily Times Herald, Aug. 2, 2016:
A young blond boy, no more than 8 years old, ran out into the street near the intersection of West Center and South Gault streets because one float was handing out water balloons. The child grabbed his balloon, took aim and did his best Nolan Ryan impression as he fired the balloon at a man dressed in an orange jumpsuit and Hillary Clinton mask while standing on a platform inside bars, fencing and barbed wire above a "Hillary For Prison" sign tacked onto the side.

Bull's eye.

The prideful smile of a job well done was written all over the boy's face.
The "Hillary for Prison" float was the idea of three men — Kyle Julin, Josh Reetz, and Hillary impersonator Adam Corky. Julin said the float took about a day-and-a-half to build, and that he and the other two men are not affiliated with any official political organization. Julin said he's an independent and as of March 2014 Reetz was a registered Democrat.
Julin estimated his group handed out around 400 water balloons during the parade. He said all the feedback he's heard has been positive: "Even the police and everybody was positive about it, especially on social media. We couldn't get pictures with some people because of where they work and their political agendas. But, only one group booed us. My consensus from that was 99 percent to 1 percent liked it."
Tim Tracy, chairman of the Carroll County Democrats, was among the 1 percent. He said demonstrations like this don't help things in an already charged political climate: "The Carroll County Democrats participated in the Arcadia celebration in an appropriate and dignified manner. We saw a lot of children along the parade route. Children aren't politically savvy. It's sad to imagine that some of them may have been wondering why they were being mean to that lady and throwing things at her."
Another woman, who wished to remain anonymous for fear of repercussions at work, said the whole thing just made her feel sad: "I'm glad my grandkids weren't there to see it. Here we have what could be the first woman president in our history — and to treat her like that — I thought was disrespectful to her and disrespectful to women."
Craig Williams, chairman of the Carroll County Republicans, said his organization had nothing to do with the float, but did promote photos of it on FaceBook: "I probably wouldn't have done that myself, but I can certainly understand some frustrations from people over all the illegal things (Clinton) has done. I don't feel it was offensive to women. It could have been anybody in there anyone who got away with what she did."
As for people taking offense to the float, Julin said: "I mean if they do, they do. We believe if Hillary gets in, it'll be bad for moving our political agenda forward. I will vote for my own personal view when it comes down to it. We can't even fathom the possibility of how she's able to do it. Also, it wasn't just kids, there were a bunch of adults grabbing water balloons and cheering."
It is not just the people of Arcadia who are politically divided.
A Pew Research Center survey out today found that:
Among registered voters who favor Trump, only 1 in 4 (or 25%) say they have a lot of or even some close friends backing Hillary Clinton; 31% said they have no friends who are voting Hillary.

Hillary supporters are even less tolerant

: Only 18% of those who say they will likely vote for Hillary said they have at least some close acquaintances voting for Trump; 47% said they have no friends who are voting Trump.

Blacks are less tolerant

: 71% of pro-Hillary blacks and 36% of pro-Hillary whites said they do not have any close friends supporting Trump.
An elderly couple in Florida even got physical over their political differences.
As reported by The Smoking Gun, police say that during an argument about the presidential race, Lawrence Littman, a 78-year-old registered Republican and Trump supporter, threw his pro-Hillary, registered Democrat wife, 73-year-old Elvia, to the floor of their home.
Elvia called 911 and told cops that during an argument with her husband about politics, he "called her many derogatory names then grabbed her wrist and threw her on a chair in the bedroom." She then went to a bedroom on the other side of the house to get away from her husband, to whom she has been married 20 years. But Lawrence, she said, "followed her, grabbed her by the arm again and slung her to the ground." Elvia told investigators that she "hurt her butt/backside when she hit the ground."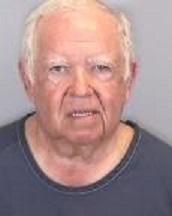 Lawrence Littman, 78
But Lawrence has a different story. He said that the duo had been arguing about politics and that when his wife "tried to slap him in the face," he "shoved her back and she slipped and fell to the ground."
Lawrence Littman was arrested for battery on a person over 65, a felony. Free on $500 bond, he has pleaded not guilty to the charge, and ordered to have no contact with his wife.
See also:
Angry America: Politics more divisive than race, gender, or sexual orientation

Science says liberals, not conservatives, are psychotic
H/t FOTM's MCA
~Eowyn