InfoWars reporter Joe Biggs said that during the Republican National Convention last June, two Secret Service agents approached InfoWars and asked to speak to them. (See "Secret Service is source of leaks on Hillary Clinton's deteriorating health")
Biggs said:
"The Secret Service contacted me. They said that Hillary Clinton has Parkinson's disease. They [Hillary's people] spent over a quarter million dollars on these stairs…to allow her to step down from the vehicle to the ground because she has trouble walking."
Here's photographic confirmation that Biggs and his Secret Service source told the truth.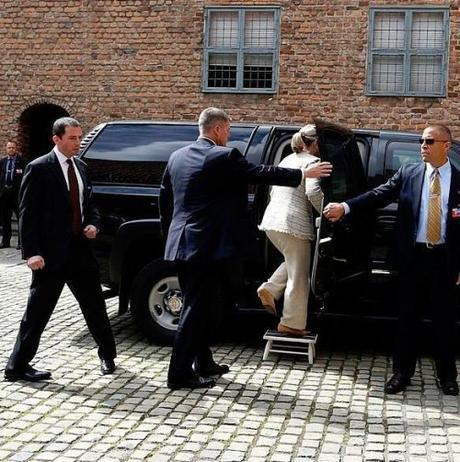 68-year-old Hillary is so feeble and sickly, she requires a stool step to get in and out of an SUV.
But she and all her enablers in the MSM and Hollywood (Jimmy Kimmel: "She can open a pickle jar!") insist this sickly old woman is physically fit to be President. How stupid do they think we are?
On Hillary's rapidly deteriorating health, see:
Hillary Clinton refuses to release her up-to-date detailed medical records

Website offers $1M bounty for Hillary Clinton's medical records

Hillary Clinton wears a catheter?

Strange bulges under Hillary's coat suggest a defibrillator vest

New photo of Hillary being propped up so she wouldn't fall

Hillary Clinton is unfit to be President: Photographic proof she has seizures

Is the hole in Hillary Clinton's tongue from cancer surgery?

Bombshell: Hillary Clinton has dementia according to leaked medical records

There is something very wrong with Hillary

Did Hillary have a brain seizure on camera?

Best explanation for Hillary's coughing fits

Hillary's health: her meds, thick eyeglasses, and what doctors say

Hillary Clinton is 'often confused'

Hillary is dealing with mounting health issues, new book claims

Hillary Clinton said to have multiple sclerosis; a stroke risk

Ophalmologist says Hillary's thick glasses were for double vision from 'severe head trauma'
H/t Drudge Report for the pic.
~Eowyn