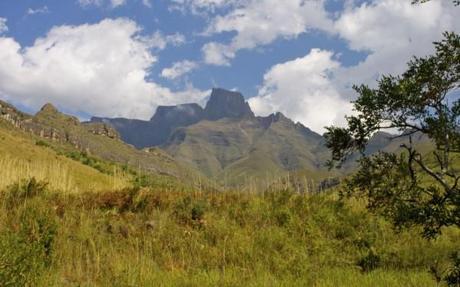 The Drakensberg is an impressive mountain range, the highest in all of southern Africa.  The hike the previous day to Orange Peel Gap had kicked my butt, but rewarded me with amazing views throughout that kept me motivated.   My guide Thomas assured me that our hike in the Drakensberg Amphitheater would be easier.  Unless of course I wanted to choose a more difficult option.  I looked up at the high imposing sandstone cliffs where the S. African border meets the Lesotho border and immediately declined.   We had planned a 12km ish hike with less than 400m elevation gain and that sounded just fine by me.  Child's play by hiking standards, but with views that far surpassed the amount of work I did for them.  I wasn't going to complain.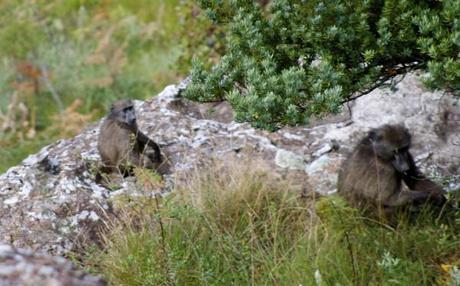 Nor was I complaining when a female baboon and her youngster joined us nearby for lunch.  Only in S. Africa would I have lunch with a baboon family.  I lingered over my bagged lunch on a rocky outcrop longer than necessary but enjoying the company of my new found friends – even if the mother had much more interest in looking for her lunch than she did in me.  At least her youngster seemed just as curious about me as I was about him.   We embarked in a staring contest.  I think he won.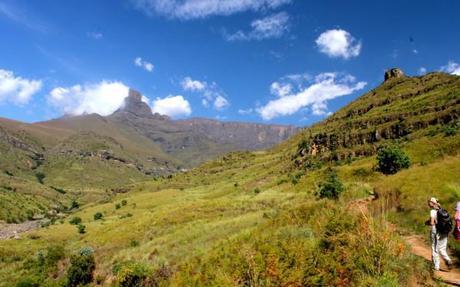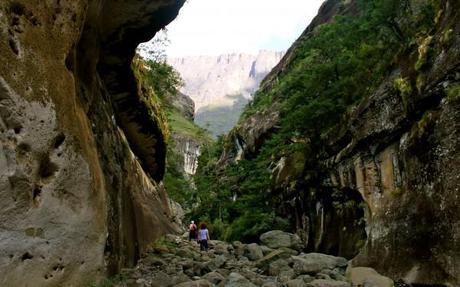 We continued on until we reached a river valley, that is often flooded in spring, but was almost bone dry given that winter was approaching.  Now the real fun began, a wall ladder and a short scramble for a look at one of the world's tallest waterfalls.  Thomas warned us to keep our expectations in check since it was fall and the runoff was likely to be low.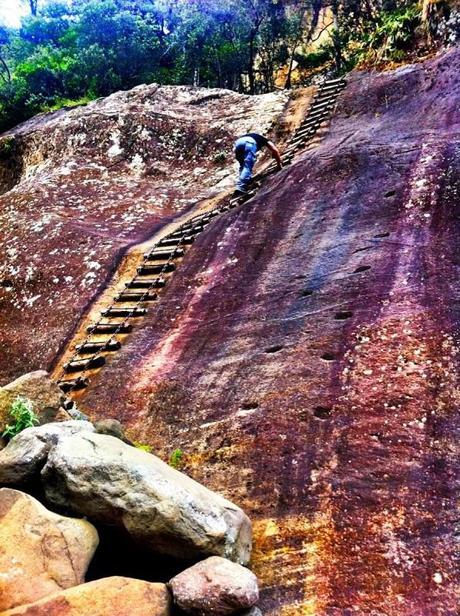 Still, I quickened my pace.  I love waterfalls and was expecting something similar to
Marmore's Falls
, the world's largest man-made waterfall in Umbria.  Instead this is what I saw: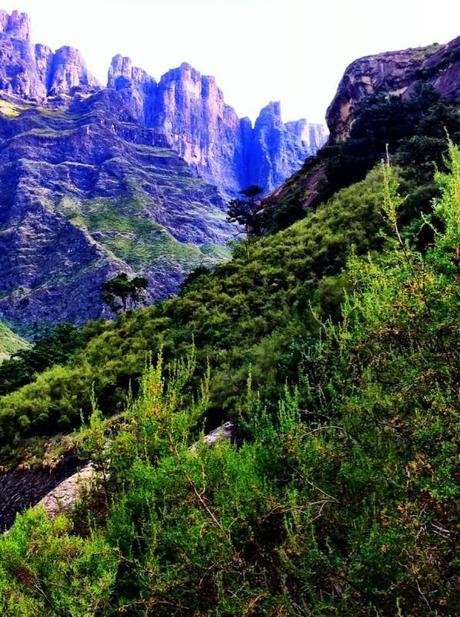 In place of the waterfall was a cliff where the waterfall would be come springtime, but in fall it completely eluded us, not even offering a dribble.  Waterfalls can be so fickle!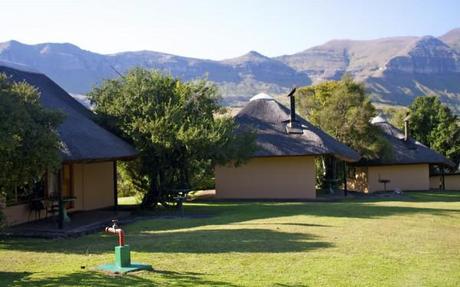 I retired to the Thendele Chalets, which offers self catered chalets in the shadows of the Drakensberg Amphitheater.  It was my last night in S. Africa and our group was cooking dinner together as we listened to the birds settling down for the night, reflecting over our visit to a  fertility cave and a Zulu village while still trying unsuccessfully to make the clicking sounds of the Zulu language.  The next morning at around 6:00 am I dreamed that I heard baboons calling. Much to my dismay, I late found out that they had been just outside my door.  Now I really regretted not getting up.  One never knows what adventures are waiting for you in S. Africa, and sometimes it's literally just outside your front door!
Know Before You Go Hiking in the Drakensberg:
The best time to go hiking in the Drakensberg according to our guides is in April and May, which is fall.  Temperatures are cooler, but not too cool and except for the Easter weekend, it's not likely to be overrun with tourists.
The Drakensberg receives snow in winter (June – August).  Hiking is still possible, but  check the weather conditions before you go so that you bring the appropriate clothing.
Contact the South Africa Tourism Site (in German) or the South African Tourism Site (in English) for more info on hiking and accommodations in the Drakensberg.

View Larger Map
Disclosure:  I was a guest of South African Tourism, but all opinions expressed as always remain my own.