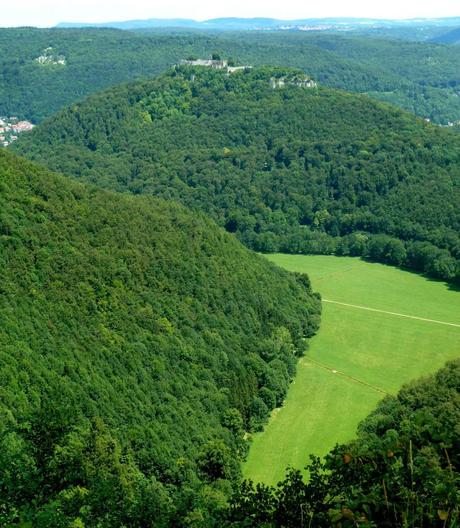 Bad Urach is one of my favorite places in the Swabian Alps for hiking.  It's a place of big treed hills, castle ruins, waterfalls and of course the requisite beer gardens.   Bad Urach Waterfall is an easy and popular hike with families and it's not uncommon to see German children stripping down for a dip in the small burbling stream en-route to the waterfall.  While Bad Urach is a popular spot for hiking, it's primarily Germans that go there, so if you're looking for a place with a local flavor on your trip to Germany, Bad Urach is a good choice to see how the locals hang out on a weekend.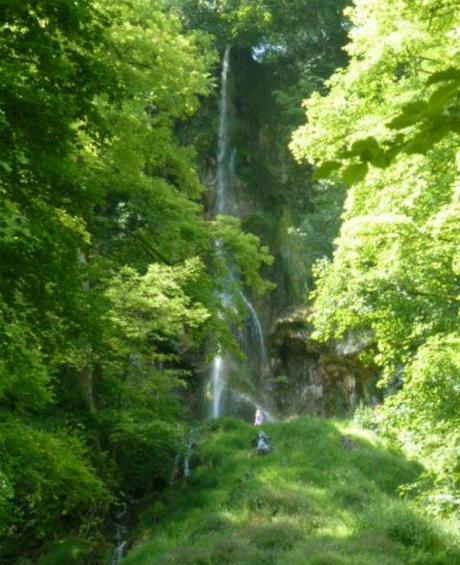 The hike to Bad Urach Waterfall is a popular path with German families.
For hikers seeking more challenging routes there are plenty of those as well, but signs are not always clear, or even present as we found multiple times at three way intersections with not a sign in sight.   We choose a 10 km route with 6 points of interest along the way, including two waterfalls and Hohenurach Castle, a castle ruin dating back to the 11th century.  We only hit two of those points of interest due to bad signage and running out of time.  Our 10km hike turned into a 15km+ one and Hohenurach Castle (which I really wanted to see and could see from a distance along the way) eluded us, despite taunting us en-route (as pictured in the top photo).  If you really want to see Hohenurach Castle, my advice is to hike to it first and not last as our route suggested.   We eventually did find the trail at the very end but had to get back to Stuttgart at that point.  To steal a  famous movie quote from Arnold Schwarzenegger "I'll be back."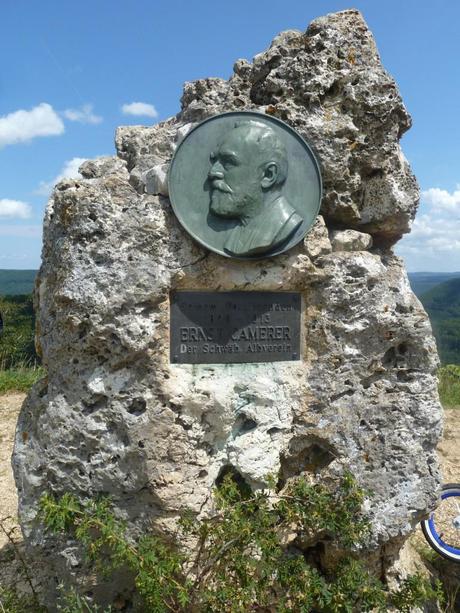 Besides Bad Urach Waterfall this momument to a hiker who enjoyed the area was the only other point of interest (out of 6) that we located. At least we had a gorgeous view overlooking the valley.
Bad Urach is located only 45 minutes south of Stuttgart or alternatively the train station is literally steps away from the start of the hiking trails.  There is a food kiosk and a restaurant at the start of the trail and a hut at the top of the waterfall with a limited menu.  I like its proximity to Stuttgart, the variety of hiking options presented, the Bad Urach waterfalls and Hohenurach Castle.  Now if they could just work on improving the signage.   For more info see Bad Urach Tourist Information (available in English).
Other places of interest in the Swabian Alps:
Lichtenstein Castle:  7 Interesting Things
Hiking in Germany with Ruins and Castles
Castle Ruins in Stuttgart