Founded in 1946 as The Colonial News, Pipe Dream is Binghamton University's oldest and largest student newspaper. Pipe Dream is published independently by an Executive Board composed entirely of undergraduate students, without the supervision or assistance of an adviser.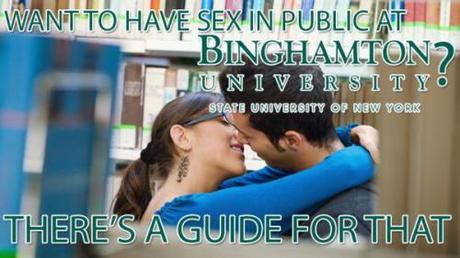 Public places on campus for your private pleasure
April 25, 2014: As the "technological era" rapidly transforms into the "ratchet era," the restless youth has become tired of conventional accommodations (bed? More like BorED!). If you haven't thought about having sex in the library, you've either never been in a library, never had sex or never read a BuzzFeed list about things to do before you graduate. While library lovemaking is the pinnacle of public collegiate romps, Release entered the trenches and gathered suggestions of locations less utilized, to satisfy those students starving for adventure, imagination and dick.
Balcony of Watters Theater, Anderson Center
No good shows playing? Perform your own! The balcony of Watters Theater is only really used for practice for Mainstage performances, which leaves it unattended for most hours of the day. The red cushiony seats and private balcony make it the ideal place to outdo the Dickinson Community Players' annual rendition of "The Vagina Monologues" with your special someone. Not too loud, though — big theaters tend to produce echoes.
Private study rooms in the University Downtown Center
Most people don't even realize how great the UDC is to study in, let alone to have sex in. Enter the UDC, walk through the Pods all the way to the back door and you'll find yourself facing a wall housing several closet-sized individual study rooms, each with enough privacy for someone to enter your back door, if you're into that. Each study room locks, so you don't even have to worry about the chance of anyone barging in. After a satisfying session, reward yourself with a Jazzman's cookie and a conversation with the spunky barista who works behind the counter. But don't tell her why you're really there!
Greenhouse next to Science Library
Looking for a natural environment to take part in humanity's most natural tendency? That foggy glass building between the Science Library and Science IV may be just the place. Although it might be difficult to find a comfortable spot once inside the greenhouse, the place itself is a safe haven for planting some seeds of your own. Good luck trying to find an appropriate surface — you may be stuck with the puddle-filled floor or a stool too small for anyone over the age of nine. You might even end up on one of the tables with plants on it, if you guys are in the mood for some gentle lovemaking (at the risk getting humped up against a cactus).
Arabic section of Glenn G. Bartle Library after 11 p.m.
Finally, if you are looking for some good ol' classic library sex, the Arabic section at night is the perfect place. It's open Monday through Thursday, 24 hours a day, but after 11 p.m. it's usually empty. Enter the door next to the men's bathroom on the second floor of the library, then take the first door on your right. If you keep walking toward the window, you will find a weathered orange couch amid the stacks. This couch is so destroyed, it might make you might wonder if the Release team isn't the first to think of it as more than a place to study. Does anyone ever even read the literature in the Arabic section? For all we know, all of the books are cardboard props and Glenn G. Bartle created this section solely for student intercourse. And for that, we thank him.
About Binghamton:
Our academic culture rivals a first-rate private university — rigorous, collaborative and boldly innovative — while our campus culture exemplifies the best kind of public university experience: richly diverse students, active social life and deep engagement with the community.
DCG