Attention: California taxpayers!
This is what your hard-earned tax dollars are subsidizing!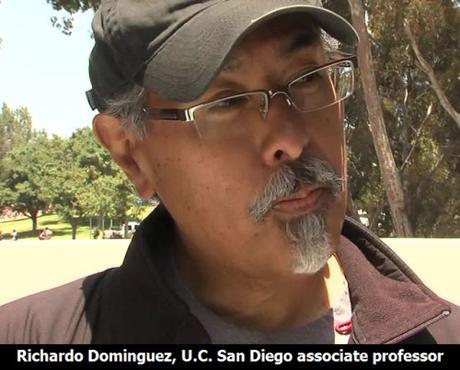 Alexandra Samuels reports for USA Today, May 12, 2015, that Ricardo (Dick) Dominguez, associate professor at the University of California-San Diego who teaches a course called "Performing for Self," is asking students to pose naked for a final exam as a "nude/naked gesture," whatever that means. Reportedly, the gesture takes place in a dark room lit by candlelight.
Dominguez's rationale for the assignment is that nudity has been a core part of performance art since the mid-20th century. He says, "The core canvas for many performance artists has been, and continues to be, the nude or naked body. If students are to learn about performance art as practitioners, this history of the medium is crucial for them to experience." Blah, blah, blah.
After some current students in the course complained, Dominguez defended himself in an e-mailed statement that students were "aware from the start of the class that (the gestures are) a requirement" and that he has taught the class for 11 years without complaint. Dominguez says students who feel uncomfortable with the assignment or feel the gesture "will be too hard for them to do," can drop the class since it's not a degree requirement. He insists "I have always been willing to work with students to help them navigate the process, during my office hours and in the context of the class."
Dominguez also cryptically offers that "Our advising team is also very willing to discuss the options for doing the performance without having to be actually nude or naked."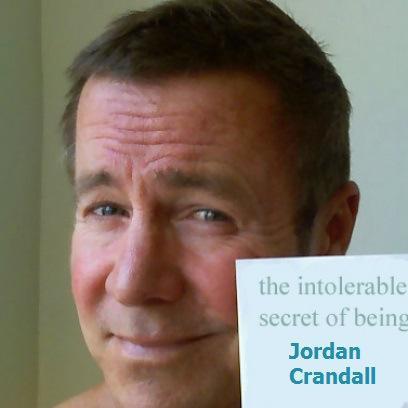 Jordan Crandall, chairman of the university's visual art department, also defended Dominguez and described the class as an "extremely successful one" in the visual arts department.
In an email, Crandall said that while the gestures are necessary to complete the course, getting completely naked isn't the only way to pass because students can do the gesture in a number of ways without having to remove their clothes because "One can 'be' nude while being covered" — whatever that means. Crandall adds, "the ambiguity around the question of 'nudity' and 'nakedness' is intentional. It is intended to be provocative, to raise issues. That is what performance art does."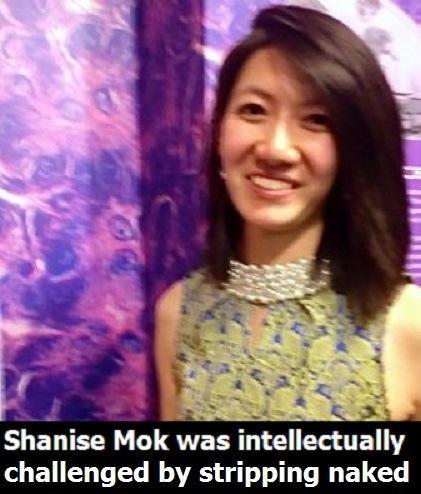 Shanise Mok, a former student who had taken Dominguez's naked course in 2012, also leapt to his defense, insisting that the nude "gesture" allowed her to "challenge" herself "intellectually."
Mok said, "It was clearly outlined in the first class (just like any other first day where professors go over the syllabus) that the final gesture would be a 'naked' one and what we could expect that day. We were not 'forced' to do anything. I was only…forced to think about how I can take my own art to another level. We all had the choice to drop or to find our own creative way to meet the nude or naked prompt as artists should. I personally feel strongly about making the human body an okay thing to talk about. We all have a body — nipples, butts and pubic hair in all their glory — and it doesn't need to be sexualized by the news – which is why artists step in to desexualize it and turn the human body into something we can love and appreciate as an art form."
Mok's LinkedIn page says she presently is unemployed and that her most recent job was a 6-month stint as a "teen education & recreation specialist" at Redwood City Public Library, which ended in February 2015.
Call me a cynic, but I doubt Shanise Mok making national news saying she was "intellectually challenged" by stripping naked is going to help her find gainful employment.
While searching on the Internet for Dominguez's naked class, I also came across this other piece of weird higher ed. news from October 2012.
A math professor at Michigan State University (MSU) stripped naked, ran naked through his classroom and down the hallway, screaming "There is no fucking God!" before police apprehended him.
Students said online that the professor, who was not charged with a crime and whose name was not released by the university, was "eccentric" and that they "could probably have seen this coming."
A Redditor shared this (see below) grainy cell phone picture of the professor in the Engineering Building's hallway as authorities restrained him. (Source: Huffington Post)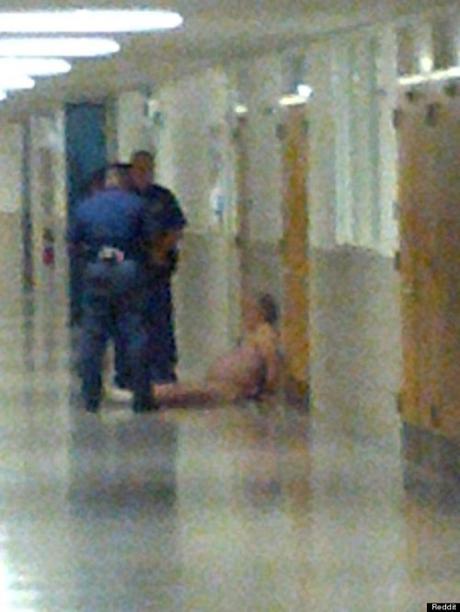 According to a chat-thread on Reddit, the professor is John D. McCarthy, Professor of Mathematics at MSU.
~Éowyn