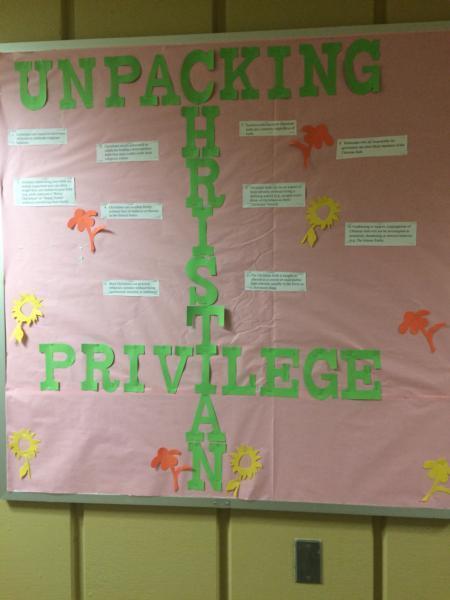 Campus Reform: Another privilege bulletin board has surfaced in an Appalachian State University residence hall, urging students to "check their privilege"—this time, their Christian privilege.
According to photos exclusively obtained by Campus Reform, a pastel bulletin board across from an elevator in Cannon Hall reads "Unpacking Christian Privilege" with several statements on how Christians have "privilege."(Right, especially in Indiana.)
"The Christian faith is taught or offered as a course at most public high schools, usually in the form of a literature class," one statement reads. "Positive references to Christian faith are common, regardless of faith," another statement said.
Brantley McDonald, a freshman computer science major at App State, emailed the University Housing administrators about the board but has yet to receive a reply. "Residence areas should be a safe and comfortable area for everyone," McDonald told Campus Reform.
"You don't have to preach tolerance by singling out one major religion," he said. "Also, if they are concerned with systematic issues, they should have that discussion with their elected officials and not the students in the residences they manage."
McDonald said that when he inquired about the board in person to several RAs, one told him that the board "was trying to convey to us [Christians] that there are other religions that don't get the same systematic privilege we do in regards to breaks, etc."
However, only a few days after the bulletin board appeared in the residence hall, someone scrawled "f*ck this" across the board. An identical bulletin board replaced it—this time with a sign from staff.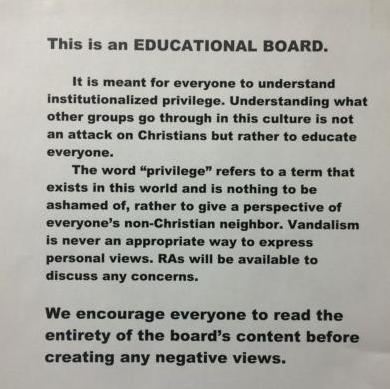 "This is an EDUCATIONAL BOARD," the sign reads. "We encourage everyone to read the entirety of the board's content before creating any negative views."
The Christian privilege bulletin board is the second privilege board to surface in App State's dorms. As previously reported by Campus Reform, another bulletin board addressed a variety of "privileges."
Andrea Sell, the coordinator for Cannon Hall, did not respond to an e-mailed request for comment.
See also:
Double standard in higher education's freedom of speech? Racist chant: Expelled. Humiliating rape video: Funded by school grant money!

Higher Education: Women's college viciously attacks freshman girl for conservative reporting

Higher Education: Dartmouth student – America must 'fix free speech' with censorship
Higher Education: Drama students prohibited from performing because of offensive Christian messageUniversity professors attack white, heterosexual, Christian males for being "privileged"

"Higher" education: Ohio State core class teaches Christians are dumber than atheists

Another partisan professor misuses classroom to bash Christians and Republicans
DCG