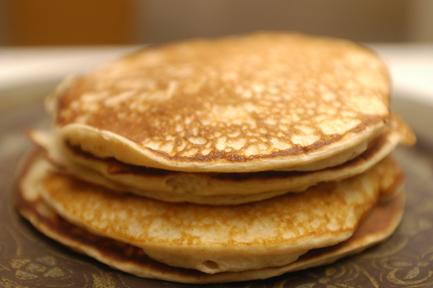 It has been a whole week since I've given up drinking caffeine!!  I am sleeping a lot better.   My head is not exploding by afternoon any more, and I don't wake up at night with a tightness in my chest.  I do miss the taste of coffee though. I might try decaf. But for now, I think it is a good thing to be caffeine free.
In keeping with a healthy lifestyle, I've been lifting free weights on non-consecutive days for quite some time.  In addition to the physical benefits (less overall jiggle and stronger bones), I find it meditative and soothing to my brain.  I don't listen to music or talk to anyone (too early in the morning to talk!)
I usually like to have a satisfying breakfast afterwards that's made up of fats, protein, and carbs.  This weekend I had a craving for pancakes.  I have a great pancake recipe that was inspired by Truck Stop's  Dan: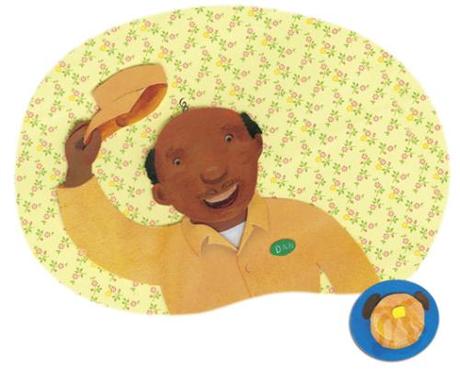 Diligent Dan orders pancakes with syrup and sausages!
But this time, I wanted a more protein rich batch.  There are a ton of variations on the web.  This is my version.  I use buttermilk (for more flavor), less egg whites, and I add vanilla protein powder.  Sometimes baked goods with protein powder have a spongy texture that takes some getting used to.  But these protein pancakes have a great feel — not weird at all.  Quite amazing, actually.  I attribute it to the buttermilk and ground oats.  Here's a recipe for one serving with nutritional information.  I could only eat four of the five though, and should have stopped at three.  They are very filling!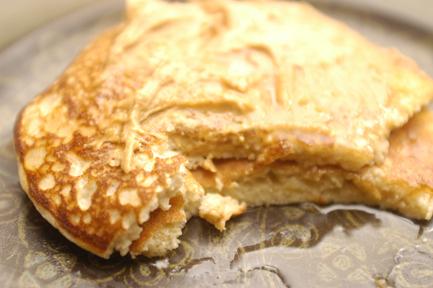 Especially when eaten with peanut butter!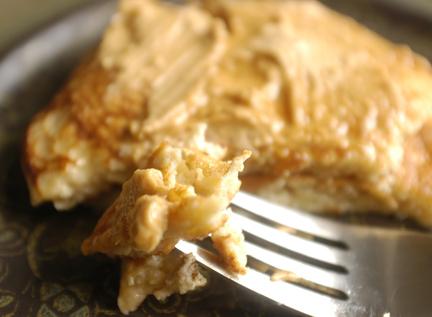 Yum!
You can freeze these by wrapping in saran wrap and storing in a ziploc bag, so you can have them quickly and easily on a week day too.  Wrap in a damp paper towel and microwave for about 55 seconds if frozen.
High Protein Buttermilk Pancakes
½ cup old fashioned oats
¼ of a banana, mashed
¼ cup butter milk
¼ teaspoon baking powder
dash of vanilla extract
3 egg whites (or 9 tablespoons of liquid whites)
½ scoop (18g) protein powder (I used French Vanilla Designer Whey Powder)
½ cup cottage cheese (I used my whipped version)
coconut oil, melted butter, or vegetable oil for greasing griddle
Preheat griddle.
Pulverize oats in blender.  Add remaining ingredients, except for oil.  Blend until completely smooth.
Brush griddle with oil or melted butter.  Pour batter onto griddle to make 4-inch pancakes.  Flip when you see bubbles forming around edges.  Cook another minute or less until done.  Serve immediately.
Makes about five 4-inch pancakes.
Each pancake :                                              Full Recipe
Calories:     84.8                                        424
Fat:   1.94  g                                        9.7 g
Sat. Fat:    1.06  g                                      5.3 g
Cholest:   10.1 mg                                  10.1mg
Protein:         10.48  g                                     52.4 g
Sodium:   143.5 mg                                717.7 mg
Carbs:   9.6 g                                         48.3 g
Fiber:   1 g                                              5.6 g
Sugars:          1.36   g                                        6.8 g