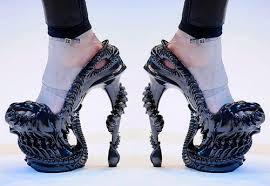 Lovely
About two weeks ago I had a big fancy gala to go to.
Upon realizing that I was required to wear a floor-length gown, I called my daughter and asked if she'd go with me dress shopping. Not so much because she's young and cute and hip and she wouldn't let me look too bad, but more because she's not afraid to hurt my feelings and will tell me if I look like I'm wearing a Halloween costume. (Remember, the Wicked Witch of the West wore an evening gown every time she left the haunted castle.)
"Yes, of course I'll come with you," she said.
"I'm not sure I can pull off a gown," I whined. I had tried on a few three years ago at a gown-optional fundraiser and ended up going with a short, sequin dress instead because, well, I was convinced I couldn't pull off a gown.
"Of course you can," my daughter assured me. "But you're going to have to wear really high, sparkly shoes."
Oh. So that's where I went wrong before. I went barefoot in the dressing room. I mean, my legs and feet weren't even visible. Who knew?
At my age, I probably shouldn't even consider wearing high-heeled sparkly shoes. But here's a little known fact about getting older: The effect of discomfort on your body rises as you age, but you knew that. But so does your ability to tough it out. And I'm at the point where my quest for being comfortable when out in public is becoming a pipe dream. Unless I start to wear a flannel nightgown and a cloth diaper, and am reclining on a stretcher, there's going to be some level of irritating scratchiness, something is going to be too tight, some internal organ is going to be squeezed, and various patches of skin are going to be rubbed by leather, stiff fabric, plastic or metal.  I can't even wear some pierced earrings comfortably because the wires are too thick for my ears.
You know how doctors tell old people, "You have to learn to live with the pain?" They're preaching to the choir. I live with low-level pain every time I get dressed in the morning.
The good news is that you get used to it over time. And at that point, you're full circle, back to wearing high-heeled sparkly shoes. Because if you're not going to be comfortable in Crocs, you may as well go whole hog.
And that's just what I did for this gala. Not only did I buy the gold glitter heels, I bought a pair in silver for next time. I bought a gown that had more metal in it than fabric. You've heard of the corset part of a dress having a "bone?"  My dress had a full skeleton sewn in it. Which was fine until I sat down. Or tried to breathe. Or step out of the taxi.
But it was all good, because I'm one middle-aged tough broad. I saw two women at the gala carrying shoe bags. They wore flats until they were sitting down and then they popped on their fancy heels for the sitting parts. One of them had flats that exactly matched her heels. Well played, gala lady. Well played.
Me? I'm not ready for the flats and shoe bag route just yet. The shoe bag handle would rub the spot on my arm that my watch has rubbed raw.
~ ~ ~
Read more of Diane's "Just Humor Me" columns here.  Sign up for our weekly e-newsletter to get new blog post notifications. And if you like her blog, you'll love her book, Home Sweet Homes: How Bundt Cakes, Bubble Wrap, and My Accent Helped Me Survive Nine Moves.