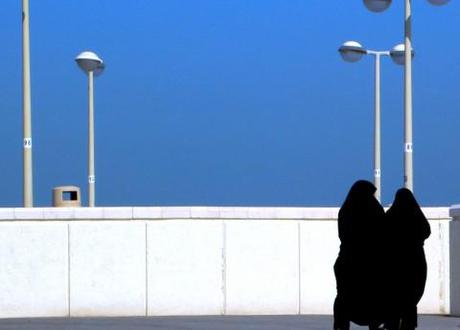 Two women in Dubai. Photo credit: http://www.flickr.com/photos/cyberandy/463730606/
Last December, I traveled to Dubai where I taught at the Hult Pocket MBA for Women Who Aspire to Lead seminar. The Hult Pocket MBA for Women was a 2-day intensive which brought 60 mid-career women from throughout the region to Hult International Business School's Dubai campus for an extraordinary learning experiment.
The setting was an intimate, transformative and engaging platform, unlike any I've ever experienced. Demand for this seminar was overwhelming — nearly 300 were placed on a waiting list for the free seminar and others asked if we would reprise the course in Cairo, Tunis, Manama, Doha and Riyadh. Given the turmoil and upheaval over the past year in the region, it is gratifying to see the Middle East is hungry for programs that empower and advance women in business and women as leaders.
You Can't Be What You Can't See
The global faculty and presenters assembled to teach in the pocket MBA ranged from social and behavioral psychologists, to global management, communications, finance, and HR. Dr. Amanda Nimon-Peters, Managing Director and Founder of Sara Black International, led the course with an opening discussion of influences contributing to self-belief and self-doubt, factors that subconsciously affect performance in women. She guided us through experimental social psychology research which included a candid discussion of stereotypes, the negative effects they have on women in the workforce, and how they contribute to self-sabotage on a subconscious level.
She further underscored the importance of role models for women and noted that they increase a woman's belief in her ability to succeed particularly when women have overcome relevant difficulties on their paths to success. Unfortunately, there are too few women in senior leadership identified and showcased for more junior women to emulate. When it comes to leadership role models, men dominate the headlines.
In my session on Global Skillsets, Global Mindsets, I shared research from Stanford's Graduate School of Business and the Thunderbird School of Global Management's Global Mindset Institute. The research resonated with the class, as many women shared their difficulties in balancing what they felt were expected "masculine" traits with their innate "feminine" traits in the workplace. Finding balance and adapting while navigating a global career is the Holy Grail of success. Additionally, these are skillsets women, and in particular mothers, are incredibly adept at, though we are never taught to promote those traits and in many cases taught to diminish them early on. As women, we need to seek out more opportunities like the Hult Pocket MBA to better understand, develop and leverage these skillsets as well as nurture a network that supports our continued learning in this space.
The Hidden Power of Women in Business & The Men Who Get It
We ended the Pocket MBA with a powerful panel on Men Who Contribute to Boosting Women's Careers, or what I like to call The Men Who Get It. Here were three educated, successful men married to equally sharp, successful women. They shared frank views on the balance of power in their relationships and the positive benefits they derived from having a working and succeeding spouse. One shared how he had sacrificed his career for his wife to pursue an expansive global corporate role and the fulfillment he obtained by looking after their children full-time. The panel's sensitivity to work-life balance and deep appreciation for women's contribution to and strengths in business was evident and applauded. It is also important to recognize that we were having such a discussion in the UAE which is leading the region when it comes to women's rights and the empowerment of women.
There was nothing pocket-sized about the energy in the room during our Pocket MBA. When women get together like this, transformation occurs. We acknowledged that we spend so much of our lives focused on what we think we're supposed to do, that we rarely discover what we're meant to do. Many of the participants in the Pocket MBA shared that this two-day intensive sparked in them the confidence to seek out a new direction, an exploration into finding their true passions and to develop their unique talents and abilities.
Whether they know it or not, women yield a tremendous amount of power and influence in business globally. Unfortunately, more and more women in the mid to senior career levels – just when they are beginning to take the leadership reigns — are opting out. Much of this power is hidden, underestimated, and undervalued many times by women themselves.
It is important to reflect on the impact women have in business and to find a way to capture and hold up stories of relevant female role models, abolish stereotypes, and find new creative ways to support and empower them. Even the smallest of efforts can make an extraordinary impact. I flew a very long way to inspire and leave an impact on a group of women who are just beginning to realize their own power in the global workforce. What I didn't anticipate was how much I would learn from them and how I would be the one leaving inspired, optimistic and energized for the future.