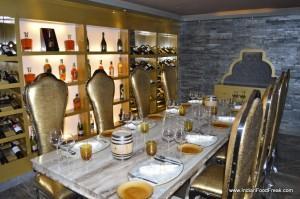 Private Dining Room
Today was one of those rare occasions when I went to a restaurant with least expectations and yet ended up having a great meal while enjoying my favorite retro music from the 80s and the 90s. I went with my friend to The Hiatus – a world cuisine restaurant in the Qutab Hotel, Delhi. The only memories I had of Qutab Hotel was that it was the only place one could go bowling during my college days.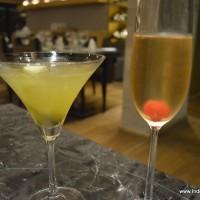 Cocktail & Wine
With the temperature soaring to 45 degrees, we entered the cool, welcoming interiors of Hiatus. The well-stocked bar to my right was a pleasing sight. I must say the bar was very smoothly managed by Pankaj, the bar manager, who served innovatively created new cocktails like Green Apple and Wasabi, Clovetini, Citric Melon, Melon Kaffir Lime and Caper and Onion Martini just to name a few. The walls were well stocked with wines and cigars from all over and there was a smoking section bang opposite the cigar display.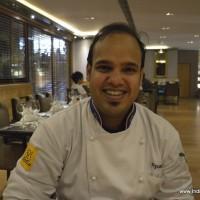 Chef Piyush Jain
The 80-seat cover Hiatus, has got multiple seating areas including outside seating where the Sunday brunches are held and a dine-in wine cellar in the basement for private dos. According to Chef Piyush Jain, Hiatus is a world cuisine restaurant which endeavors to try and get cuisines from 2-3 countries onto one single plate.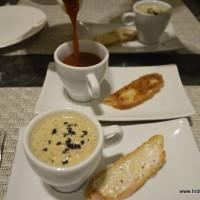 soups
We started with focaccia bread (different breads are made inhouse separately for lunch and dinner) and four types of butter roundels – strawberry, mango, peri-peri and black olive – all very interesting flavours. This was followed by yummy, delicious and some new soups – Broccoli Cappuccino topped with Olive dust, Tomato and Jasmine Tea with truffle oil and Veg Tom Yum all poured from a stoneware kettle.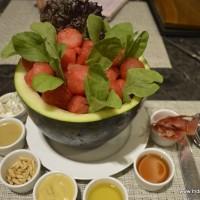 Water Melon scooped salad
We were then served the Water Melon scooped salad with seven accompaniments, which reminded me of the khao suey because of the way it was served. Each bite, dipped in a separate dressing of Feta Cheese, Pine Nuts, Lemon Honey, Honey Dijon Mustard, Extra Virgin Olive Oil and Parma Ham, felt like we were eating a different salad.
By now it was absolutely clear as to what was to follow— a gastronomical treat of the best kind.
Must Tries :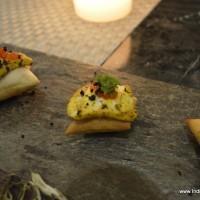 Air Bread
The Air Bread with Pickled Marinated Cottage Cheese topped with Tomato Caviars and Olive Dust, was simply delightful with a surprise in the air bread, which I'll let you find out for yourself.
The Crispy Lamb in Hoisin Sauce was perfect – crisp on the outside and juicy and soft inside (I can still feel the taste).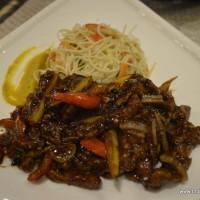 Lamb in Black Pepper Sauce
The Lamb in Black Pepper Sauce again was also to die for with the heat from the freshly ground black pepper married beautifully to a mildly sweet taste.
Sake Flambéed Scallops were tender and aptly paired with the crispy potato spaghetti.
Crispy Duck Shawarma served with five accompaniments was delicately flavoured and refreshing to say the least.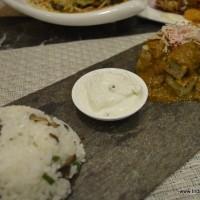 Goan Tofu Curry
On the other hand, the Tofu Goan Curry was no great shakes and had nothing Goan about it though the accompanying Wasabi Raita was really nice and different. N2O Battered Prawns served with tomato and orange vodka sauce were nicely cooked but nothing extraordinary. Lemon Grass Kulfi can be avoided for the icy texture but do gorge on the Tiramisu.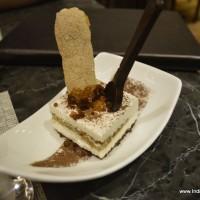 A special mention has to be made of the detail given to plating which succeeded in making the food look visually appealing. I just wish the service could match. It was inattentive and slow. A product and process training is definitely in order.
To sit and count the reasons why I would go back to Hiatus will take forever but I can start with great food picked from any section- Western, Indian or Oriental even in a world cuisine restaurant, excellent good cocktails and good choice of music to name a few.
Ratings (Out of 5)
Food: 4.0 | Ambience: 4.0 | Service: 2.5 | Overall: 3.5
Meal for Two: Rs. 3,000 | Credit Cards: Yes | Timings: 12 noon to 1 am | Wheel Chair Accessible: No
Address: The Hiatus –Clarion Collection, Qutab Hotel, Shaheed Jeet Singh Marg, Katwaria Sarai,Qutab Institutional area, New Delhi | Telephone: 011 33036588
Sunday Brunch – Timings: 12.30 pm to 4.30 pm.
Rs. 1,000 (with non –alcoholic beverages) / Rs. 1,800 (With alcoholic premium beverages including champagne)
The Dine-In Cellar has to be booked in advance for Rs. 50,000 only.


Private Dining Room
Cocktail & Wine

soups

Water Melon scooped salad


Air Bread
Lamb in Black Pepper Sauce




Goan Tofu Curry
Chef Piyush Jain