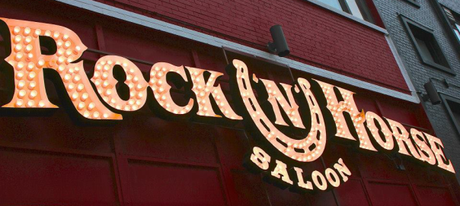 There's a new place to wear your hat and boots downtown with the launch of the Rock 'N' Horse Saloon at 250 Adelaide St. West.
Wednesday night I went to check out the private launch party (Thank you Liz & Strut Entertainment for the invite) and get a look at the newest country getaway in the city.
Note: At the exact same time I had friends checking out the preview party at Boots & Bourbon in Riverside and they made it clear that I need to get east of Yonge to check it out too.
As a country boy and a country music fan I was excited and sceptical going in. It didn't take long for me to lose the scepticism.
When we checked in I could hear the music coming from upstairs and the night started with Luke Bryan (can't wait to see him at Boots & Hearts 2014). From there the DJ did a great job all night long. At a country bar in downtown Toronto it took 2 and a half hours before Taylor Swift came through the speakers. That's not a bad thing at a country bar! As much as I love T. Swift, she's not the be all and end all of country music.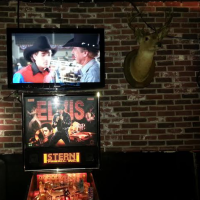 It was also awesome to see
8 Seconds
(1994, Luke Perry as Lane Frost) and sports playing on the TVs in the joint. I've already got a list of cowboy movies in my head that I would love to see playing when I walk in again.
And oh ya, there's an Elvis pinball machine against the wall, just past the pool table with a brand new red felt. not too shabby.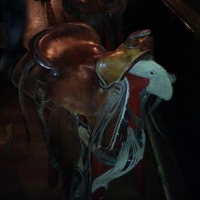 Outside of the obvious "every country bar ever" decor, there are also some other special tidbits like the bar stools with saddles for seats and the mechanical bull and inflatable ring set up in the far corner of the bar.
I didn't ride the bull last night. I thought about it. But I didn't do it. I regret it a little bit, but I'm sure that I'll get another chance some day.
The night was hosted by CMT Chevrolet Top 20 Countdown's Paul McGuire who was good on the mic. Made some semi-adult jokes while one of the Spurlesque (the country dancer girls) ladies rode the bull and he did a great job handing out trivia questions and prizes throughout the evening.
He also made sure to point out the fact that Gord Bamford and Kira Isabella showed up to say and have a drink. The DJ noticed too and played Bamford's Is It Friday Yet as soon as he got in the door.
Back to the trivia, the 1st question of the night was "Who Wrote Wagon Wheel?" and I totally knew the answer. But some other dude got it first and my hand in the air got me nothing. BUT, Paul McGuire saw my hand in the air and called me out in front of the entire bar to tell me that I was going to get the 1st crack at the next question…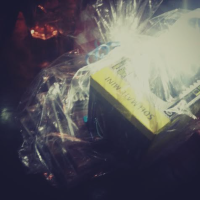 My question, "Name 3 Dolly Parton Songs". Now, I love country music, that's an established fact. And I LOVE Dolly. But I don't love being caught off guard in a crowd of strangers. So, I immediately spit out I Will Always Love You and 9 To 5 – but then I went quiet and couldn't come up with number 3. However, I was saved by the crowd which included the adorable Kira Isabella yelling
JOLENE
at me.
The answer made me a winner of a prize pack that included Miranda Lambert's Four The Record, The Pistol Annies' Annie Up, Jason Aldean's My Kinda Party and Country Heat 2014. But that's not all. I also got a Jabra Soulmate Mini bluetooth speaker that will work with my phone or laptop or whatever I want it to. Not a bad prize. And thanks to Kira for the help.
Note: Bob Dylan wrote Wagon Wheel. I had the right answer.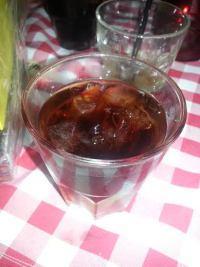 Here's the final skinny:
the drinks were strong (rye and diet for me), the food was tasty (try the Pulled Pork Sliders and Jalapeño Bacon Corn Bread), the music was good, the bull looks fun, the staff were friendly and cute, the decor isn't too cheesy and I enjoyed myself. I look forward to going back soon (maybe Friday) to see what it's like with the public.
I do wonder what the pricing is going to look like for drinks and food since it was an open bar event on Wednesday. Remember that this is a downtown, Entertainment District bar. But overall I think that the Rock 'N' Horse Saloon has a strong chance to succeed for a while and capitalize on the revitalization of country music and its current pop culture relevance.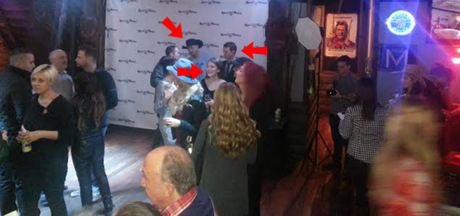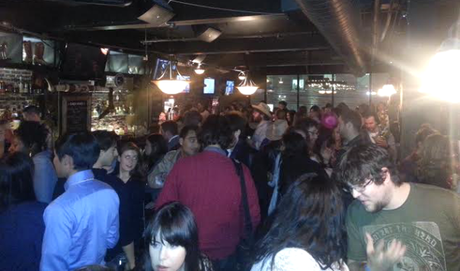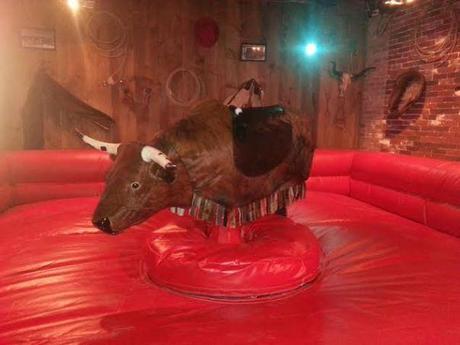 The Bull Still Doesn't Have A Name. Any Ideas?