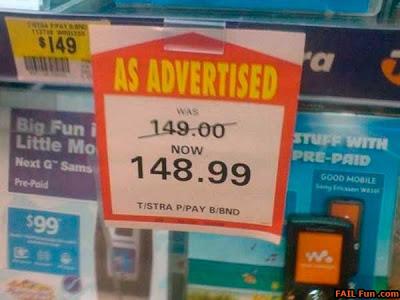 That looks about right to me.

I

am not the best bargain-shopper. I'm not even in the same shopping species as my sister-in-law Debby, who can go to any store and pay a fraction of the cost for whatever, and then qualify for free gas to drive her and her booty home, where I suspect she rolls in piles of Bed Bath & Beyond 20% off coupons on her bed. Afterward she calls me and brags that she did all of her Christmas shopping for $37.
I don't have the patience for that kind of glory. I would rather pay full price and then whine and complain about how expensive everything is these days. Afterward I don't take Debby's calls.
I'm a firm believer that you get what you pay for. Or at least that's what I tell myself when I'm paying full price at Macy's because I left my coupons at home. You know, the coupons that come upon you like an avalanche by every source of communication both modern and ancient the minute you apply for a credit card. Some of them just appear on my desk, as if by magic. They never end up in my car, however, when I'm going to Macy's.
"You can bring them in later and they'll refund your savings," the helpful cashier tells me.
Do I look like someone who is willing to invest a second more than I'm already doing? I'm at the front of the line, sister. In my mind I'm already home watching Hoarders.
I do like a good bargain as much as the next guy, but only if it walks over to me and climbs into my cart. I don't want to have to invest any time or effort into it. Couponing requires finding a pair of scissors, frequent-buyer deals require digging for those little cards in the bottom of my purse (or did I leave them in the kitchen drawer?), and shopping for sales requires schedule flexibility and being willing to go shopping when you'd rather stay home and watch Hoarders.
The other day I was at Target, the store where you are made to feel as if you're getting high quality merchandise for slightly-higher-than-Walmart prices (that burning plastic smell as you walk in the front door is mind-control gasses, you know that, don't you?) and I was determined to go cheap.
I was looking for the cheapest comforter I could find. It didn't have to be fit for human consumption. It was for the bottom of our dog crate. I hadn't wrapped my head around the fact that I was shopping for another comforter, but here I was, doing it. I had a huge stack of extra comforters, dating back to the early '80s, in my guest room closet. I hadn't thrown or given away a piece of bedding since I got married. But we had gotten this new dog and she was a nervous wreck and even now you can't get your hands on decent dog drugs. I considered filling her water bowl with some Chardonnay someone brought to a party and we didn't want, but the vet frowns on that kind of thing. She continued on her course of freaking out over every little ever-loving thing, which resulted in explosive diarrhea. I'm a multi-talented jack-of-all-cleanups, but I don't do dog diarrhea, so I was just throwing stuff away left and right. My stack of comforters was dwindling and we were down to the late-'90s forest green and maroon diamonds when I decided to go to Target and pick up a comforter with which I could furnish the crate once the dog's bodily functions took a chill pill and all the disposable comforters were depleted. I thought I would put it somewhere visible, still in its packaging, kind of as an incentive for better days ahead.
"Cheap, I'm looking for cheap," I muttered to myself as I scanned the bedding department. I figured my best bet would be has-been Disney characters, last year's cartoons, and disgraced puppets. Surely I could get a deal on Elmo these days. 
Not so. I ended up spending 20 perfectly good dollars on a plain black twin-bed comforter. It wasn't on sale. I didn't have a coupon. It wasn't being Closed Out, it wasn't on Final Clearance and it wasn't Must Go.  So while it was the cheapest one there, I didn't have that miser's sense of satisfaction when I checked out and looked at my receipt. Another reason to not call Debby this week.