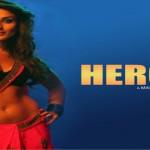 Heroine is the new film of Kareena Kapoor and a solo film coming in the wake of few heroine oriented films doing well. It is backed by UTV Motion Pictures and is directed by National Award winning director Madhur Bhandarkar. Here is an exclusive preview report of the film.
The film as expected has the template structure of director Madhur Bhandarkar, only this time the set up changes from say a Fashion industry to Film industry. Madhur Bhandarkar follows his template religiously but this allows the predictability to seep in which makes the screenplay flat and boring. The first half is still fine but the second half looses the tempo but again the climax is good.
Amidst all this predictability and boredom Kareena Kapoor shines. She acts well and tries to rise above the flawed script but that's asking for a bit too much. Among Arjun Rampal and Randeep Hooda , the latter is fine although the role is limited.
Overall the film is a below average fare with a predictable script.  If one has a strong appetite for juvenile sensationalism this might just do the trick.

Rating: 0.0/
5
(0 votes cast)