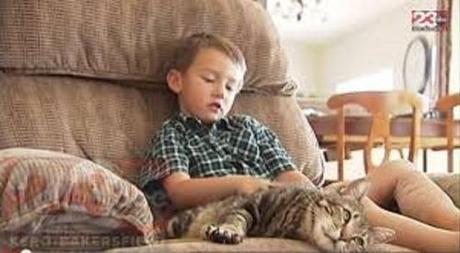 Tara with Jeremy
Remember the heroic pussycat who saved a 4-year-old boy from a vicious dog attack?
The cat's name is Tara, and the little boy is Jeremy Triantafilos.
DCG first posted the astonishing video, but here it is again:
CBS Local8 reports that Tara was a homeless kitty who followed Ryan and Erica Triantafilo from the park one night. The Triantafilos promptly adopted Tara into their home in Bakersfield, California.
On May 13, 2014, the Triantafilos' security camera captured footage of a neighbor's dog pouncing on, biting, and attempting to drag Jeremy. Within seconds, at lightning speed, Tara leaps out and chases the dog away.
Ryan edited the security footage and posted it on YouTube for family and friends to see. The video became an instant hit, viewed by millions on YouTube and making national and international news.
On May 20, Tara threw the first pitch at a Bakersfield Blaze baseball game – or at least she tried. LOL
Blaze pitching coach Tom Browning said, "We went directly to a two seam fastball," because Tara's nails could be a problem if she tried to throw something else. Ryan Triantafilo helped Tara throw the pitch as he held her in his arms.
Little Jeremy needed 10 stitches in his left leg after the incident; the vicious dog has been euthanized; and Tara has been smothered with love since her heroics.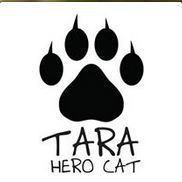 Tara now has her own Facebook page, appropriately called "
Tara Hero Cat
."
Don't forget today is International Hug Your Cat Day!
Whoever says cats aren't affectionate don't really know them.  :)
H/t FOTM's CSM
~Eowyn