TAKEAWAY: In Paris, Le Canard Enchāiné is the newspaper that is not afraid to be like newspapers once were: hard hitting, influential, edgy, one section, one color and ONLY in print.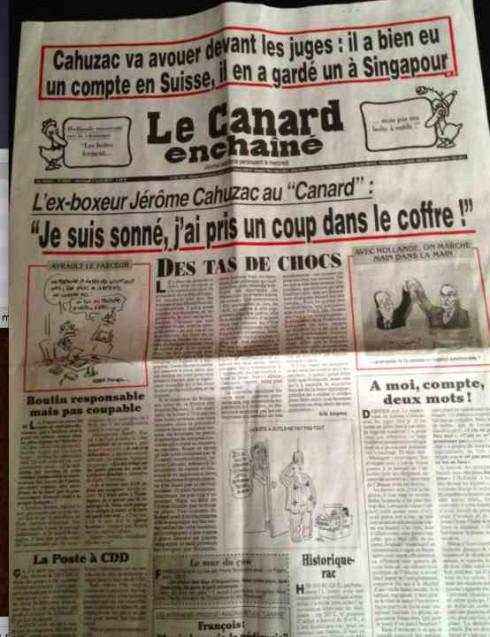 Front page of Le Canard: broadsheet, seven columns, and no photos, only cartoons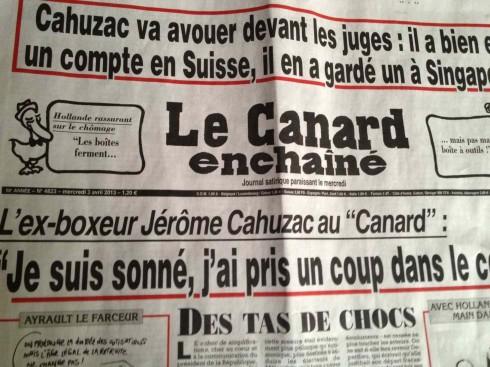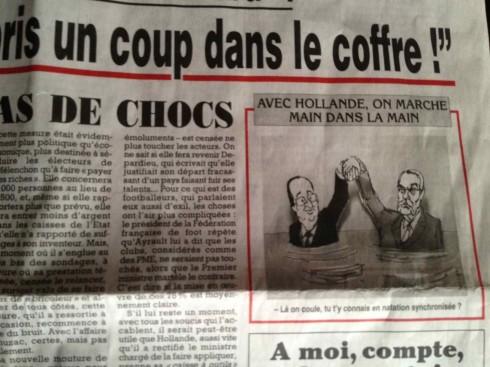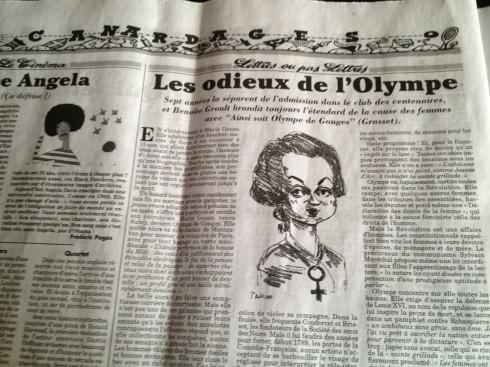 At least seven fonts are mixed thru the pages of Le Canard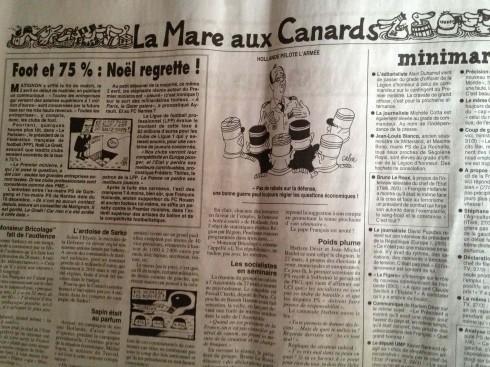 Page headers use hand made illustrated type with a special charm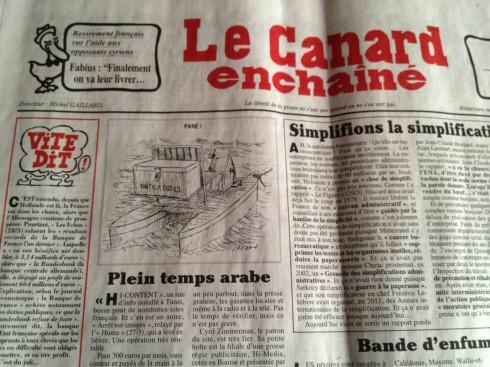 Only the color red is used in Le Canard, as seen on this the last page of the one section newspaper
If we wanted to celebrate ink on paper, the power of print, the allure of disconnect, or if we simply want to reminisce about the days when readers waited eagerly for their newspaper to be printed, or when those in government flipped through the pages hoping their names would not be mentioned, then take a look at Le Canard Enchāiné (The Duck Chained) a newspaper that is very much alive and anything but chained in Paris.
Bienvenue to the world of Le Canard, the 98-year-old weekly that keeps the readers waiting, the politicians panting in terror, and for which there are no digital editions—how do you say "gasp" in French?
While I have seen Le Canard for as long as I have been visiting Paris, I never stopped to look at it as carefully as I have this visit.
Perhaps it is because the current edition was lying on the table of the conference room of Paris Match, where the discussion of the afternoon was with a trio of type designers from Monotype, as we sat reviewing drawings for new fonts to be incorporated into the magazine's type palette later this summer.
Which type font do you like best?
"What is the type palette here, fellows?", I asked as I held up a front page of Le Canard.
A chorus of experienced voices started singing those font names out loud: Cooper Black, Futura, Helvetica Inserrat, Kabel, plus assorted hand made type illustrations that populate and decorate the pages. Perhaps you need all those fonts sometimes on the same page next to each other to make the point.
It is not that Le Canard is retro, it is just that it never abandoned its old ways, visually or journalistically. Today, it is like a constantly updated souvenir, a postcard from the past that someone leaves on your coffee table every Wednesday with a fresh new message. In a way, a reminder of how newspapers once looked like when Charles DeGaulle and Ike Eisenhower were leaders and the Cold War was in its early stages.
The duck is chained, but the editors' pens are not.  I am told by the locals that allegedly even the French secret service waits eagerly for each new edition of The Canard to get information (that's power).
When I asked if Le Canard favors a specific politician, I am told that, indeed, it does not.  The chained duck goes after everyone with the same force. It calls it as it sees it.  Nobody escapes its claws.
There are no photos on the front page, only hard hitting caricatures, in the style of what I remember seeing in newspapers of my childhood—and that is a long long time ago.
There are also NO advertisements at all in Le Canard.
And, listen to this, the newspaper is profitable, and depends exclusively on kiosk sales.  In addition, and to make sure it remains totally transparent, Le Canard discloses a financial statement once a year.
Don't use the term redesign around Le Canard, please….
But, oh, it is so much fun that it should remain like this forever, which it probably will, as this is the type of newspapers that never dies.  We wish Le Canard another 100 years at last.
This newspaper is like that genuine chocolate milk shake from a diner somewhere in a small town in the US which just resisted the temptation to go to yoghurt smoothies—opting to keep its original shakes, rich in calories but pure to the core.
Or, that house circa 1929 whose owners refuse to tear it down or remodel it, even when the neighbors all prefer pre fabricated so called Mac mansions.
One member of our afternoon meeting asked me this:
Mario, how would you redesign Le Canard?
My answer: Le Canard should never be redesigned. 
It is perfect as it is. Its type of hard hitting journalism lives well in its current dwelling, with the crazy type palette, the hand made logos, the broadsheet with the seven columns of 90% text.  It bites. It thrives. It honors the rules of old fashioned journalism and it celebrates ink on paper every Wednesday.
Unchaining this duck would be a sin, visually or otherwise.
Where's Mario until April 28, 2013?

Mario's upcoming speaking engagements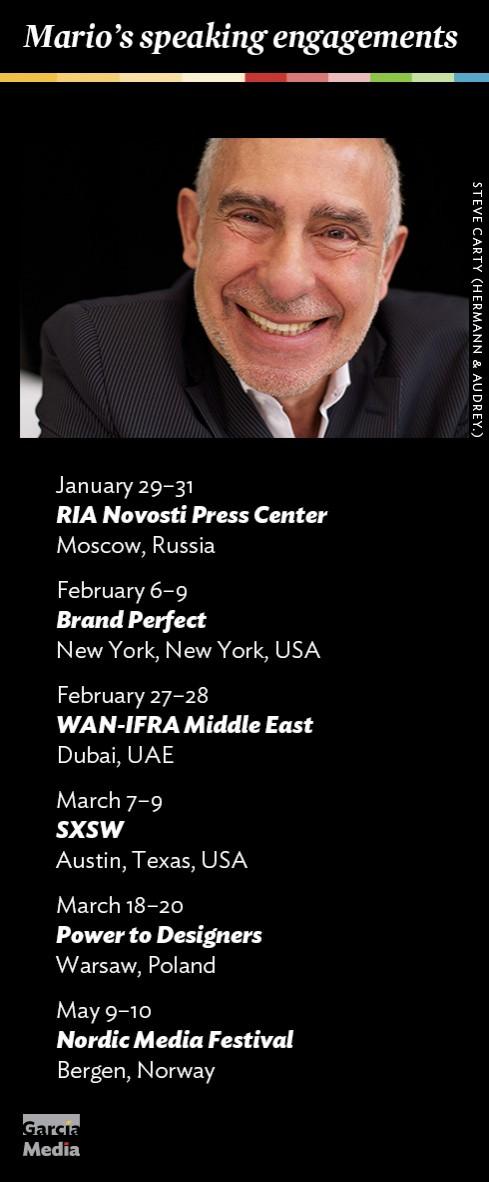 Take advantage of our iPad Design/Ad Lab workshops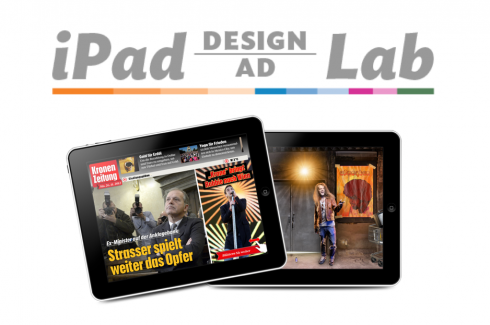 Do you want to take your brand to the next level by creating a tablet edition? Garcia Media can help. We now offer one- to two-day iPad Design Lab workshops on demand to jumpstart your presence on this exciting new platform. We also offer iPad Ad Lab workshops to develop engaging advertising models for your app. Contact us for more information.

Purchase the book on the iBookstore
iPad Design Lab has been given the

QED

 Seal
TheMarioBlog post #1230