Even on a Monday night in Toronto, there are opportunities to have a country music party!
This week Canadian country star Tim Hicks took over the West Jet stage at Harbourfront, currently serving as part of Ontario's Celebration Zone at the PanAm Games… it was a free show, with fans dressed in plaid, boots, cowboy hats – with many enjoying a beer or two to start the week.
Hicks has been red hot over the last two years with six Top 10 singles, two hit albums – and now 3 new Canadian Country Music Association Award nominations for Male Artist of the Year, Album of the Year (5:01), and Interactive Artist of the Year.
The PanAm show gave us a full 90 minutes of Tim Hicks, with his signature party feel pumping through the speakers. We're hoping to see it again soon on a fall tour that just might be coming…
Check out the set list from Harbourfront and a new Q&A that includes some Canadian pride, the CCMA's, 5:01+, the new single Young, Alive And In Love, and more!
Tim Hicks PanAm Games Set List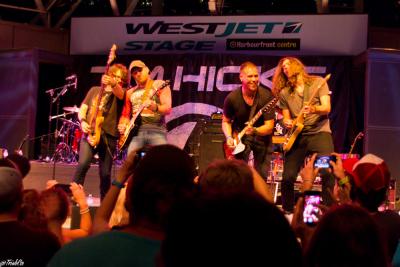 ◦
Hell Raisin' Good Time
◦
So Do I
◦
Greasy John Deere Cap
◦
Young, Alive And In Love
◦
Buzz Buzz Buzzin'
◦
Here Comes The Thunder
◦
Underdog
◦
Dust & Bone
◦
A Little Drinkalong
◦
I Got A Feeling
◦
She Don't Drink Whiskey Anymore
◦
Don't Wanna Go
◦
Get By
ENCORE
◦
Stronger Beer
◦
Cheers To You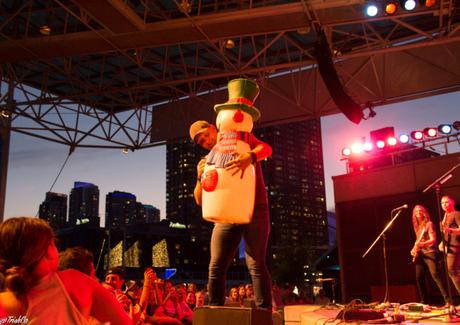 #Billingsworth
Tim Hicks 2015 Summer Q&A
Q. First, how cool is it to be performing as part of such a huge Canadian event – and to that point, representing Canada?
A. It's SO cool! I'm honoured to be a part of the whole celebration. I love events like the Pan Am Games cause they bring out everyone's national pride, which makes the games themselves a lot of fun. Go Canada!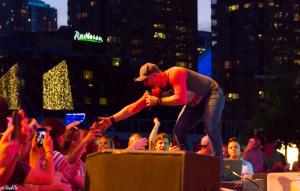 Q. Second, how did it feel to hear your name called 3 times as part of the Canadian Country Music Association Awards nominations?
A. Hearing my name called was really surreal. It still feels like this ride is happening to some other guy named "Tim Hicks". It's a humbling experience to be included in the CCMA Nominations. I never thought I'd ever be in this position, but that being said, I'm so proud of Canadian Country as a whole. The level of talent has gotten really high and the bar keeps being raised- plus the people in this industry are great people. I'm also super proud of Jeff Coplan for getting the "Producer" nomination for 5:01 and of Mitch Nevins for getting the "Album Design" nom as well.
Exciting times!
Q. The new single, Young, Alive & In Love is getting some great response from the fans, and it's a whole lot of fun. Are you excited about having a summer jam out for festival season?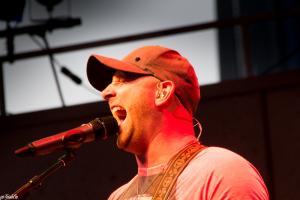 A. Yeah for sure!  The thing about a "summer" song is they are hard to come across and often you don't even know you have one until you hear it on the radio and feels good in the summer weather. When I heard the demo for YAIL, I knew instantly that it would sound great blasting out of the speakers with the windows down on a summer day. I'm pumped for people to hear it!
Q. 5:01+ is coming in September, how excited are you to get some new tracks out to your fans, and invite new fans to check out tracks like Here Comes The Thunder and She Don't Drink Whiskey Anymore?
A. Very excited! I had all these songs piled up and wasn't sure what to do with them. When it was decided that we would add 4 new tracks to 5:01 to make it 5:01+, I got really excited. I feel like it's a creative way to get some fresh material out to people while I'm working on the third record. Plus, it always makes the live show more interesting when there's some new songs to toss into the mix!
Q. What's the plan for the rest of the summer, any big dates that you're really looking forward to?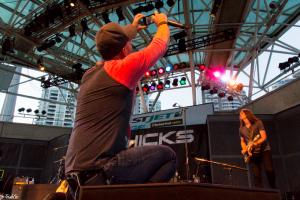 A. I'm looking forward to them all!  I just love to play live. It's where I come from as an artist and performer and for me, it's the best part of this whole trip! When the band and I are on the road, the best part of my day (aside from Facetime with my family) is that 75 mins on stage. There isn't a rollercoaster out there that compares to the rush I get while I'm doing my thing out there on t he stage!
Q. Last question, to wrap things up… if you're out at a karaoke bar and they call your name, what song are you singing?
A. I never go to Karaoke bars lol! Ha!
Note: Tim might not go to karaoke bars, but we heard him sing part of Luke Bryan's Country Girl Shake It For Me – and we think that would be a solid pick for him!