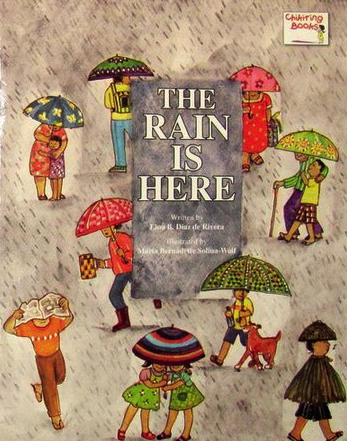 I've always loved the rain as a child. This little book, "The Rain is Here" (Chikiting Books 2011)  brings me many happy memories of that.
Perhaps the best thing I could say about this delightful book by Dr Lina Diaz de Rivera and Bernadette Wolf is that reading it was therapeutic for me. I read it with Anton on a very rainy day, the day after Bernie, the illustrator herself, gave it to me.  I think it has happily taken away some of my post-Ondoy rain trauma.
Such a happy little book guaranteed to wash the grey off your rainy days!  Every page of text and illustration is sheer bliss. The words have a soothing, calming effect. You can imagine the gentle patter of rain in the spaces between the quiet lines of text. And the art provides a lively counterpoint.  By the time you finish reading the book, you will be singing and dancing with joy in the rain with the four little children who are the main characters in this book.  But then you realize you do not even know their names at all!  And only then you realize it's because they're never mentioned in the text, they're just the wonderful inventions of the illustrator!
De Rivera's text is wonderfully sparse; all words sparkle like little gems in their clarity and preciseness.  And Wolf's watercolors are just jaw-droppingly adorable! Never has the rain been rendered with such an ecstatic palette. Her love of patterns and fabrics shows through; the colors of her spreads beautifully complement de Rivera's text in their luminosity.  My favorite spread, the one with a turtle against a lake with ripples created by the rain, looks  like a painting on silk.
I am absolutely not doing this book justice by blabbering about it.  Just go out and buy your copy now!