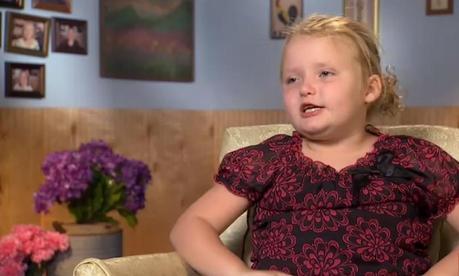 Hell, yeah my family likes to eat. Pixie Stix are for pussies. Gimme some meat.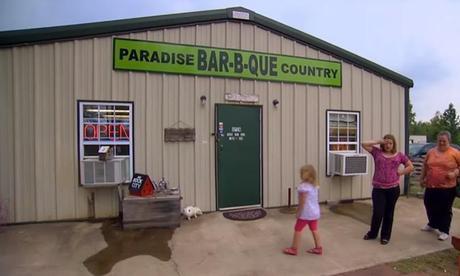 The Redneck Prophecy has been fulfilled. If you BBQ it, fry it or just leave it sitting around…they will come.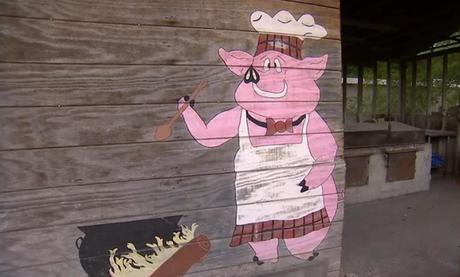 Now we know what happens to glitz pigs who don't pull for a higher title.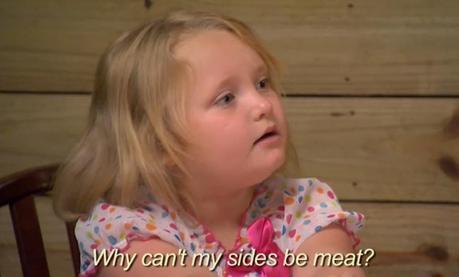 Umm. Yeah. That's what she said.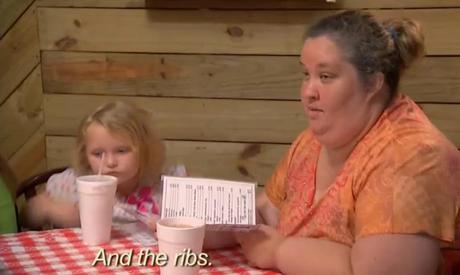 And then more ribs. But instead of forks, can we get more potato salad?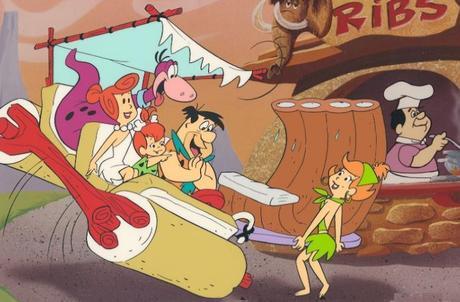 Yabba Dabba Boo.
Seriously.
How can you not love this family?
We're already seven episodes into Here Comes Honey Boo Boo, and if you're still reading this mess I'm going to assume that you're also in love with them or have way too much time on your hands.
Mama June, toothy Sugar Bear and the whole Boo Boo Clan have captivated the known universe and, like it or not, are here to stay.  They ain't going anywhere, especially considering that Shugie works 7 days a week at that mystery chalk plantation and Alana has another pageant coming up soon.
Plus they all have way too much on their (dinner) plate right now, so to speak.
They're here.  They eat deer.  Get used to it.
And all those haters out there who claim this show should come with some kind of warning?  Wrong.
This show should come with Wet-Naps.  The original moist towelette.
There was more food flying through the air and juice leaking out of stuff this week than an Iron Chef weekend marathon.  ("The Secret Ingredient is…..Road Kill!")
Half way into the episode I literally had to mist my plasma with Windex just to cut down the grease before it congealed.
Them Boo Boos do like to eat.  Redneck Style.  They fully admit it, and this time around they proudly showed off all their culinary warrior skills like a Badge of Honor.
Honestly, it was almost an art form.  Or a food fight.  I couldn't decide.  But it was one of those two, for sure.  Maybe even both.
But before the gravy train rolled into the backyard station (…I think I finally just figured out the cargo inside all those Amtrak box cars skimming the side of their house every hour…) everyone tried to maintain focus on Alana's upcoming pageant needs.
After recently realizing that Honey Boo Boo had outgrown her previous pageant dress due in part to Costco cheese balls and genetics, it now seemed that she had also outgrown her little wiglet.  Bigger dresses and bigger heads meant bigger wigs, so the Boo Boos all headed down to Shh! It's A Wig! to check out the inventory.
Say that name three times really fast and then you'll discover the hilarity.
(What happens when someone digests too much hair?  Answer: _________!)
After you compose yourself, please do step inside the fine establishment for even more hilarity, because it was a sight to behold.
How, or why, a place like that even existed in Boo Boo Land is beyond me.
If Alana's family is even a slightly accurate representation of Southern Wildlife, I have no idea what anyone would need with a joint like S***'s A Big Weave in their neighborhood.
Even though it's a town or two over, I don't think the Kuntry Stoe considers it big competition.  I'm also fairly certain that any place specializing in wigs that are plopped every which way but straight on styrofoam heads decorated with scented magic marker eyeballs is probably not going to be loaded into Beyoncé's GPS.  So I have no clue what was up widdat.
It was part salon, part wig store, part iParty and part RuPaul's Drag U Lab.  And just getting there was apparently a lot of effort for the Shlep Sister Trio.
Still maintaining their constant state of lethargy, Chubbs, Chickadee and Pumpkin rubbed their eyes, scratched their stuff and sleep walked all the way into the building before crashing in a heap.
Pumpkin sat back and chewed whatever that thing is that's always in her chompin' mouth (…is it gum or wha–?…) while Chickadee held a water bottle up to her head like a stranded soldier in the Iraqi desert.  Being the only girl to ever experience pregnancy in the summer months was apparently taking its toll on her, as well as potentially setting her up for the Best Supporting Actress in a Drama Category.
But at least the two of them made it into a chair.  Chubbs was laid out on the floor like a bad mall Glamour Shot while everyone tried to work around, up and over her.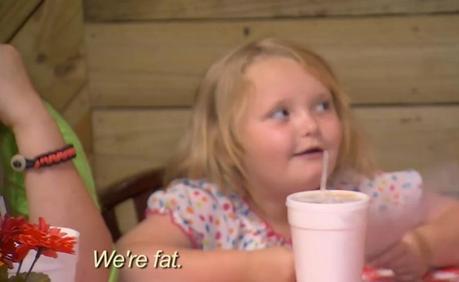 Wig Worker Claudia Marabel, who looked like she had accidentally gotten off that Amtrak at the wrong station on her way to VH1 and didn't have a ticket back out, was a little horrified by the whole process.  Girlfriend was a awkwardly speechless here and there, and had that nervous sideways mouth thing going on that meant she was totally holding back a really big "Those Crackers Are Craaaay!" but was trying to play nice on television.
All the Boo Boos got in on the game and tried on every wig in the place.  June even worked it in a long, blonde hooker number that got Shugie so horned up he felt the need to let us all know that he was thinking about jumping some bones right there on the floor next to the Chubb rug.
It must have been Role Play night back home, because Sugar Bear either left the place wearing a scruffy mullet wig or they somehow made friends inside with one of the motorcycle lesbians from the front of the Pride Parade.  But I think it was Shugie.  And he looked gosh darn happy to be alive.
Turned out Sugar Bear wasn't the only thing overheating this week.  The Georgia temperatures were also hitting record high levels, and that was making for some very uncomfortable family members.
June explained that her voluptuousness was not enjoying the current heat wave and by the time she finished completely and descriptively explaining why, I almost gave myself hysterical blindness.
There were only a few weeks left before school and pageant season, so the family really wanted to spend as much time together as possible, but having your naughty bits stick to vinyl beach chairs probably wasn't what anyone had in mind.
Thankfully, Sugar Bear came to the rescue and brought home one of those big wobbly above ground plastic pools that come all crammed up inside a cardboard box.  Everyone was excited until they realized that they would have to help participate in the actual assembly process.  Just the thought sent June into the shade to restick her naughty bits while the Shlep Sisters grabbed some pvc piping and worked on their acceptance speeches.
Drama, I tell you.  Hot.  Drama.
Part of what makes this show real and, dare I say it, slightly charming at times is the fact that little Alana is still just little Alana.  Her mega celebrity status hasn't fully registered yet, so at the heart of it all she is still just a kid.  Granted, a kid who does pageants and eats food that the police find on the side of the road.  But still a kid.
A kid who likes to play and get sassy and splash around her new pool like it's Shark Week.
Hope she had fun, because they all broke the freakin' water hose seal within the first two hours.  The thing is probably flat and empty by the time you get around to reading this.
Watching Sugar Bear put together the pool really worked up everyone's appetite, so next they all headed to the local BBQ shack for some ribs.  And some chicken.  And some potatoes.  And some more ribs.
Basically, anything that the kitchen had on the grill came out to the table, conveyor belt style.  Here's my credit card.  When it's maxxed out, dinner's over.
To make the ordering process easier, they pretty much just ordered everything on the menu in no particular sequence.  Gah.  Love them.
The waitresses then dumped the snacks and ran in much the same way you might dump chum into the water when you're trying to catch a Great White.  You dangle the bait, but you want to be careful you don't lose a finger.  Because it happens.
I'd love to see a statistical breakdown of how much food actually makes it into their mouths when the Boo Boos eat, because there was a whole lot of face paint at that table.
I would also have liked to have seen one of those CNN tickers running across the bottom of my screen with the quantity and calorie stats rolling out in real time.  That would have been a hoot.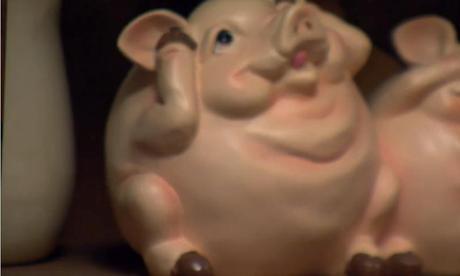 Just like when she was in the wobbly pool, little Alana was just little Alana again and spent the entire evening face down in her plate.  She made potato salad sandwiches and gnawed on ribs like she had just gotten out of prison while everyone grabbed every scrap they could find off each other's plate when no one was looking.
Some of the dishes coming from the kitchen were piled so high they were gravity defying.  The Boo Boos definitely got their money's worth, even without any of June's coupons.
There was even a brief table discussion on why June wouldn't marry Father Figure Shugie and just make all this dysfunction legit, but it was short lived as Pumpkin and Chubbs decided to unleash their rib-filled tummy rumbles and began tooting on each other.  For realz.
Pthffffft.
Remind me to skip that joint on my Rib Tour 2012.
Back home, after experiencing Pumpkin and Chubbs gastric plumbing, we got to experience the lack thereof in the Boo Boo home.
Who knew that the kitchen sink drained directly into a big plastic pail?  A pail that they have to drudge out the back door every time it gets full.
No pipes = no clogs, I guess, considering that all the woman folk wash their hair in the same spot where they clean and tenderize raw meat.  Personally, I might have held off on the pool until i capped off that gaping hole in the bottom of my sink, but that's just me.
Or maybe even skipped the weekly 87 rolls of Brawny just once and swung by Home Depot for an elbow joint instead.  But again…
Now that everyone's hair was squeaky clean and you could see clear down into the bottom of the pail, it was time to go back to Crazy Tony's and do some more mud boggin' and 4 wheelin'.
And shopping.  At the Redneck Department Store.  At the Wilkinson County Dump Mall.
Yeah.  Dumpster Diving, baby.  Hold my feet, I'm going in.
I guess it's the place to be…and be seen…around town.
All I know is that seeing one of the Shlep Sisters rolled up in a dirty mattress that Tony found in the dumpster kind of skeeved me out.
I mean, who's gonna want that thing now that it's covered with cheese ball dust?  What a waste of a perfectly good Sealy.
Mama found a Rowenta iron that they brought home to…I dunno…iron with…even though I've never seen any of them wear anything besides cotton t-shirts.
It must be for Alana's new dress.  Or making waffles.
Finally, it was time to celebrate the Fourth of July like a true Redneck.  Down at the Lake, frying both your skin and your lunch until it's crispy.
After a little beach time where Mama got to model her Redneck Air Conditioner (…a wet towel wrapped around her head like a fortune teller…) and Shugie got to sit there sweating in his denims jeans (…so as not to risk his pasty white legs causing a Single Ladies flash mob…) everyone got to enjoy the evening's celebrations.
For the third time this week, little Alana got to be little Alana and showed us all the wonderment of a child watching fireworks with food on their face.
She Oooo'd (…the good kind…not the pig poo kind…) and Aaaahh'd at all the colors and sounds and proclaimed it was the best day ever!!
It was awesome, Mama.
Pthffffft.