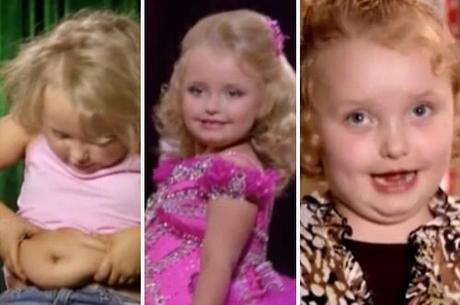 That's right, bitches. I'm back. And you're gonna need a jug of Honey Booze Booze to wash down all of this Redneckosity!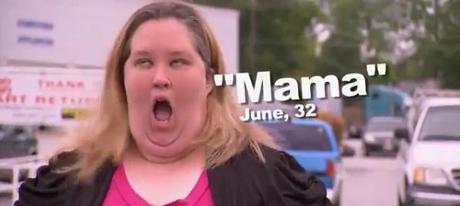 OMG! Triple bonus coupons on Brawny, right when I was down to my last 423 rolls of paper towels.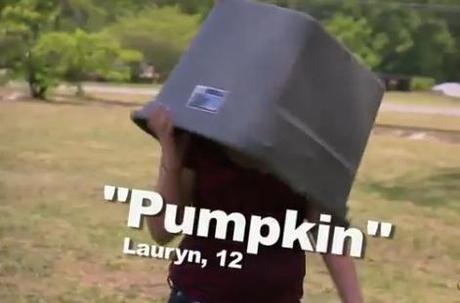 I don't need no manners. The smell of pigs feet and my Rubbermaid hat bring all the boys to the yard, thank you.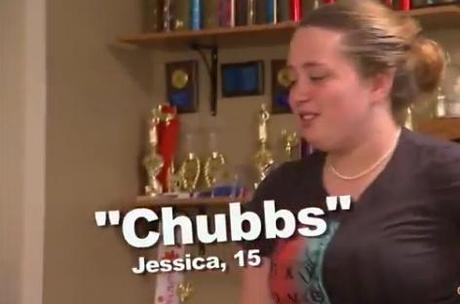 Everyone hit me up in the chatrooms as soon as I posted that I do Mud Facials and Cheese Balls. What's up widdat?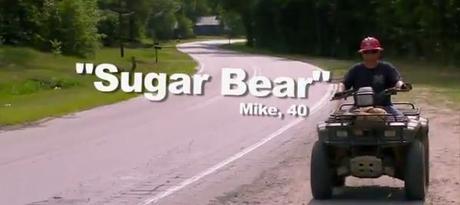 Seriously. I work seven days a week and I still have to go out and hit me some dinner every night? That's messed up.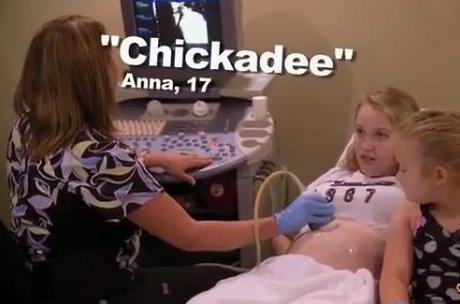 I don't even know where babies come from, but check out that TV! If you get knocked up you get free cable! Score!
Sheeeoooot.
I love me some Honey Boo Boo Child.
There.  I said it.  I own it.  And now I can't take it back.
Being, at least in my own head, the blogosphere's authority on All Things Reality I get to watch some fine hot messes just so I can report back to all of you.  And sometimes when I have to pass all the juicies along, I have to make something out of nothing if the show is not up to my exceptionally high standards.
Pimpin'…and bloggin'…ain't easy.
But then at other times, the Gods of Reality simply dump a bucket of pigs feet and television magic on my head and it just happens.
This is one of those moments.
Ladies and Gentlemen.  Rednecks and Etiquettes.
I give you Here Comes Honey Boo Boo.
After months of nervous hand wringing and coupon clipping, the most recent undisputed Toddlers & Tiaras breakout star finally plopped out onto our television screens this week like a newborn baby calf, all covered in a gooey coating of cheese ball dust and bat s*** crazy.  And the World is now either a better place for it, or is frantically spinning towards the end of civilization as we know it.
That one is up to you to decide, because the internet arguments will undoubtedly drag on longer than Huntin' Season, and I'm just here to report the deets as I see 'em…with perhaps a few questionable embellishments if I deem them necessary.
But you already know how I roll.  So let's do this.
Alana Thompson, the 6 year old pageant firecracker, still likes to Holla for a Dolla and win moneeeeey.  There's no doubt about that.  But now she is taking us on a behind the scenes view of what really goes down in her Georgia hometown.  And there is Reality TV gold in them thar hills, along with a made to order sitcom family right out of Central Casting.
They're real, and they don't make no excuses about it, which is why I love 'em.  They don't care if we like them.  They don't care if we hate them.  They just want to be left alone to do their extreme couponing, win pageants and do Redneck stuff.
Mom June is still big, loud, proud and thrifty.  Fame has in no way diminished her desire to scarf up every multi-pack of toilet paper and 2-ply Brawny within the city limits, all at a considerable discount by the way, and display them like the biodegradable equivalent of Precious Moments figurines on approximately 8 linear miles of plastic Home Depot shelving.
Fame has also in no way diminished her desire to hold in any bodily functions, regardless of their point of origin.
Burps, honks, toots, farts and Super Sneezes were all seamlessly integrated into pretty much every one of her conversations.  If you can look past the stigma that society usually puts on letting one rip during a television interview or Target run, it really is almost an art form.
This week was a Meet & Greet of sorts, so we could all get to know and love the Family, who are all packed into a house that looked to be wedged less than 6 inches from the train tracks.  I don't even know how that one got past the Zoning Board, but I bet property taxes are about $15.34 a year if you round up.
Imagine living near an airport where the plane actually lands on your roof, and then inside are 5 women and 1 man (…who could really use his own flipper, by the way…) all fighting over one bathroom.  In the first 3 minutes of the show you didn't need a NASA degree to figure out why they were all so loud and why everyone chose to wash their hair and road kill in the kitchen sink.  I only hope they don't multi-task when they're under a time crunch, because venison is stringy enough fresh off the highway.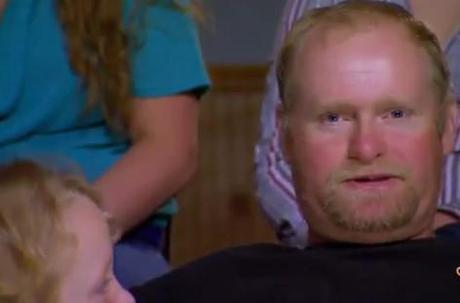 Dad Mike, aka "Sugar Bear," works seven days a week mining chalk.  I have no clue how you do that, or whether it's done in a chalk mine or harvested off trees in the Fall, but whatever it is…he does it.  And he does it non-stop apparently, so Georgia must be the Chalk State or something.  I'm a little fuzzy on some of my 7th grade Social Studies, so I apologize in advance on that one.
Sugar Bear never actually said it, but I bet that getting out of that Amtrak station once in awhile probably makes him smile a big, spacious jack-o-lantern smile, so I'd be curious to actually see his time card.
There are also three gum poppin', mud sloppin' sisters hanging around the house, and you didn't need that degree or a DNA swab to know they all fell off the same turnip truck.
(Side note.  Apparently, you also didn't need to know English to watch this show, because approximately 98% of the production was subtitled as though I had just tuned into Spanish HBO.  Granted, they all talk in a southern drawl with a mouth full of snacks, but I think I can make out what they're saying on my own.  If I wanted a foreign art film I probably wouldn't be hitting up Honey Boo Boo on a Wednesday night.  But thanks, anyway.)
Lauryn ("Pumpkin") was the crazy pig feet bobber in the family, and proudly proclaimed that she was pretty much born without manners.  Jessica ("Chubbs") could cram enough cheese balls in her mouth to warrant a call to the Guinness World Record people all while wondering how she got her nickname.  Anna ("Chickadee") was the 17 year old pregnant teen in the family, since according to MTV everyone in Georgia should have at least one.
Taking into consideration that Anna is 17 and Mom is only 32, you didn't really need a calculator to figure that one out.  You actually didn't even need all your fingers and toes.  At one point between toots and sneezes, June commented on how proud she was of Anna for staying in school until she popped.
As if on cue, a few scenes later Anna then showed off that high school edukashun by not knowing what an "abdomen" was…so…umm…yeah.
The first family trip was to the Redneck Games down the road a bit, and June hit the barn nail on the head when she warned us that there were some "broke down" people in that town.
Ok.  Broke Down is one thing.  But not even an Emergency Broadcast System scroll across the bottom of the screen would have prepared me for some of the Vajiggle Jaggle that Georgia unleashed at the Games.  When Mama Boo Boo said some blub would be eating some bikinis up, Girlfriend wasn't lying.
You know how when you make an omelet and you toss in some ingredients and then watch them slowly soak down into the warm cheese until they completely disappear from sight?
Yeah.  It was like that.  Except your oven doesn't get as hot as the Georgia sun.  Or as moist.  Now try to get that visual out of your head.
You're welcome.
Pumpkin bobbed for pigs feet in one of those big plastic bins that you store your Christmas decorations in while Chubbs and Alana belly flopped in the mudbog.  They didn't win the mud prize unfortunately, most likely because they couldn't hold a beer and belly flop at the same time like one Vajiggler did.
Again.  An art form.
There was also a brief moment when June proved that she's Sexy and She Knows It by booty grinding up against some Redneck cowboy butt just long enough to burn my retinas, and my tears burned like a midnight cheese ball toot.
Back home at the train station, everyone gathered around the world's largest cup holder couch to shovel down even more cheese balls and talk about how fat they were getting.
Seriously.  More?  Is there like a secret cheese ball room somewhere that we are not privy to yet?  Do we get to see it during the final episode or something?
I swear, it was literally the kind of endless supply that Feed The Children should be dropping out of planes somewhere.  They were so busy passing around the industrial vat of round puffs that they never even noticed a train conductor walk through the house and steal a 6 pack of toilet paper for the ride home.
Between fistfuls of the magic cheese confection, everyone complained about how fat they were getting and then had a cattle auction weigh-in.  Then they went back to the cheese balls.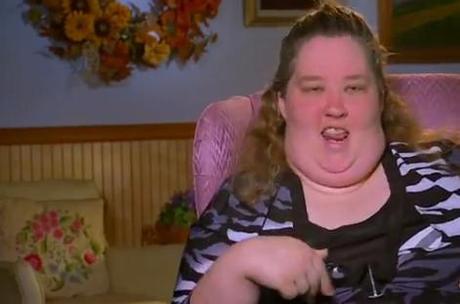 Since Alana is still a pageant princess under all that yellow dust, everyone hit up a Natural Faces practice competition to get her revved up for the next big glitz show.
Unfortunatley, Alana lost again, and went home with nothing.  And losing at a practice competition that pretty much awards the winner with a bag full of nothing has got to suck.
But luckily, nothing cures the blues like a teacup piglet with a manicure, right?
Move over all you Reality TV pocket sissy dogs, because Glitzy the Piggy has arrived.
Dad swung by Posh Pigs, which is some kind of pork store apparently owned and operated by a former Spice Girl, and snagged a little squealer for Alana.
And believe me, if anyone or anything is capable of drowning out the roar of those trains, it's Glitzy, because that little piggie went wee wee wee from the minute he left the store right up until he made my ears bleed and then blacked out from piglet exhaustion.
Posh Spice had hooked him up with some purple and green pig nail polish too, so watching a piglet question his own sexuality was a nice touch.  Alana was going to dress that little boy piggy up like a pageant girl until he chewed his own pork rinds off, or died trying.
One of the talking points when Alana lost at the Natural Faces pageant was her refinement and polish (…go figure…) so Mom had hired an etiquette specialist to jump off a box car and swing by the house for a training session.
Barbara Hickey, from the Etiquette School of Atlanta (…who is now most likely in secluded rehab somewhere far away strapped to her bed with restraints…) drew the short straw and arrived with her laminated Miss Manners presentation boards to put Alana and Pumpkin through a quick bootcamp.
In hindsight, Mrs. Hickey should have bolted as soon as she made eye contact with the pig.  But people with manners don't bolt unless there's no caviar.  So she mustered up enough strength to enter the Coupon Queen Paper Towel Restaurant and attempted to show the girls how to eat with utensils.
Watching someone with manners slowly deteriorate into a mere shell of their former self, complete with back sweat and the kind of fake smile you use when meeting old classmates at reunions, was delightful.  By the time Pumpkin asked if it was rude to pass gas at the dinner table, Mrs. Hickey would have thrown herself through the glass window pane if all those F***ing paper towels weren't blocking her exit.
As the dust from Mrs. Hickey's tire spin out was dissipating, Mom and Alana hit up the local H&H Auction to bid on some past expiration bundt cake and home goods.  You have no idea how much I loved this show right around this point.
It was basically held in one of those armory looking places where they always lay out all the belongings after they empty a house on Hoarders Buried Alive.  I need to go there.
Honey Boo Boo Premiere Week ended with a quick trip to the strip mall ultra sound store.  No lie.
A couple of goo squirts on Anna's belly and the world got to see the future Kaitlyn Elizabeth staring back at us in horror.  I'm pretty sure the fetus was even holding a post-it note that said "I'll stay in here, thank you."
And since you never know when a pageant judge is going to ask you where babies come from, we finished off the evening learning way more than anyone should ever know about southern hospitality and Poppin' Fresh bisquits.
Whacking them on the counter will never be the same.
And neither will Reality TV as we know it.
Because Here Comes Honey Boo Boo.
Love 'em or hate 'em, they're here to stay.
And I love 'em.
Holla.