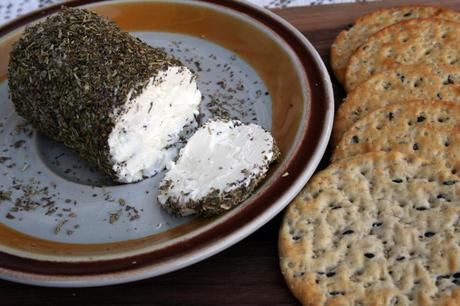 This time last year, I took a noticeable absence from the blog world. We had found out I was pregnant on October 16th–a total surprise (nothing short of miraculous!) which you can read more about here. My HCG levels were roaring in at 5,000 when we first learned of the good news (a home pregnancy test will pick up levels as low as 15) but the nausea didn't set in for a week or two. When it came, it came strong. I could barely get out of bed, let alone bake and blog. Any and all energy went into making the eight wedding cakes I'd scheduled for the fall season. I barely made it through, and I won't ever be able to repay the kindness of close friends and family during those hard and trying weeks.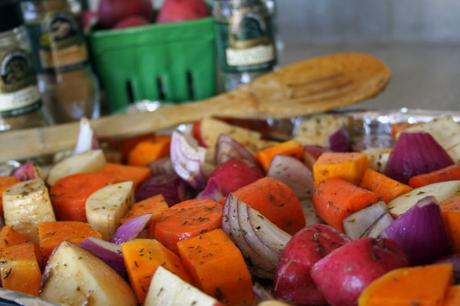 The one thought that motivated me through the nausea and exhaustion was this: holding my sweet baby. I would visualize the two of us, cuddled up on our antique sofa. I could almost feel that baby-fine hair against my cheek. I could almost smell the muted sweetness of her skin.
Just moments ago, I put Lucy to sleep, and I held her in my arms for a few extra minutes so as to compare the reality with my imagination. I can wholeheartedly that holding her is just as beautiful as I'd pictured it…if not better.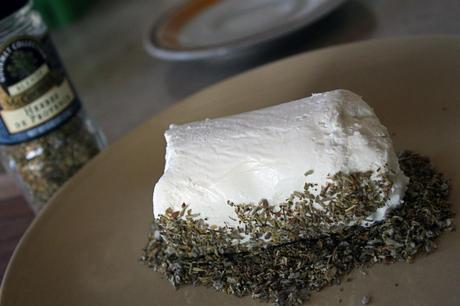 Because of my extreme morning sickness, I largely missed out on my favorite culinary season: fall. Pumpkin, butternut squash, roasted meat, Brussels sprouts…they were as foreign to me as if I had been living on a tropical island in the Pacific Ocean. Thankfully, I was able to enjoy Thanksgiving Dinner. I had my first day of reprieve on the night before feast day. I cried tears of joy when I was able to sit down and eat my Thanksgiving plate (no exaggeration…just ask anyone who has battled morning sickness…you feel like its NEVER going to end).
This year, I have both my baby and my appetite. When Eileen from the Joy Of Caking asked me to participate in a Virtual Fall Feast, I jumped on the opportunity to contribute to a seasonal table. I was asked to bring an appetizer, and I prepared something rather simple: an herbed goat cheese that would go beautifully with a loaf of savory pumpkin bread or a platter of fall vegetables. These Roasted Ginger and Cumin Harvest Vegetables are perfect accompaniments to the tangy goat cheese.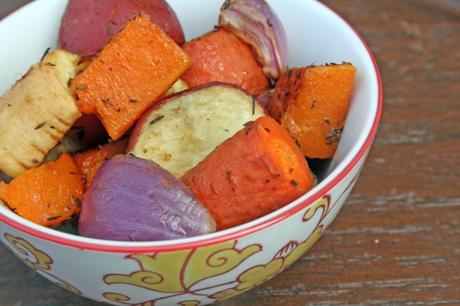 Please take a moment to jump over to Eileen's blog where you'll find a menu worth making and sharing. She's pulled together a lovely set of bloggers, who have each contributed a dish to our larger meal.
Herbed Goat Cheese
1 log (4 oz) goat cheese
1-2 teaspoons of Herbes De Provence
Place Herbes De Provence on a medium plate. Roll goat cheese in herbs. Refrigerate log until ready to serve.
Roasted Ginger and Cumin Vegetables
1 teaspoon roasted ginger
1 teaspoon sea salt
1 teaspoon dried thyme leaves
1/4 teaspoon cumin
1/4 teaspoon course black pepper
1 cup carrots, cut into 1-inch chunks
1 cup red onions, cut into 1-inch chunks
1 cup parsnips, cut into 1-inch chunks
1 cup red potatoes, cut into 1-inch chunks
1 cup butternut squash, cut into 1-inch chunks
2 tablespoons olive oil
2 tablespoons orange juice
Preheat oven to 450 degrees Farhenheit. Mix ginger, salt, thyme, cumin, and pepper in a small bowl, set aside. Combine vegetables in a large bowl and drizzle with olive oil and orange juice. Stir until vegetables are easily coated. Spread vegetables onto a foil-lined baking pan. Sprinkle with spice mixture. Roast in preheated oven for 30-40 minutes, or until vegetables are tender and golden brown.
Monet
Anecdotes and Apple Cores