It's that time again on the blog, when I wax all lyrical about the Yotam Ottolenghi/Sami Tamimi collaboration.  Instead of repeating myself I'll point you here, here and here.  And is that me talking about then in the Globe?
Yeah, I'm kind of a fan.  You may have heard about their latest book, Jerusalem, which came out about a year ago.  There's been plenty of press on it (including that recent Globe article), and with good reason–it's amazing.  I have a lot of cookbooks, and there are very few I cook from nearly every week, but Jerusalem is one.  I always have to do a quick scan around the house for it because it never makes it back on the bookshelf–it's in the sunroom, or the TV room, or the living room as often as it is in the kitchen, because I'm daydreaming and planning what I'll be making next.  The hummus recipe's exceptionally smooth puree, the chocolate babka utterly decadent, the mejadra (lentils and rice) fragrant with coriander, the helbeh (a fenugreek cake) a surprising delight…
I could go on.  But I'll limit myself for the moment to herb pie.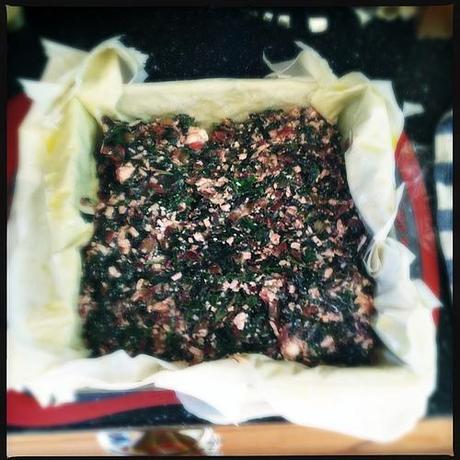 This tart is right up my alley.  I love savory middle-eastern pies–bureks from Bosnia and the Balkans, Greek spanakopita and variations thereon, you get the idea.  So what makes this one special?  The  generous handfuls of parsley, cilantro, arugula, and chard.  Herbs are the heart and soul of the tart, not just an accent.  That's for the cheese to do.  Olive oil binds the phyllo together rather than butter (which is easier to work with, as you don't have to guesstimate at how much butter to melt, leaving your leaves of phyllo to dry out while you melt more butter).   And the magic of lemon zest.  All this makes for a lighter, fresher finished product that disappears quickly.  Too fast, apparently, for me to remember to take pictures.  For that (and another take on this recipe), check out Sparrows and Spatula's post here.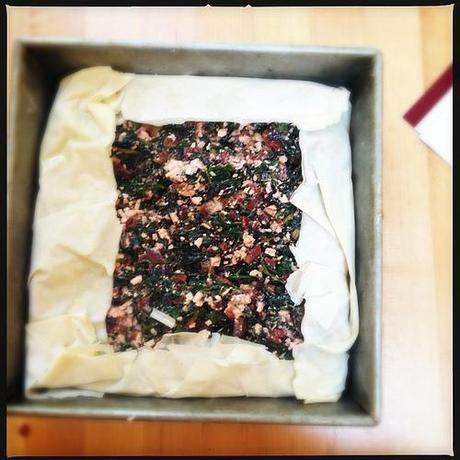 As you scan the ingredients, you'll note that the recipe calls for anari cheese, which is not even carried by the fancy-schmancy Whole Foods cheese department.  Ricotta can be used as a substitute (and like anari is a cheese made from whey, so it is a very close substitute from what I can tell).  The second time, I tried ricotta salata, and both attempts were delicious.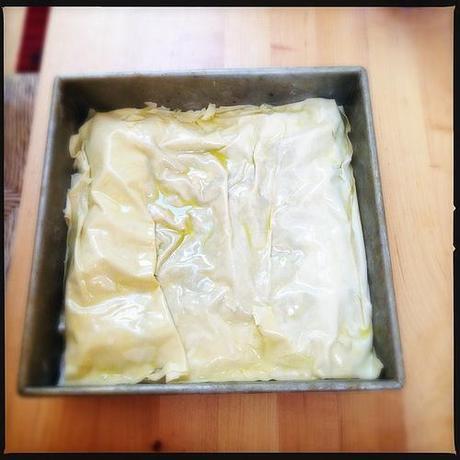 When assembling the pie, you are instructed to layer the oiled leaves of phyllo together and then place them all at once in the pan:  once for the bottom crust, once from the top.  Maybe it's nothing revelatory in the grand scheme of things, but for me it certainly was–I've always made spanakopita by buttering each phyllo leaf and then haphazardly transferring the delicate sheet to a pan.  So much easier to build up the layer on the countertop and then place it the baking dish.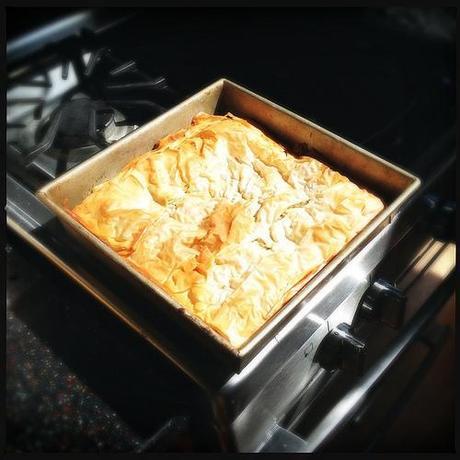 Because I have so many cookbooks, and so many things I want to try, I don't normally repeat a recipe only weeks after trying it for the first time.  This is the exception– and there's more phyllo squirreled away in the freezer for the next time.
Finally–a moment for the blogosphere.  If you want to see other great things that are being made from this cookbook, check out the Tasting Jerusalem blog group here (featured in the New York Times article linked to above).  This is also my first contribution to the Let's Lunch group–thanks to Cheryl (author of A Tiger in the Kitchen: A Memoir of Food and Family, a great book I read when it came out) for inviting me along!
Herb Pie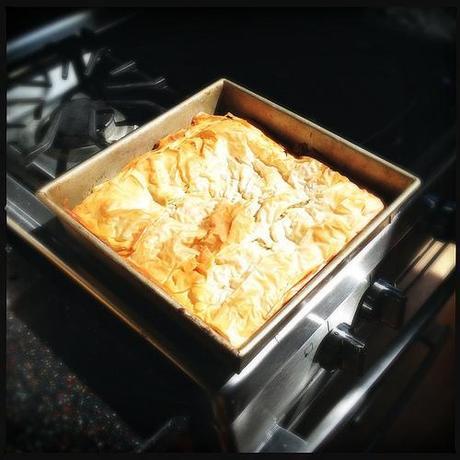 Print
Author:
adapted from Ottolenghi and Tamimi's Jerusalem, also available here
Cuisine:
middle eastern
Ingredients
2 tablespoons olive oil, plus extra for brushing the pastry
1 large onion, diced
1 lbs. Swiss chard, stems and leaves finely shredded but kept separate
3-4 stalks celery, thinly sliced
4 scallions (green onion), chopped
1 large bunch fresh spinach (The original recipes uses 1¾ ounces of arugula, which I think the British call rocket.)
1 ounce flat-leaf parsley, chopped (I used between ½-3/4 cup)
1 ounce fresh mint, chopped (I used between ½-3/4 cup)
⅔ ounce dill, chopped (I used about ½ cup)
4 ounces of anari or ricotta cheese, crumbled (I used about ¾ cup of Myzithra)
3½ ounces aged cheddar, grated (I used about ¾ cup)
2 ounces feta cheese, crumbled (I used about 2 small, but full, handfuls)
the grated zest of 1 lemon
2 medium eggs
⅓ teaspoon salt
½ teaspoon coarsely ground black pepper
9 ounces filo pastry
Instructions
Preheat the oven to 400F/200C. Pour the olive oil into a deep frying-pan over medium heat. Add the onion and sauté for 8 minutes without browning. Add the chard stems and the celery and continue cooking for 4 minutes, stirring occasionally. Add the chard leaves, increase the heat to medium-high and stir as you cook for 4 minutes, until the leaves wilt. Add the scallion/green onion, spinach (or arugula) and herbs and cook for 2 minutes more. Remove from the heat and transfer to a colander to cool.
Once the mixture is cool, squeeze out as much water as you can and transfer to a mixing bowl. (I didn't have much water to drain– probably because I'm at altitude and the water evaporates more quickly.) Add the three cheeses, lemon zest, eggs, salt, pepper and sugar and mix well.
Lay out a sheet of filo pastry and brush it with some olive oil. Cover with another sheet and continue in the same manner until you have 5 layers of filo brushed with oil, all covering an area large enough to line the sides and bottom of a 8½-inch pie dish, plus extra to hang over the rim. Line the pie dish with the pastry, fill with the herb mix and fold the excess pastry over the edge of the filling, trimming the pastry as necessary to create a ¾ inch border.
Make another set of 5 layers of filo brushed with oil and place them over the pie. Scrunch the pastry a little to create a wavy, uneven top and trim the edges so it just covers the pie. Brush generously with olive oil and bake for 40 minutes, or until the filo turns a nice golden brown. Remove from the oven and serve warm or at room temperature.
Enjoy!
Notes The original recipe calls for ½ teaspoon of sugar, which I skipped. I have used both ricotta and ricotta salata as a substitute for the anari cheese and both have worked well. 3.2.1682