As some of you might know, I love Whistles. But, unfortunately my bank balance doesn't love their prices - plus if you can make it, why buy it - right?
I love the SS14 collection from Whistles. Metallic skirts, midi length skirts, casual weekend shirts... it really is the style that I like and want...NOW.
For a while I have been in love with their feather print skirt and top. It's a glorious feminine print made in silk organza with a full skirt. The skirt is really cool as the lining finishes a little shorter to allow the bottom to be sheer.
When I was in NYC in March, I hunted high and low for a similar print. Unfortunately, there was no pink feather print to be found, but I did spot a lovely cotton ikat on one of my last days in Mood. It's sheer and light enough for this look and is ultra feminine.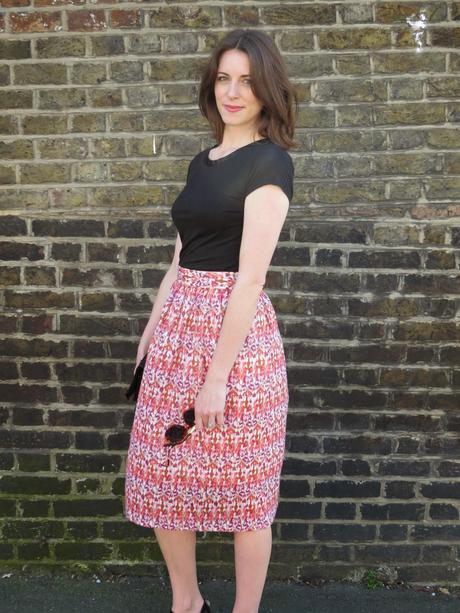 There was no need for a pattern for this skirt. I just used the width of the fabric and gathered it to my waist measurement. I then cut a waistband the desired width (plus seam allowance and a little extra allowing for the fold - remember when you fold a fabric you will lose some measurement in that fold) and the desired length (plus seam allowance and extra to create a button tab).
It's then a very straightforward case of attaching the band to the skirt (after you insert a zip) and ta-da, skirt!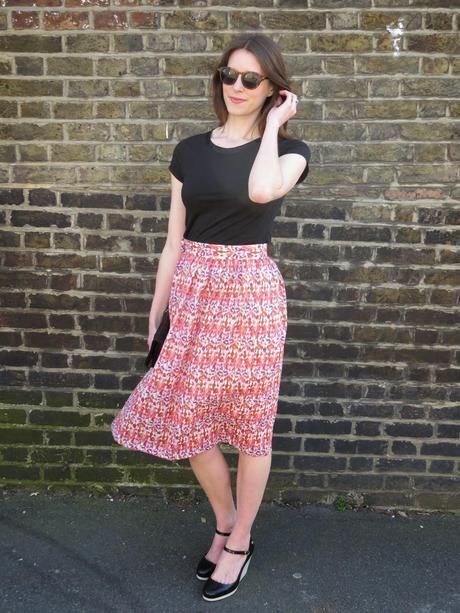 Because this ikat was very sheer, I bought a gorgeous almost pale peach voile from Rolls and Rems and hemmed it above my knee to create the sheer bottom as per the Whistles version.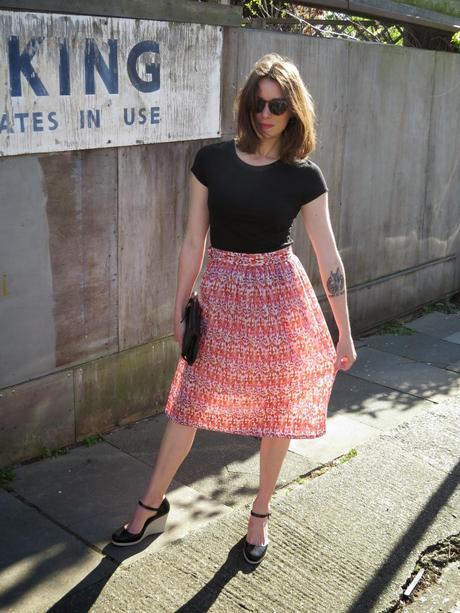 I am standing like this to show you sheerness, but also because I am a ladyyyyy.
For the lining, I just drafted a very simple skirt block but instead of sewing the darts, I used pleats. Using pleats in a lining allows for a little more movement anyway not to mention being a quick job. I then attached the gathered skirt to the lining before adding the waistband to both layers.
For the ikat, I only had one seam (on the side) and used a french seam to finish. I inserted a 9" invisible zip to the ikat only and then hand-sewed the lining to the zip tape. I finished both skirt hems on the machine.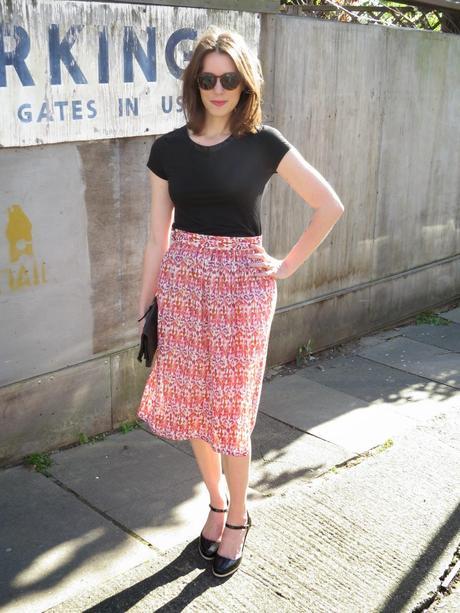 This skirt feels super nice on and I can't wait to rock it in Brazil for cocktails with Don...oops I mean Mr Szabo. Have you started summer sewing yet?