It feels like summer has finally hit London, so I thought I'd finally get around to blogging my new favorite dress. If you follow me on Instagram you may remember I showed my inspiration dress, which was this lovely maxi dress from Whistles.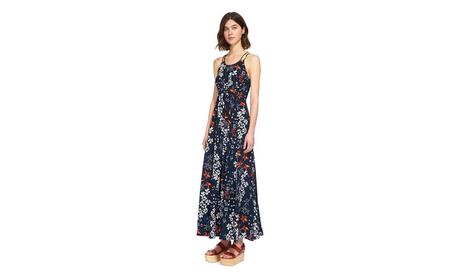 I love the double strap feature which crosses over on the back: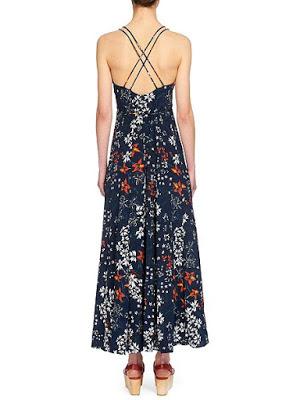 While scouring the internet, I came across the collection of patterns offered by Seamwork. To be honest, I wasn't that familiar with the Seamwork concept at the time, but my eyes instantly zoned in on the Catarina pattern, and it's potential to be tweaked into the Whistles style above. With limited time nowadays, I needed a simple base pattern and this definitely did the job. Voila...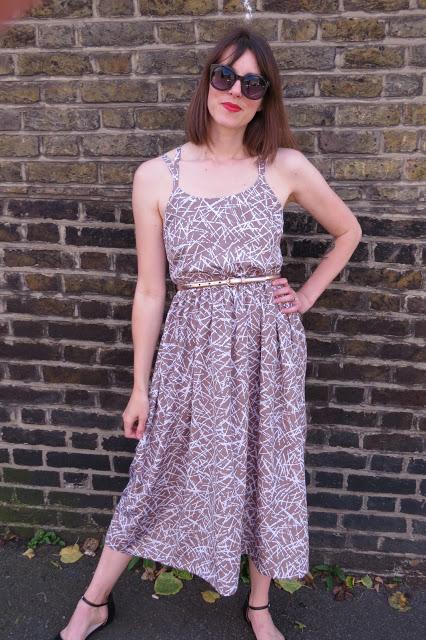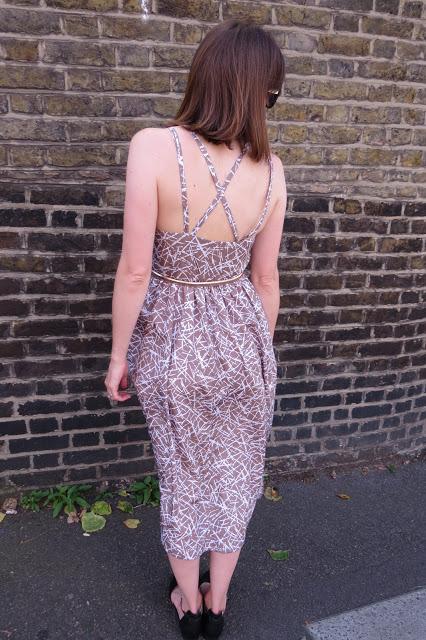 First off, I worked on the back bodice. I sheared my pattern down much lower than the pattern from just below the bust, under the arm and all the way across the back. It makes the dress a no bra zone, but it's not like I am giving Dolly Parton a run for her money anytime soon, and it feels quite nice to be freeeeee. After tweaking the bodice, I then made rough markings (using the pattern's suggestion) for my straps. 
The original pattern calls for single straps with bra-like adjusters. I am a bit fussy about this kind of thing and personally I just don't like bra adjusters on dresses...I don't really know why, just doesn't look right to me. Plus, I wanted to copy the straps on the Whistles dress, so I basically made extra long straps and decided on the desired length before completing the bodice. I simply tweaked the length and positioning by pinning and basting and trying the dress on a few times.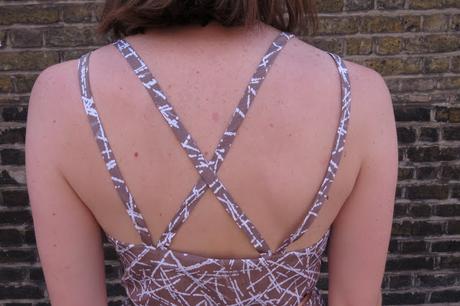 For fabric, I am still busting my way through my stash and this is more vintage treasure from Mr Szabo's Grandmother. It's some kind of crazy synthetic blend, but it's so drapey and light to the touch it was perfect for this project. My vintage hoard truly is the treasure chest that keeps on giving!
The waist line is gathered and then elasticated, and I used some sort of silky baby elastic I had in my stash from some past project. I also french seamed the insides of the skirt, and hand sewed the hem, which gives the dress a bit more luxury. The bodice is faced and understitched, which gives it a lovely clean finish.
I am loving this dress and am so excited to wear it, hopefully to Rosie's awesome book launch next week (which if you haven't yet checked it out, you can now buy "No Patterns Needed" on Amazon. It seriously is the coolest book). I just ordered some lovely chunky metallic sandals from Esprit for my dress' debut outing and hopefully will sometime, somehow do something with my mop of overgrown hair (on my head!)
Stay fabulous people. Red lipstick helps. xx