New to little Indiana? Subscribe for free to my RSS feed. Thanks for stopping by!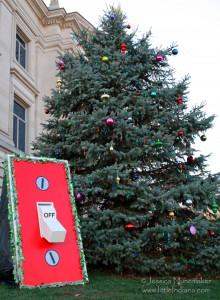 Hendricks County Courthouse Christmas
little Indiana
Danville, Indiana
Centered around the spacious Hendricks County Courthouse Square, it was absolutely magical.
Christmas on The Square in Danville
White lights were strung from the elegant Hendricks County Courthouse to the various businesses across the street. On the lawn sat an unlit Christmas tree.
Now, this is really cute and something I hadn't seen a small Indiana town do before–they had a giant light switch next to the unlit tree in the "Off" position.
One lucky kid would get to meet Santa and help him flick the switch.
In a flash, all the lights turned on and bathed the Square in Christmas cheer! We ooh-ed and aah-ed with the rest of 'em.
Things to Do Around Danville Square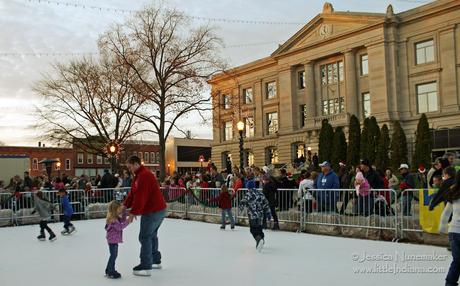 Danville, Indiana Ice Skating
But that wasn't all! There was also free ice skating–shoe rental was just $1. You could bring your own and skate away!
It wasn't actual ice. Composed of interlocking hard plastic-like pieces, I've heard it is what hockey players practice on.
Kid #1 had so much fun–even though he spent more time falling than actually skating!
Even so, I don't think he stopped smiling for a minute (and he was out there for more than half an hour)!
More to See and Do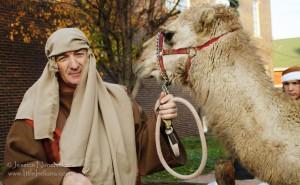 Danville, Indiana Christmas Live Nativity
Inside the beautiful Hendricks County Courthouse were "Reindeer Games."
These were just different skill games that, once completed, enabled little ones to trade in a ticket for a prize.
Kid #2, however, favored the live Nativity above all the rest.
More than the people, this one also had chickens, lambs, a donkey, and even a camel! He was so excited about that–and kept saying, "Horse!" This is where he wanted to hang out while big brother was ice skating!
Hendricks County Does Christmas
Except for Santa Claus, Indiana, I don't think I've ever seen the halls decked quite so merrily. There's a lot to love in this great small town!
You'll have to watch my Small Town Holiday Gift Guide for Danville additions!
See Hendricks County Holly Days and other pictures in Indiana on my Flickr photostream.
Christmas on the Square
Danville, Indiana 46122

View Larger Map
little Indiana: Where to Stay, Play, and Eat in Small Towns in Indiana. Discovering Indiana's best small towns! Now get little Indiana on your Kindle.
Targeted. Relevant. Affordable! little Indiana advertising.