If you've been following my blog, you'll know that I've been running a series of blog posts focussing on hen parties – very useful at this time of year, with the summer wedding season fast approaching! I've invited other lovely bloggers to share their ideas for creating the perfect hen do, with writer Ellen Avants previously sharing her article on personalising a hen party  and last week we had a guest blog on hen party activities. Over the coming weeks there'll be craft tutorials, ideas for games and budget planning from Lacey in Places and costume sewing tips from Kat, but this week I'm discussing themed hen parties – particularly the 50s!
If I were having a hen party today, I'd definitely choose a 50s theme. I have all kinds of ideas about the glitz and glamour of the era and I think it's a fantastic starting point to plan a girly party. For a start, you can take inspiration from films set in the 50s – and maybe even kick off the hen party celebrations with a screening of classic teen-musical Grease, complete with popcorn and milkshakes!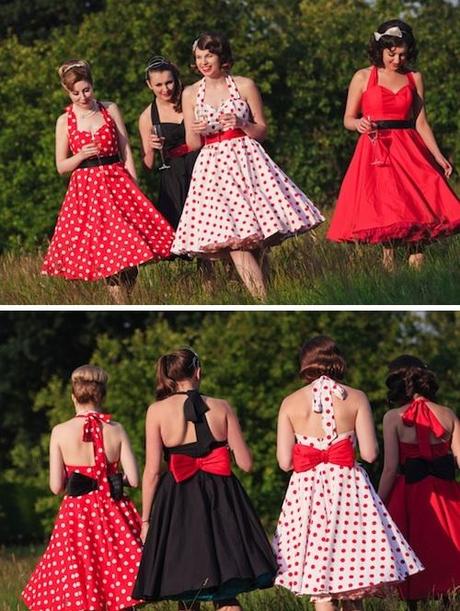 Source: fiftieswedding.com via Cassiefairy on Pinterest
.
I love the classic 50s fashion look that is everywhere at the moment – circle skirts, swing dresses and wiggle halternecks are very popular amongst many of my fashionista friends – and these retro shapes can't fail to flatter any body shape, so you need not be afraid of suggesting a 50s costume theme, because all of the hens will be able to find something to wear that looks great on them. Also, everyone looks a little more glamourous and the photos from your hen party will look amazing – you'll definitely want to be posting them all over Instagram! 
Another idea for the 50s hen party is having a vintage pampering session. All the hens can take time to do each others make-up with eyeliner flicks and bright red lips, and even try out vintage hair-dos, such as the victory roll or finger-wave, using curlers, crimpers and  backcombing. Pop on some rock 'n' roll classic CDs and enjoy a good session of grooming and getting to know each other! In the evening, you could eat kitsch burgers and fries in an American-themed diner or go to the theater to see Dreamboats & Petticoats or Hairspray the musical!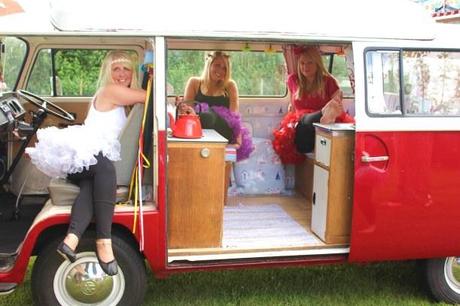 Most importantly (in my opinion) are the pretty petticoats that you'll need to make your dresses swing about nicely and above are some of the gorgeous pettiskirts that I get to make for myself and others at www.TutusWingsandPrettyThings.com – some are on the website and some are custom-made with fun combinations of funky colours to match the hen's dresses perfectly! Self-promotion over!