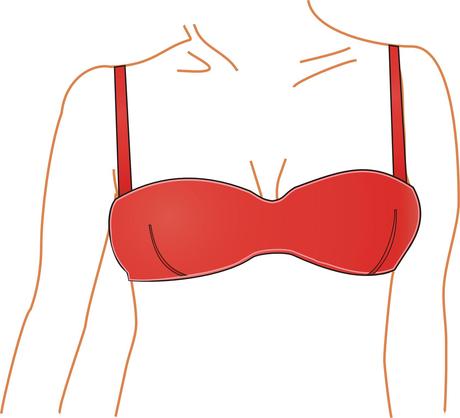 Shopping for your first ever bra is a rite of passage for many girls. As mothers we need to support our daughters through this awkwad time and make sure we are as encouraging, gentle and tactful as possible.
At what age should I take my daughter for her first bra?
Unfortunately there is no set answer to this question as every child develops at a different speed. Keep your eyes open as it should become quite obvious when a bra is necessary. If you start to see her nipples through her t-shirts and when lumps and bumps start to become obvious it is probably time. However, many mothers find that it is actually their daughters who approach them about buying a bra. This is usually because their friends have one and they want to fit in. Whilst you should always encourage your daughter not to bow to peer pressure and to be herself, it is good to remember how harsh children can be at that age and being teased when changing for sports classes is really no fun! If you are not sure whether or not your daughter should be wearing one then take her to be measured at your local lingerie shop or department store. The assistant will probably check to see if she can cup her breast with her hand with the whole palm touching skin. If she can then it is time.
What bra should she start with?
Underwire bras are not good for girls who are still developing. It is best if you choose a training bra or a sports style bra to begin with. You may not feel that your daughter is quite big enough to warrant a proper padded cup bra but you want to get her into the habit of wearing a bra before she really starts to need one.  If so then training bras are perfect and there are lots of pre-teen ranges that will keep her happy and comfortable until she is ready for a step up. The fitting assistant should be able to pick out a selection of bras for her to try on. Alternatively you could start her off by getting her to wear a camisole top under her school shirt or by finding a selection of vest-tops with basic chest support.
What can I do to help?
Many girls can find the whole process embarrassing and we need to be supportive during this time. No mother likes the idea of her little girl growing up so it is easy for us to brush away her request for a bra as silly. Try and put yourself in her shoes and remember how you would have felt at that age. Try not to make any jokes about it or mention it too much in front of the men of the family. This can make her feel self-conscious and uncomfortable. Don't try and take her bra shopping when you are out with friends or your other children. Have a special mother and daughter day and go out for lunch to try and take the focus off the bra issue.
About: Vicky works alongside Lorna Drew nursing lingerie. She likes to write pregnancy and parenting tutorials for women.