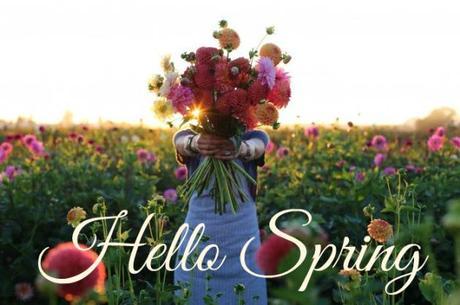 Hello Spring, it's finally nice to feel your warmth, and smell the distinct sweetness in the air. It couldn't be a more perfect either, as it is National Happiness day, and who wouldn't be happy when months of fresh blooms, beach days, outdoor festivals, barbecues, and endless brisk nights beneath the stars will be plentiful. Spring excites me because it's the season that is bright and color, and truly makes people happy. Not to mention, we can finally step outside of our burrowed dens inside for fresh air and nature. With this new season, my favorite, I always like to create of list of goals or things I'd like to do because there are so many things to look forward to and be inspired by…
Do as much as I can outside; which includes exercising, bringing my laptop beneath the shady vines to work, and finding new trails to hike
Put my attention on creating a beautiful little garden, and truly dedicate myself to it
Take advantage of the bountiful array of fruits and vegetables, to create healthy and delicious dishes
Focus on things that bring my peach and happiness, like having fresh flowers from the garden inside at all times
Go to as many fairs, farmer and flea markets in the NYC area, because there are plenty including this

one

Get some culture; go to museums,

botanical gardens

and parks, and venture to a new small town with lovely shops and go eat at all the NYC and NJ restaurants I've been craving
Visit wineries and breweries in the area, which includes this

tour

Attend a music festival, I've got plans to attend Firefly Festival because I love Jack Johnson
Enjoy doing nothing outside, and being at peace
Go on a picnic with friends
Learn to play "Somewhere Over the Rainbow" on my ukulele
Go on new adventures, embrace everything the new season brings. I promise myself to not waste any day, make each day memorable and radiate happiness, peace and motivation as much as I can. I will smile with the sunrise, and the sunset.
Hope you have an amazing first day of Spring! Are there any goals or things that you're looking forward to do in the next few months?