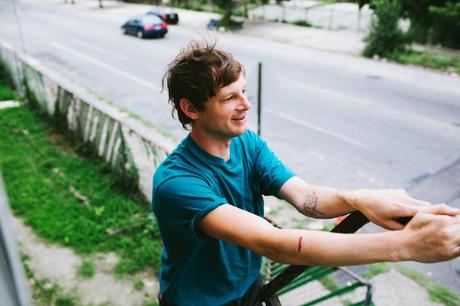 To your dismay, this is not a song about Drake. It does, though, call upon the elements that endear you to him: jaded sentimentality, serendipity and the threatening potential of perpetual lovelessness. On "Drake Night," Hello Shark's Lincoln Halloran sings about a brush with a past romance at a dance club.
Light, glowing synths. Looped bedroom beats. It's only a matter of seconds before we flashback to Halloran's half-awake, worrisome nights — to pushing his ex away after finding out she's leaving town. Seeing her on "Drake Night" reignites his memory: "Every time I dream of you/ You're at your old place on South Union Avenue/ Where I stayed for about a week or two." Just under two minutes, this vignette stirs up a moonlit memory of your own. You are forced to recall the moment you cynically cut yourself from a future with someone you still had feelings for, the hurt that came gushing in immediately after. "If you wanted to, there's nothing I can do," Florist's Emily Sprague joins him in the chorus.
No closure, not quite — disappointment hangs in the air as they both sing half-heartedly. But "Drake Night" isn't here to provide closure. It's here to present the recollection as it is: bare, vulnerable, unsatisfying. There's an inconclusive air to the narrative, a creeping feeling that Halloran himself cannot fathom this ending. It leaves you depressing that play button again, if only to try and understand why these two couldn't go the distance and give the relationship an honest try.