Welcome to 74 Lime Lane. Take a look around. You'll find popular categories in the sidebar on the right. If you like what you see you might want to subscribe to the RSS feed and the regular Lime Time newsletter. Thank you for visiting!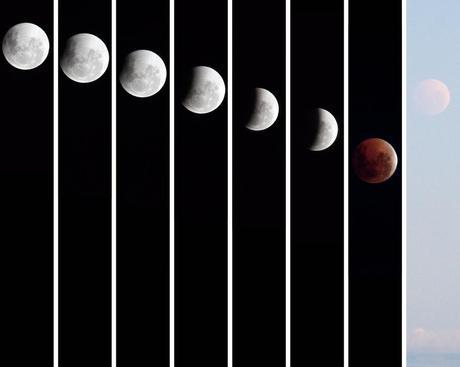 Did you catch the lunar eclipse, or the blood moon, this week?
Here in Australia, we were only treated to a partial eclipse but in a rare appearance, the moon was already in eclipse when it rose. While this was interesting, it made photographing it that little bit harder and the "blood moon" was really only short-lived.
In my part of the world, the moon rose on dusk and there was  still a lot of light in the sky. In fact the moon was already quite high when we first noticed it, it was so camouflaged into the dusk light, as per the image on the far right above.
As darkness fell, the moon took on more of that rosy glow but as the Earth turned, the light started to glint on the edge and gradually the Earth's shadow moved across to reveal a stunning full moon.
The first couple of photos here, starting on the right as that is how the moon rose for me, were taken at a hill lookout, a little bit out of town, which gave a clear, uninterrupted view away from the city lights.
But after an hour the rest of the family was getting a little restless and so we headed home, which is where I took the rest of the photos, popping out every so often to capture the shadow moving across the moon.
It was by no means an exact science, just a little bit of fun. But for your information:
I was shooting with my 5D with a 500mm Sigma lens. It's a big sucker but it's one of my favourites to shoot with for it's great reach.
The white moon was much easier to shoot than the red moon, and much sharper. The camera's setting are quite high as the moon is so bright ~ f6.3, 1/200 while the red moon was about 1/50 with a high ISO as I was trying to counter the stiff breeze that was blowing my camera around.
Tripod, absolutely!
I then created an eight-column layout and using clipping paths, dropped the images in Photoshop and created ~ a rather inexact ~ the moon's rising arc.
That's the image above. It's by no means perfect but it was a bit of fun and, as always, an interesting lesson.