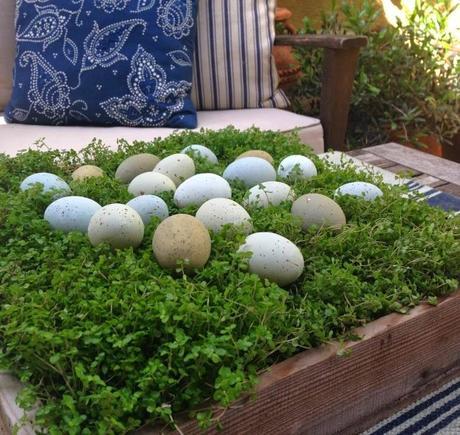 Hello to another week full of gratitude!
I am still processing my fabulous  trip to Napa!
I can't wait to share our amazing day of
chauffeured wine tasting next week.
I was so happy to make it back home in the nick of time to pull together an Easter Brunch for our family!
I left my home already changed to my spring summer paletteas I knew it would be a push to bring Easter together quickly this year!
So even more than usualI wanted the most  decorating impact for my time!


I was so happy with my Easter centerpieces!


I made a quick run to the nurseryand picked up two flats of baby tears.I simply cut them to  size and placed them inside a vintage wooden box.I tossed on some faux Easter eggsand VoilaI had a perfect Easter centerpiece for my courtyard!I also did another for the backyard sitting area.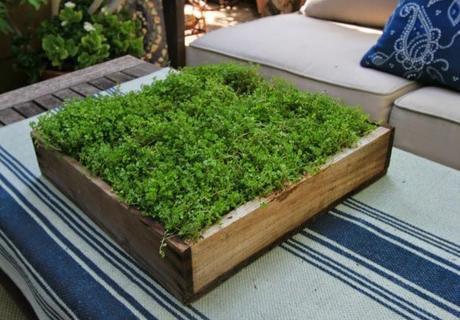 The best part about this Easter centerpieceis afterwardsI simply removed the eggsand
I have a spring centerpiece that will last me quite a whileas long as I keep it moist!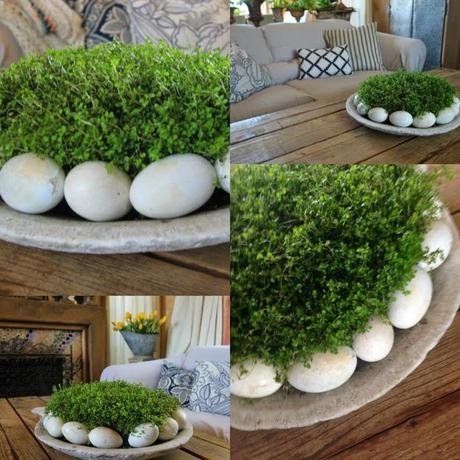 For the living room I repeated the processthis time cutting the baby tears for my large soapstone dishthen trimming the sides with more eggs.I am happy to report this centerpiece is still thriving inside!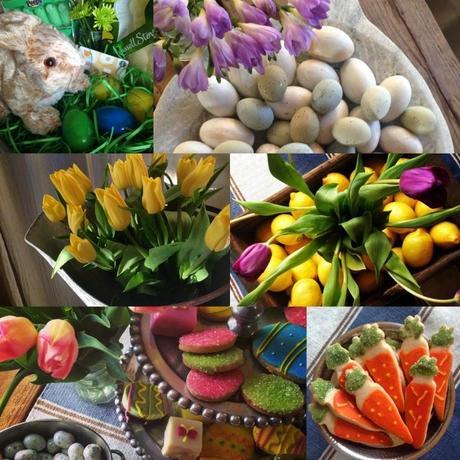 I was able to pull together some beautiful Easter decorwith a couple of trips to Whole Foodsfor some  simple standout pretties!
Lucky for meboth my husband and darling daughter enjoy doing the real cookingso after I pull the look together I'm done!
This year I also did oval galvanized Easter basketsfor the 'kids'who are all seniors in both high school and college.I was absolutely tickledwith the happy response I received form all of themit truly touched my heart!Just goes to show there is still some beautifulchild like appreciationleft in even the most ambitious and successful young adults!
Even with what felt like last minute prepit ended up to be one of the loveliest family Easter's!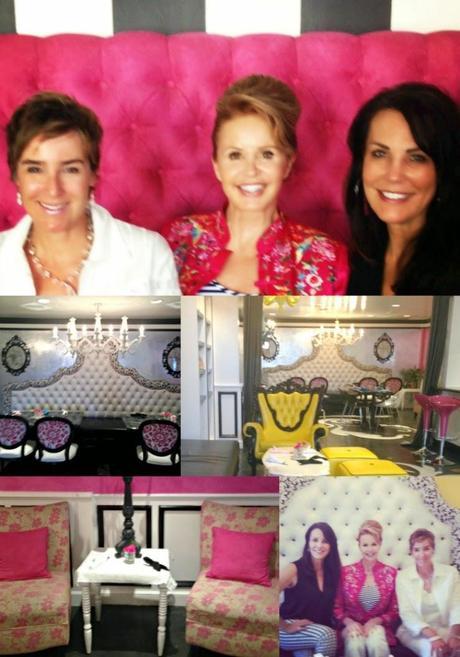 I am so grateful this week
to have the good fortune to have lunch with
theses lovely ladies!
My friendship
with Dorie on the left
and Sue on the right
goes right back to
the connectedness that can come out of blogging!
Something that sometimes
seems to be almost magical in it's power!
You see Dorie
is dear Heather from


Style Mind Chic


sister!
When I invited the  beautiful Heather
to brunch last fall
she thought Dorie  and I would enjoy meeting
because Dorie is also a designer
who was with the incredible St. John
for over 20 years.
Dorie and I indeed hit it off
and
I was honored to be invited to Dorie's
birthday party on New Years Eve!
Not only did I get to spend more time with dear Heather
but I also had the privlege of meeting the amazing Sue!
So when I write in my series
Write the Blog You Want to Read ...
it can help you find the life you want to live
and
in part 4 I talk about
the power of connecting through blogging
it is just so true!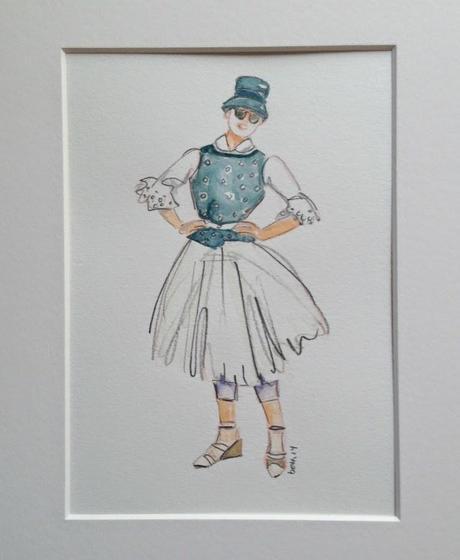 Another story this week
on the connectedness of blogging
I received this
gift in the mail this week from a dear reader!
Her comment on this post
had me in tears of appreciation!
She said she had been reading my blog for years
and
was in her own process of
recreating her life
after putting her fashion illustration career on hold
to raise her family.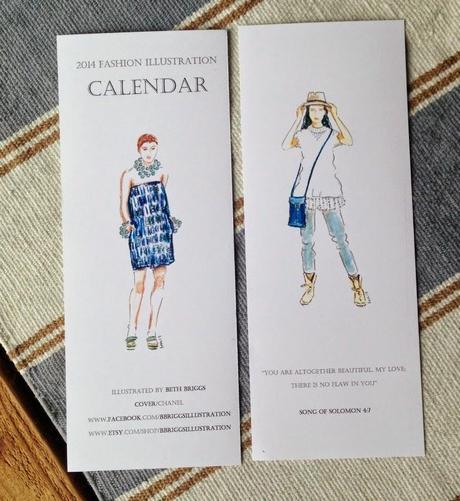 She told me she has just begun her own blog
as part of her strategy
for reigniting her career!
So you know if you follow my series
on
Writing The Blog You Want To Read
just how happy to hear
this makes my heart!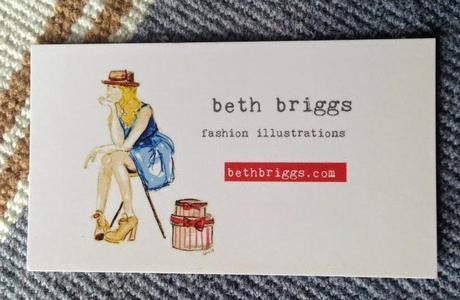 You can check out this wildly talented women


Beth Briggs




HERE.


Not only is she such an artistic talent
who  also does wonderful commissioned work as well
(check out the glamorous La Contessa of the


Vintage Hen House


she has already added two of Beth's illustrations to her side bar!)


but Beth is an inspiration as well!


Thank you Beth
for reaching out
and
 adding to this magical
and
supportive blogging community!
Biggest of welcomes to You my dear!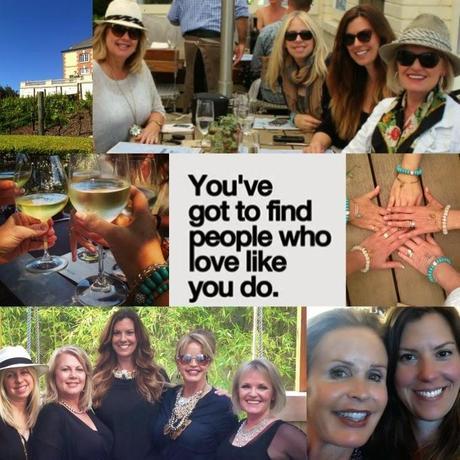 To be completely honest


My heart is still on overwhelm




for what I feel for these women.


I am still processing what a
magical and transformative trip we had.
My heart is so full of immense gratitude
for this blogging community.
It has truly changed my life.
When I think of how much I have changed over the course of this
blog
and
 the connectedness it has provided
I am humbled beyond words.
One thing I absolutely know
 now
after out blogging trip
friendships made in blogging
can be some of the truest connections.


They are true friendships.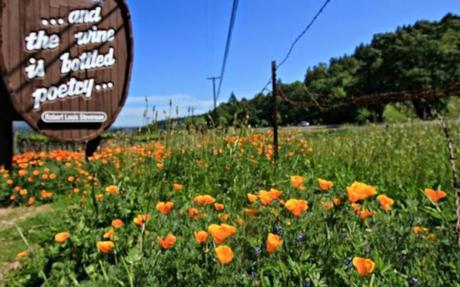 As always my friends


I wish you love and joy




as you style your life