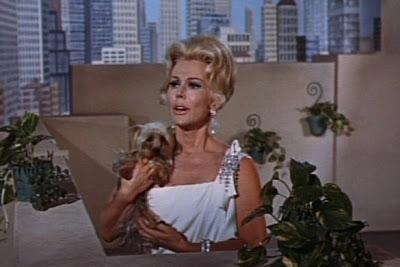 I'm trying like the dickens to live the life of Lisa Douglas before she chose chores over stores in Green Acres. But real life and 50 years of America's urban evolution keep getting in my way.
I'm constantly reminded that I'm not in Kansas anymore. Nor am I in rural Hooterville. Nor any of the 14 suburbs in which I've lived.
My grocery store has a cop on patrol inside. She is friendly but not talkative. Last night I watched two police officers pull a guy off the train I was getting on, put him in handcuffs and lead him away. The open seat was still warm - but dry - so I have no idea what he did to deserve a police escort.
My apartment is so small, I couldn't fit another person or thing in here if I tried. Yet I still can lose my cell phone. I'm sure that's what Oli-vah was thinking when he beat feet for the country.
Last night, my half of the dinner bill was almost $100. Granted, it was a swanky spot filled with Google and Apple Generation Zs who seem to be on a constant happy hour break from all that important work they do that no one over 30 knows how to do. Now I know why Panera is so crowded with people more like me. You can get a Premium Signature Panini for under $8 and Friday's soup-of-the-day is Low Fat All Natural Chicken Noodle, which is delicious and nutritious, thank you very much.
My apartment lobby door has a sign on it that can be found on the doors of pretty much every public building in the city, warning me that upon entering, I will get cancer and come to reproductive harm. The state of California is as concerned for my well being as the personalized ads I get on the Internet: "Lose your belly fat!" "Mother of the Bride Dress!" "Signs You'll Get Cancer!" and "Exercise Your Brain!"
My Walgreens has a bath soap aisle that is constantly being rearranged, organized and cleaned by a bustling, energetic woman . . . but, why every day? It occurs to me that she doesn't work at Walgreens. She might be one of the rare OCD homeless. 
My style has changed drastically. All of my Florida clothes look ridiculous here. I've had to hurry out and buy jackets and close-toed shoes. I will say, though, this cup of tea suits me better. When I leave home, I only have to remember my apartment key and my transit card. Sunscreen is not necessary. Lipstick is optional. Femmy perfume is frowned upon.
I love to talk about how to adjust to a new life after you move. Of all of my moves, this one is by far the biggest stretch for me. This is the first time I've moved coast to literal coast; the first time I've done a big move without kids; the first time I ever had to fly a dog; and the first time I've moved to a big city. 
It might not be Park Avenue, but I do have a nice "pent-house-view" of the Bay Bridge light show. Dahling I love you, so I think I'll stick it out here and see what unfolds.
~ ~ ~
Diane's book "
Home Sweet Homes: How Bundt Cakes, Bubble Wrap, and My Accent Helped Me Survive Nine Moves"
 will be available at Amazon.com in May.