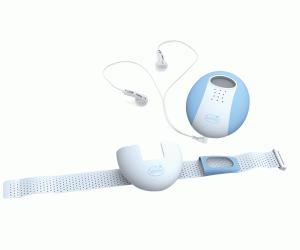 Credit
Summer Infant Clarity Sounds Prenatal Listening System
After having a few problems during my pregnancy I decided to look into purchasing a prenatal listening system. I came across Hello Baby and contacted them to see if they would consider allowing me to review this great product.
They were more than happy to oblige and within 2 days the item had arrived.
I found the Clarity Digital Prenatal Listening System from Summer Infant gave me the fantastic oppourtunity to hear and share the sounds made by my unborn daughter. It allowed me to listen to the peaceful movements,heartbeat, kicks and hiccups daily.
I found the Clarity prenatal system helped put my mind at risk when I hadn't felt my daughter move for a few hours.
It's simple to use and is attached comfortably via a belt meaning I could place the unit in the best possible position.
My partner enjoyed this product also as it meant he could also have a closer bond to his daughter as the product came with two sets of earphones.
The product is of spectacular quality and I would 100% recommend adding this to your list of items to buy.
Visit www.hellobabydirect.co.uk for all your baby needs.