If I were to open a restaurant, I would want it to be like this: small, friendly, quaint with an impressive collection of spectacular wines and beers. I'd be an integral part of running the service operation, ensuring that my customers, most of whom had become regulars, were not only satisfied, but happy. I'd make sure we served high-quality food from organic and local sources whenever possible.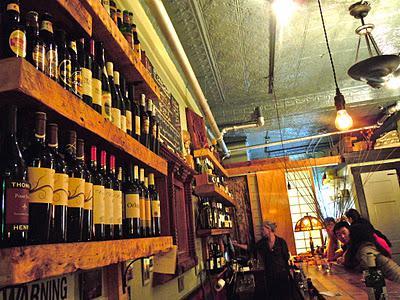 If I were to open a restaurant, I would want it to be exactly like Heidi's House by the Side of the Road.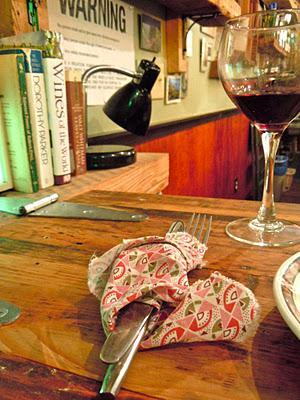 I had been to this neighborhood gem a few months ago, and it immediately became one of my favorite places. It is both intimate and unpretentious, always crowded yet welcoming, and never too loud. So, when Anna was coming to town, and Katie suggested we use a ScoutMob deal, deciding to wine and dine at Heidi's House by the Side of the Road was easy.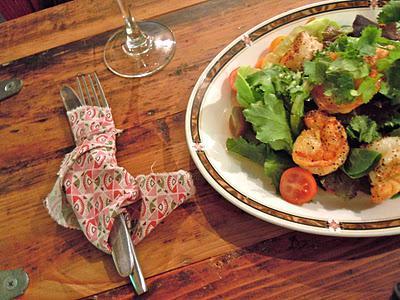 Being as I only had appetizers last time, I was excited to discover that the silverware was served in cloth napkins (made by Heidi herself). I was also excited to try more of their menu. Since I wasn't exactly starving, I opted for Shrimp Salad served on mixed greens with cilantro and light dressing. It seemed simple enough but was anything but boring. The salad was dressed perfectly with just enough kick from the cilantro. The mixed greens really were mixed with a variety of mesclun and butter lettuces. And the shrimp were fresh and flavorful.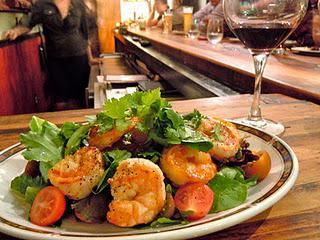 Anna seemed to thoroughly enjoy her Gnocchi, and Katie, her Shrimp Tacos as well. Comfortable as we then were though, we couldn't help but be intoxicated by the smell of their seemingly fantastic Macaroni & Cheese. Oh my gosh, I can't even tell you. I just know that next time I stop by, I will definitely bring my appetite. As far as this past visit is concerned, I'm so glad to have shared the experience with two of my best blogging friends. (And then to have continued the friend date night at the super romantic Pil Pil).