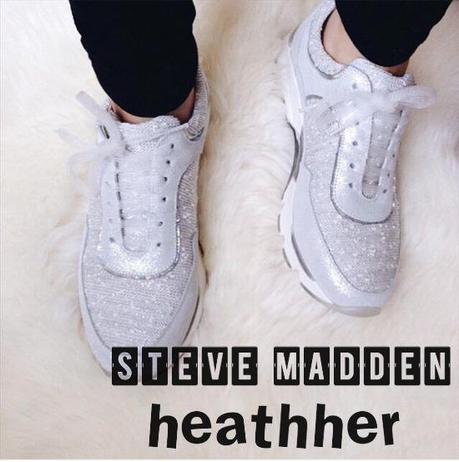 It's the ultimate! Comfortable. Bling-tastic. And, it's a the sneaker! Whoa…I never thought it would come true. A sneaker with chiffon laces! A sneaker that is totally bedazzled! A sneaker that has won my heart! Ladies, I introduce to you….the Heathher by Steve Madden.
Get Dipped in Diamonds
These attention-getters are a must have for the spring and summer. Whether you're working out, running errands or heading out to a daytime brunch with the girls…it's a must. Heathher is fashionable and comfortable. Not only that. They look like they've been dipped in diamonds!
Sneaker Fit for Fairies
Heathher has done the unthinkable.  There has never been a jogger fit for both fairies and fun-seekers. These glitter-bombs come in 3 colors: (1) white which is shown above (2) gray and (3) purple multi. My favorites are the white. There's no doubt about it.


Heathher Gets the Convo Going
At Steve Madden, these sneakers retail for about $80. They are manmade so no animals were harmed in the creation of these beauties. I think they are super cute for women of all ages. They are great conversation starters too!
Stay social
Don't miss my next insane blog post! Be sure to follow / like Girl Rates World on facebook, youtube, twitter and instagram. Also let me know in the comments below your thoughts on these sneakers. Are they overdone? Or, are they just right for that girly-girl within? Well, you already know how I feel about them. I wanna hear your opionion.