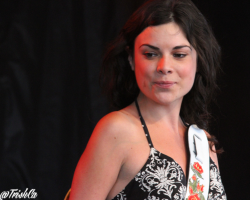 Observation #1: They don't make country music like they used to.
Observation #2: Whitney Rose is making great country music with a classic sound.
With her 2nd full length album with Cameron House Records on the way in just a few days, Whitney is giving country music fans the sound that they grew up with, and that country music was built on… and it's a refreshing, talented, addition to any country music fan's playlist.
Heartbreaker of the Year will be released in full on April 21, 2015 – but there are already 3 tracks available on iTunes for anyone who wants to pre-order or pick them up a la carte.
• Little Piece of You
• The Devil Borrowed My Boots
• Ain't It Wise
Because we're lucky, we've had the chance to listen to the entire album (and we have, more than twice) and we can't wait for you to have the same opportunity.
Let's break some stuff down…
Heartbreaker of the Year Track Listing
1. Little Piece of You
2. My First Rodeo
3. The Last Party
4. Only Just a Dream
5. Heartbreaker of the Year
6. Be My Baby* (featuring Raul Malo)
7. The Devil Borrowed My Boots
8. Ain't It Wise
9. Lasso
10. There's a Tear in My Beer*
*covers
Heartbreaker of the Year Review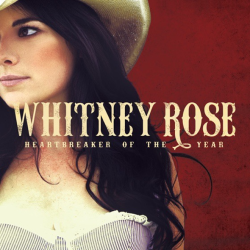 Trying to find the words to describe this record has proven less than simple. But here it goes.
The songs on Heartbreaker of the Year may not fit perfectly on a record by Kitty Wells or Dolly Parton or Loretta Lynn, the voice and heart and attitude in Whitney's voice will take you to that kind of place and give you that kind of feeling.
The songwriting brings contemporary storytelling to classic country, with a vintage pop twist. It's an amalgamation that is a delight to the senses, and deserves praise.
The musicians on this record also deserve praise. Drawing from experience with acts like Dolly, The Mavericks, Devin Cuddy Band, and more – there's not a miss on any of the 10 tracks on Heartbreaker of the Year.
Rose's second album delivers songs about love, heartbreak, firsts, mischief and will keep you on your toes from front to back. The covers of The Ronettes' Be My Baby (familiar to me from the Dirty Dancing soundtrack) and Hank Williams' There's a Tear in My Beer both made my ears perk up the first time I was listening through the album, and I have no doubt that they will for others as well.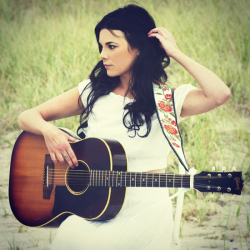 But it's the original songs that makes this record worth the listen. Whitney and her team have crafted 8 tracks that showcase her voice, style and personality. It's a feat that shouldn't be overlooked in a time when many music fans are yearning for something less produced and pre-packaged from their musicians.
Note: Speaking of Whitney's personality, she's a sweetheart. We've had the good fortune to meet a few times, and every interaction has been a treat.
We can also tell you that Whitney has been excited about the release of this album for months. We caught up at Boots & Bourbon one night back in January, and she smiled pretty big when we brought it up.
She was smiling for good reason.
Whitney Rose's Heartbreaker of the Year is a great country album, one that you can listen alone, or with your parents or your grandparents – which puts it in rare company in 2015's country music landscape.
Find Whitney Rose online at these fine locations…
Website: whitneyrosemusic.com
Facebook: Whitney Rose
Twitter: @whitneyroseband
Instagram: @whitneyroseband
iTunes: Whitney Rose