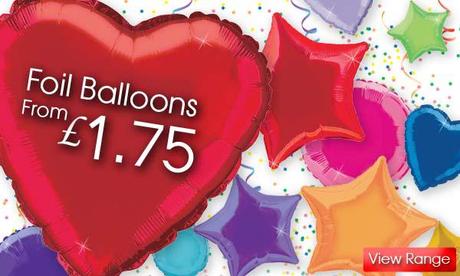 We have just added a lovely range of foil balloons in three different shapes, heart, star and round which all come in a choose of 16 colours, Green, Ivory, Baby Blue, Silver, Gold, black, Burgundy, Hot Pink,White, Lime Green, Orange, Pastel Pink, Purple, Red, Royal Blue, Lilac.
Traditionally foil balloons are filled with helium gas so the balloon floats but they can also be filled with air by blowing them up though a straw, a normal drinking straw would be fine just so you can get the air past the valve to inflate.
If you are using helium you will need to tie the balloon off with balloon curling ribbon and a balloon weight to stop it floating away altogether, if you have just used air to blow it up then you will just need to tie ribbon around the neck to stop the valve leaking.
The heart and round balloons are a good size at 18 inches and the stars are 20 inches across.
Heart Shaped Foil Balloons
Star Shaped Foil Balloons
Round Shaped Foil Balloons
Balloon Ribbon
Balloon Weights