In honor of Heart finally getting nominated to be in the Rock & Roll Hall of Fame, I will be rerunning some of the reviews I have written in regards to the band this week. Enjoy!
In 1976, there were very few well-known women in hard rock. Enter two sisters named Ann and Nancy Wilson from Seattle, WA and their outlaw boyfriends Mike and Roger Fisher. When those women came across the borde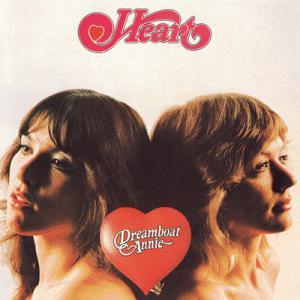 r, magic and
Dreamboat Annie
was born!
Dreamboat Annie is the 1st album that was released by Heart. Normally with legendary bands, when they release their first album, it takes a bit of maturing on the part of the band to find their voice. Not so with Heart. Heart knows that the audience wants 100% unbridled creativity from their artists and that is exactly what shows on such songs as the hauntingly beautiful Magic Man where Wilson exclaims "'come on home girl' he said with a smile/ 'you don't have to love me and let's get high awhile'/ 'but try to understand'/ 'try to understand'/ 'try try try to understand I'm a magic man.'" On other tracks such as Crazy on You and Sing Child show that the Wilson sisters can rock with the best of their peers. They even get a bit raunchy like their male counterparts with White Lightning and Wine – a tribute to the effect that happens when you mix cocaine and booze.
However, the Wilsons are not all hard-rock, no ballad. There are plenty of beautiful ballads such as the three (count 'em), three different versions of Dreamboat Annie – all of which are amazing.
Unfortunately for Heart, their fortune was put in trouble with their own record company, Mushroom Records, decided to launch a poorly-done campaign resulting in a tabloid-style ad placed in such magazines as Rolling Stone that showed band leaders and sisters Ann and Nancy Wilson as sister lesbian lovers. The ad campaign showed the sisters from the shoulders up with the headline "it was only our first time." This led to a host of legal problems involving both the band and Mushroom records – which went out of business in 1980.
Legal problems aside, the album itself is a great album. The Wilson sisters made history with this album and that is what makes it great.
Filed under: Classic Rock, rock Tagged: Dreamboat Annie, Heart