Till Saturday, due to my busy schedule and the fact that I have to pay off a speeding ticket, I am rerunning all my posts about Heart in honor of their nomination into the Rock & Roll Hall of Fame. Saturday I will be covering the Spare Heart – a tribute to Heart concert at the Concert Pub North near Spring, TX. so be on the lookout for that review.
Heart is one of those bands that has had many incarnations but still has the constant two frontrunners in the form of sisters Ann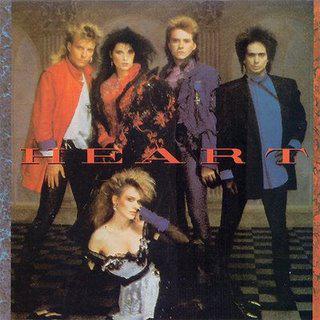 and Nancy Wilson. They are the female counterparts of Mick Jagger and Keith Richards. However, their reasons for the original lineup change is because of their original romantic entanglements with former drummer Mike DeRosier and Roger Fisher.
Heart's 1985 self-titled album is proof that that the lineup change that occurred with the previous album, Passionworks, and signing on with record label powerhouse Capitol Records, worked.
Heart's self titled album is nothing short of great. While it stays true to Heart's somewhat angry hard-rockin' musical roots with songs such as The Wolf and If Looks Could Kill, one of the best changes is that there are some hard-rockin' love songs. On Never, Ann cries "We can't go on just running away/ If we wait any longer we will surely never get away/ Anything you want – we can make it happen/ Stand up and turn around – never let them shoot us down." She continues with this passion on All Eyes.
One surprise is that, for a change, guitarist Nancy Wilson gets to sing lead vocals for the first time ever on a Heart album. She has a beautiful voice on the smash single These Dreams. The lyrics of the song describe the fantasy world a person enters when faced with a real-life difficult issue. This song was dedicated to a close friend of Nancy Wilson, Sharon Hess, who died of leukemia shortly before the song was made.
One track though, falls flat. Nobody Home sounds like it wants to be a hybrid power-pop ballad meets the signature sound of Heart. It doesn't work for the band. Shell Shock sounds like an overdone hard-rock song. It even has corny and cliche love song lyrics that do not fit into the repertoire of Heart.
Caveats aside, the album is a welcomed return to both great music and the radio for Heart.
Filed under: Classic Rock Tagged: Alone, Ann Wilson, Heart, If Looks Could Kill, Nancy Wilson, Never, Nothin' At All, Shell Shock, The Wolf, These Dreams, What About Love, What He Don't Know